Trump's U.K. Visit May Be All Pomp and Protest
It's not the coming home most people had in mind. With England soccer fans nursing the pain of World Cup semi-final defeat, U.S. President Donald Trump, whose mother was Scottish, begins a U.K. visit today laced with political tensions.
Amid threatened mass protests, including with a giant balloon of Trump as a diaper-clad infant, his hosts have choreographed the visit to keep the president out of London. He'll take tea with Queen Elizabeth II at Windsor Castle, meet with May at the premier's country estate and visit Winston Churchill's ancestral home.
The grand tour's unlikely to distract Trump from tweeting. He tends to play nice with allies in person only to vent angrily later on social media.
May will try to find the right time to urge Trump against making concessions to Russian President Vladimir Putin at their Helsinki summit on Monday.
Mostly, though, she'll likely be happy if the visit passes without incident before Trump spends the weekend at his Scottish golf resort, pursued by the baby blimp.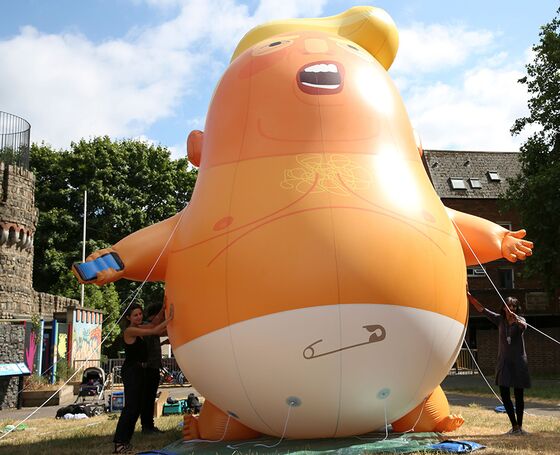 NATO disunity | Trump, in an impromptu news conference this morning, said NATO members had agreed to increase their defense spending. His comments followed an unplanned emergency session capping a two-day summit that's been disrupted by Trump's attacks on allies. It's a familiar Trump refrain. But, as Marc Champion reports, the tack has just one winner: Putin.
On again, off again | Chinese and U.S. officials have raised the prospect of resuming trade talks after Trump ratcheted up the pressure by announcing a huge new round of potential tariffs on imports worth $200 billion. Communications between Washington and Beijing have petered out since a third round of formal negotiations ended with scant signs of agreement in early June.
Gun views | Democrats are warning that Supreme Court nominee Brett Kavanaugh may use the powerful perch to expand gun rights. A 2011 Kavanaugh opinion, arguing for striking down the District of Columbia's ban on assault-weapons, suggests he'd be a stronger Second Amendment advocate than Anthony Kennedy, whom he'd replace. The National Rifle Association's top lobbyist praised Kavanaugh as an "outstanding choice" with "an impressive record."
Hacking update | The U.S. hasn't seen any indication that the Kremlin has renewed efforts to tamper with election systems this year, but the upcoming midterms "remain a potential target for Russian actors," a Trump administration official told a House panel. U.S. officials have said Russian hackers scanned the election systems of all 50 states in 2016 and tried to breach at least 21, though there's no evidence any votes were altered.
Sounds of war | Fighting in Syria has come full circle as its army attempts to retake Daraa province, where the regime's brutal reaction to anti-government graffiti sparked the uprising against President Bashar al-Assad in 2011. The offensive against one of the last two major opposition strongholds has brought Syrian forces close to the Israeli-held section of the Golan Heights. David Wainer, Jonathan Ferziger and Donna Abu-Nasr explain why the thud of shells is stoking fears of new conflicts.
As the Trump administration tries to unwind the effects of its short-lived effort to end the "catch and release" of undocumented immigrants, "eligible" children under 5 years old could be reunited with their parents today — two days after a court-ordered deadline.
And finally...The World Cup in Russia reaches its climax with the final on Sunday when Croatia, with a population of 4 million, bids to become the smallest nation to win the trophy since Uruguay in 1950. The formidable France team stands between the former Yugoslav republic and the history books. Croatia entered the competition as an independent nation for the first time only in 1998 - when France, the host, won its sole World Cup.