Stormy Daniels's Strip Club Charges Are Dropped Hours After Arrest
(Bloomberg) -- Adult-film star Stephanie Clifford, whose fame has been multiplied by her lawsuit against U.S. President Donald Trump, was released hours after a now-voided arrest at a strip club in Columbus, Ohio, which her lawyer says was politically motivated.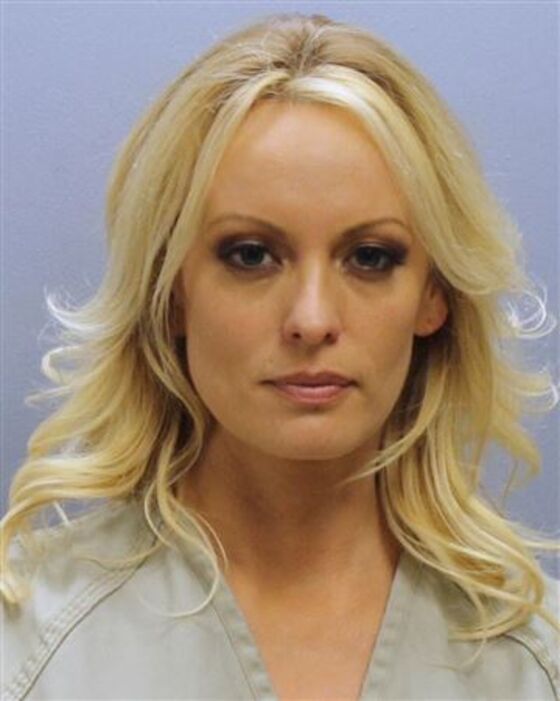 Michael Avenatti, her attorney, announced the arrest in a 1 a.m. tweet Thursday, saying Clifford was accused of three misdemeanor charges of allowing "touching." But less than 12 hours later, the California lawyer said in another tweet that all charges against Clifford, who goes by the stage name Stormy Daniels, had been dropped.
Clifford's arraignment had been scheduled for Friday morning, Avenatti said. Instead, the state of Ohio asked a judge Thursday to toss out the charges because there's no evidence Clifford "regularly" appears at the venue where she was arrested, Sirens Gentlemen's Club.
Under Ohio law, an employee who regularly appears nude or seminude in a sexually oriented business is prohibited from knowingly touching a patron who's not a member of the employee's immediate family.
"There has been no evidence provided to the state that defendant appears or appeared regularly at Sirens," the state said in its filing. "Therefore, the state cannot prove every element of these offenses beyond a reasonable doubt."
Avenatti said Clifford would go ahead with her performance at Sirens as scheduled Thursday night, reversing an earlier decision to steer clear. The club's website had advertised a two-night appearance.
Clifford "refuses to be intimidated," Avenatti said in a tweet. "She will return to the scene of the 'no crime' tonight in Columbus, Ohio as scheduled. She never ceases to impress!"
The actress weighed in with a tweet of her own, and threw in a dash of politics: "I'll be going onstage tonight at Sirens in Columbus to perform for my fans and register voters as planned. Can't stop the storm."
Clifford's arrest came after undercover officers conducted a vice operation at the adult-entertainment venue, according to Avenatti.
"They placed undercover officers in the strip club where they hoped they would be able to arrest my client," Avenatti said in a phone call. "During her performance, a couple female undercover officers asked her if they could place their faces in between her breasts."
Avenatti declined to say exactly what happened next, but after Clifford's performance she was taken into custody by male officers and it became evident that the two women were also officers, the lawyer said.
The arrest report says four undercover officers entered the club Wednesday at 10:00 p.m. to investigate complaints about prostitution and drugs. Clifford is identified in the report as one of three women who were arrested. According to the report, the majority of the patrons at Sirens rushed to the stage when Clifford started her strip tease and began throwing dollar bills at her.
"During her performance and after removing her top exposing her breasts she began forcing the faces of the patrons into her chest and using her bare breasts to smack the patrons," the report says. "The officers also observed Ms. Clifford fondling the breasts of female patrons."
The undercover officers said in the report that Clifford "grabbed" them one at a time, "forcing" their faces into her chest. It doesn't indicate that they asked her to do so, as Avenatti says.
Columbus Police Chief Kim Jacobs said later that the officers mistakenly arrested Clifford and that their motivations would be probed. Avenatti said he uncovered what appeared to be pro-Trump images posted on a now-deleted social-media account for one of the officers under an alias.
"While the presence of Vice officers at this establishment is reasonable, the motivations behind the officers' actions will be reviewed internally," Jacobs said in a statement.
Clifford sued Trump and his former personal attorney, Michael Cohen, to get out of a $130,000 "hush agreement" she signed in October 2016 to keep silent about her alleged sexual encounter with Trump more than a decade ago. The case has emerged as one of the most problematic lawsuits of Trump's presidency, helping trigger a criminal investigation into Cohen's financial dealings.
Columbus, home to Ohio State University, is the state capital and its largest city. Telephone calls to the police went unanswered.