Ex-PM Sharif Heads to Pakistan to Face Jail Before Elections
(Bloomberg) -- Former Pakistani Prime Minister Nawaz Sharif started his journey from London to Lahore on Friday and will be arrested upon landing ahead of a national vote that his party says has been manipulated.
Sharif and his daughter Maryam, who were handed 10-year and seven-year jail sentences respectively last week by an anti-corruption court, arrived in Abu Dhabi and will transfer onto Lahore. Two National Accountability Bureau teams have been assigned to arrest them when they arrive at the airport and they will be taken by helicopter to Islamabad, according to an official at the agency. "He is convicted, so he has to be arrested first and can't be allowed to roam around in the city," Information Minister Syed Ali Zafar said in broadcast comments on Thursday.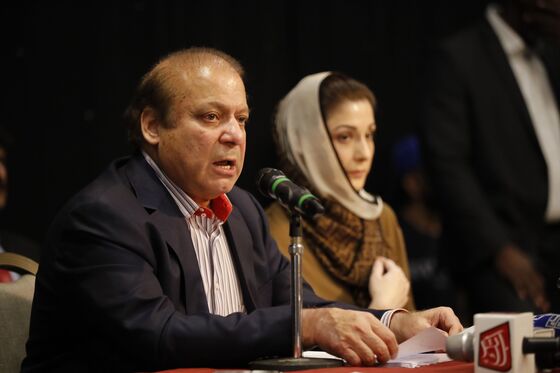 The former ruling party headed by the ousted premier has accused security forces of arresting hundreds of loyalists in Lahore. Ministers in the provincial government have said only anti-social elements have been detained and police have placed shipping containers across the city to block roads to prevent protesters reaching the airport.
Sharif's dramatic return before a July 25 election follows a two-year corruption scandal that engulfed Pakistani politics after the leak of the so-called Panama Papers showed his family used offshore accounts to buy high-end London apartments. The former premier was disqualified from the top job by the Supreme Court last July, his third ousting since the 1990s.
The Sharif family has consistently denied any wrong doing and has criticized the judiciary's handling of his case. Sharif said the nation's powerful military -- which removed him in a 1999 coup -- has conspired to manipulate the vote against his Pakistan Muslim League-Nawaz party in favor of his main political rival Imran Khan.
The armed forces, which have directly ruled Pakistan for almost half of its existence, have repeatedly denied interfering in the election. Khan, a former national cricket captain, has also rubbished claims that he is a tool of the army's alleged attempts to bring a pliant government to power.
Sharif's homecoming is being seen as a potential turning point for the electoral prospects of his party, which has been losing ground to Khan's Movement for Justice, according to a Gallup Pakistan survey published this month. The Sharif family has sought to portray themselves as victims of the military establishment.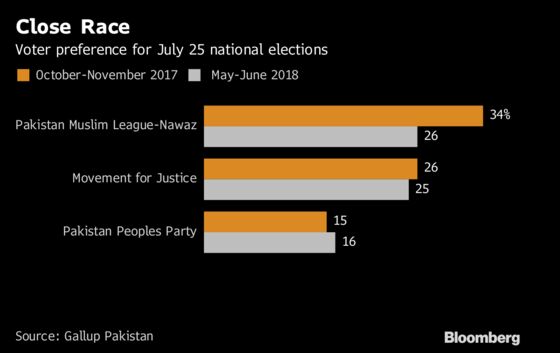 "It's a move to charge up his supporters," said Umbareen Javaid, chairwoman of the political science department at Punjab University.
On Wednesday, Sharif told reporters in London that the military's main spy agency has intimidated the PML-N's election candidates and has told them to switch parties or run as independents. Sharif's younger brother Shehbaz led late-night rallies across Lahore to drum up support for the ex-prime minister's arrival and said the arrest of party workers amounted to "naked pre-poll rigging."
Pakistan's television regulator said on Thursday it was of "grave concern" that local channels were airing political press conferences "containing defamatory and derogatory content targeting various state institutions specifically judiciary and armed forces."
A spate of violence has also marred the campaigning of smaller parties. Haroon Bilour, a key leader of the Awami National Party, was killed in a suicide bombing in the northwestern city of Peshawar this week, while Akram Khan Durrani of the Muttahida Majlis-e-Amal escaped a blast in northern Bannu on Friday.