Currencies in  Mexico, Turkey Diverge After Votes
(Bloomberg) -- For investors in Mexico and Turkey, the devil they didn't know is proving far more palatable than the one they thought they did.
Voters in both nations turned out in force a week apart to back their next leaders. In Mexico, it was Andres Manuel Lopez Obrador, the leftist who had spooked markets for month with his populist rhetoric. Turks delivered another mandate for Recep Tayyip Erdogan, who has steered his nation through a period of sustained economic growth since 2003.
Since the elections, though, markets have cheered the Mexican leftist known as AMLO and delivered a thumbs down for Erdogan. The peso, which lost almost a 10th of its value against the dollar before the July 1 vote, rallied more than 5 percent since then. Turkey's lira, by contrast, fell over 3 percent since the nation's June 24 vote, extending this year's collapse to more than 21 percent.
In short, the divergence of fortunes is a graphic example of how important investor-friendly policy signals inspires confidence in financial market prices, no matter how predictable leaders have been perceived in the past.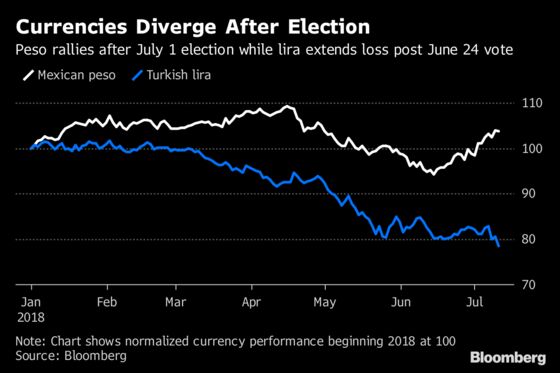 Erdogan, 64, has been at the helm in one way or another for 15 years, while Lopez Obrador, a year older, has only now secured the top role after two failed bids since 2005. Neither was viewed as particularly market-friendly: Erdogan has persistently fought market demands for interest-rate hikes amid double-digit inflation, while investors fretted about Lopez Obrador's pledges on welfare spending and a bigger state role in the energy industry.
The Turkish leader compounded investor worries this week with a series of decrees that abolished professional requirements for top posts, expanded his influence over the central bank and promoted his son-in-law to replace Mehmet Simsek, a long-time steward of Turkey's economy. The lira has lost more than 5 percent so far this week, even as buyers now earn an annualized 17.20 percent with a one-month trade, more than double that of the peso.
It's a different story in Mexico, where Lopez Obrador and senior aides have adopted a conciliatory tone. His transition team, consisting mostly of college professors, hopped from interview to interview, stressing central bank independence, budget discipline and due process to determine the fate of Mexico City's new airport project, which the president-elect had previously proposed should be halted. The peso's 5.1 percent rally in July leads the world's major currencies.
The lira doesn't just lag the peso in the spot market. It's also more likely to see wild swings in months to come. The peso's one-year implied volatility jumped above 14.5 percent to a five-month high in mid-June, but now trades in line with its 2018 average. The same gauge for the lira retreated toward 16 percent the day after election, yet spiked this week to erase the declines. The lira's implied volatility now trades around 18.5 percent, well above its 50-, 100- 200-day moving averages.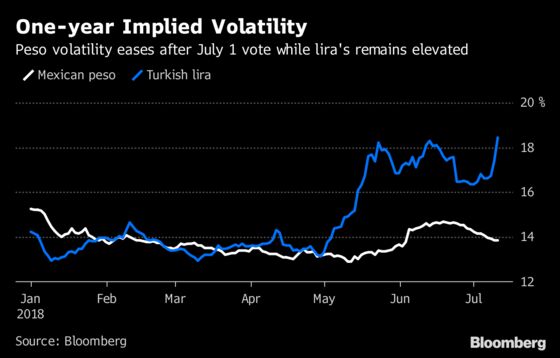 Turkey also fares worse than Mexico on a longer time horizon. Five-year credit default swaps, in effect the insurance premium paid against sovereign insolvency, shows a similar story. While it's always cheaper to insure the debt of Mexico, which is three notches above investment grade than junk-rated Turkey, Mexico's CDS has risen far less this year in percentage terms. CDS points suggest any election-related concerns quickly faded in Mexico, while fiscal concerns have lingered in Turkey.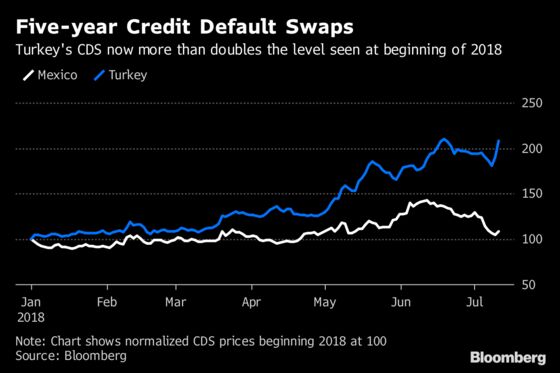 Markets may now assume the worst for Turkey's central bank, Commerzbank senior EM economist Tatha Ghose said in a July 10 note. If Turkey shifts to a policy framework that leads to lower rates, it will almost certainly lead to "more rapid lira losses," Ghose wrote, leaving authorities with "no other option but to impose capital controls." The lira climbed on Thursday after falling to an all-time low of 4.9743, as Turkey's economy czar Berat Albayrak sees curbing inflation as top priority.
Contrast that with a Citigroup survey on Mexico after the election: 56 percent said the peso was their favorite currency and 60 percent liked Mexico bonds or rates. Before the vote, those figures were 29 percent and 27 percent, respectively.
NOTE: George Lei is an FX strategist who writes for Bloomberg. The observations he makes are his own and not intended as investment advice
Some information comes from FX traders familiar with the transactions who asked not to be identified because they are not authorized to speak publicly