Germany Clears Former Catalan Leader's Extradition to Spain
(Bloomberg) -- Germany cleared former Catalan President Carles Puigdemont's extradition to Spain on embezzlement charges, while saying he can't be prosecuted for rebellion.
A state court in the German region of Schleswig-Holstein said it sees no hurdles to sending Puigdemont, 55, back to Spain, where charges against him include rebellion for his role in Catalonia's failed independence bid last year. He remains free on bail in Germany, the court said in a statement Thursday.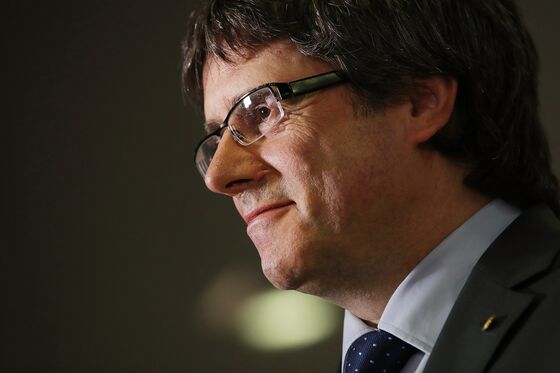 "The court has absolute confidence that the Spanish justice system will respect the standards of both national and community law," according to the statement.
Puigdemont can't be considered an "intellectual leader" of violent acts, but he also can't claim he'll be a victim of political persecution in Spain, the court ruled.
Spain's Supreme court has been investigating Puigdemont and more than a dozen other separatist politicians for rebellion, disobedience and embezzlement after the Catalan executive carried out an illegal referendum in October and declared independence in defiance of Constitutional Court warnings.
Supreme Court magistrate Pablo Llarena this week completed the process of gathering evidence against Puigdemont and his associates, of which nine are in jail. Prosecutors now have to formally submit charges.
"The German court ruling provides the lawyers of the other defendants with some arguments, but it doesn't constrain the judges or prosecutors' decisions," said Jose Maria Fuster-Fabra, a law professor at University of Barcelona.
Puigdemont fled to Belgium in late October after the declaration of independence collapsed. He was arrested in Germany in March as Spanish authorities filed a European arrest warrant.