Thailand Says Brexit Could Be Positive for Trade With the U.K.
(Bloomberg) -- Thailand sees the possibility of gain rather than pain for its trade links with the U.K. after Brexit.
Departure from the European Union could eliminate some import curbs imposed by the bloc, while a future free-trade pact would allow the U.K. to boost shipments to Southeast Asia's second-largest economy, according to Pimchanok Vonkorpon, the director general of the Commerce Ministry's trade policy and strategy office.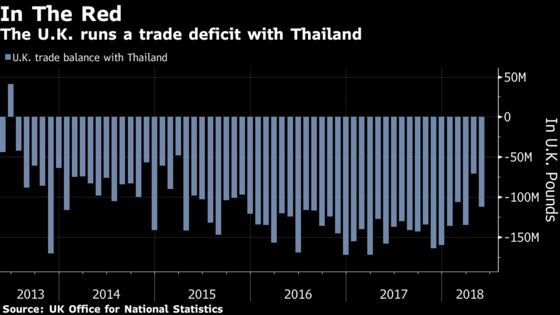 "Both sides stand to gain as our product mixtures are complementary," Pimchanok said in an interview Tuesday in Bangkok. Thailand wants to agree on a free-trade deal after Brexit, Pimchanok added.
Thailand, among the most export-dependent economies in Southeast Asia, is seeking to expand trade ties to help sustain a recent acceleration in economic growth.
The country could boost sales of items such as chicken to the U.K., while greater quantities of alcoholic beverages like scotch whiskey could be imported into Thailand, Pimchanok said. There would be increased opportunity for the U.K. to invest in services such as insurance, she added.
The U.K. is Thailand's third-largest European trading partner, accounting for 18 percent of the total exports to the EU in the first five months of this year, customs data shows. Exports of goods and services account for about 70 percent of Thai gross domestic product, according to the World Bank.