Qatar Said to Seek $4 Billion Loan for Typhoon Fighter Jets
(Bloomberg) -- Qatar is seeking to raise more than $4 billion from banks to finance the purchase of Eurofighter Typhoon combat jets, according to people with knowledge of the matter.
The government is working with financial advisers on the deal that will be backed by export credit agencies, the people said, asking not to be identified because the talks are private. Qatar has invited lenders to participate in the loan and a transaction could be finalized within a month, they said.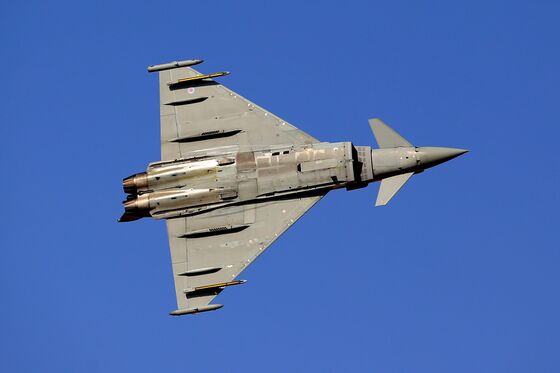 The gas-rich Gulf state is also holding talks with banks and credit export agencies from Italy, France and the U.K. to raise billions of dollars in loans for other defense deals, two other people said. A Qatari government official said the Typhoons "will advance Qatar's strategic efforts towards stability" but that the "method and mechanism of payment has not been decided yet."
Qatar is beefing up defense spending after Saudi Arabia, the United Arab Emirates, Bahrain and Egypt severed diplomatic and economic ties with it in June 2017, accusing the country of close links to Iran and financing terrorism. Qatar has repeatedly denied the allegations.
In December, Qatar ordered 24 Typhoon jets in a deal valued at 5 billion pounds ($6.6 billion). The contract is subject to financing conditions and the first payment will come no later than the middle of this year. That order came after the country said it planned to buy another dozen Rafale jets from Dassault Aviation SA on top of 24 already ordered, and agreed to purchase as many as 36 Boeing Co. F-15s.
Many of the weapons systems bought from the U.S., U.K. and France were under consideration before Qatar's isolation by its neighbors. "Yet, of course with this crisis, there was a realization of the necessity of strengthening some of those partnerships," Lulwah Rashid Al Khater, Qatar's foreign ministry spokesperson, said in December.
Here are some of the largest weapon purchases signed by Qatar since June 2017:
| | | |
| --- | --- | --- |
| Country | Value | Details |
| U.S.  | $12 billion  | Deal to buy as many as 36 F-15 jets in June |
| Italy | $5.9 billion | Qatar buys seven naval vessels in August |
| U.S. | $1.1 billion | Support package for Boeing F-15 purchase in November |
| France | $14 billion | Contract for 12 Rafale fighter jets, 490 armored vehicles manufactured by Nexter, and other non-defense deals in December |
| Italy/France | $3.7 billion  | Agreement to buy 28 military helicopters from Leonardo SpA and Airbus SE  |