Pakistan Party Says Probe Naming Zardari Amounts to 'Rigging'
(Bloomberg) -- The Pakistan Peoples Party said a money-laundering probe by the government's Federal Investigation Agency that has named its co-chairman Asif Ali Zardari and his sister as beneficiaries amounts to "pre-poll rigging" and "political victimization," joining other politicians raising concern about the fairness of national elections.
The former ruling party, which held the second-largest amount of national seats before parliament was dissolved last month ahead of the July 25 vote, denied that former President Zardari and Faryal Talpur were involved in any criminal transaction. The Supreme Court in a statement dated July 8 named them in an alleged scam "running into billions of rupees." Zardari, his sister and executives from local lenders Sindh Bank Ltd., Summit Bank Ltd. and United Bank Ltd. were summoned to appear before the top court on Thursday to testify over alleged fake account transactions, according to the statement.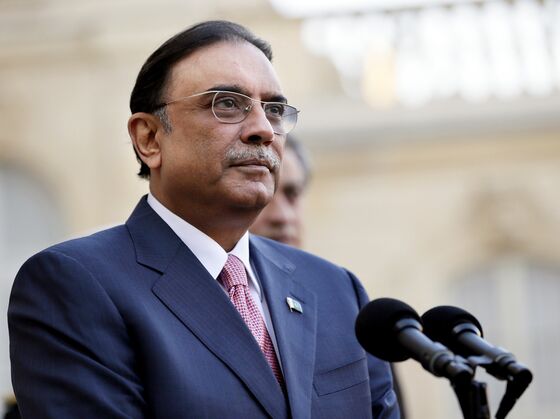 "Its timing and the media trial that has begun at this point in the campaign smacks of clear intent to damage the party leadership and influence our voters," the PPP said in a statement late Tuesday. The party said Zardari and Talpur had both been barred from leaving Pakistan. Their company had transacted a 15 million rupee ($123,304) loan, which was returned and doesn't amount "to money laundering or criminal transaction. Both are allegations which shall be contested in court," the PPP said.
Zardari's party said the examination of the three-year old case ahead of the July 25 ballot is "suspicious." Analysts have said the probe will be seen fortuitously timed for Imran Khan's Movement for Justice party, which has led a hard-charging anti-corruption campaign. Khan's main political rival, former premier Nawaz Sharif, was handed a 10-year jail sentence last week by an anti-graft court. The allegations against Zardari may dent support for the PPP, which he co-heads with his 29-year-old son Bilawal Bhutto Zardari.
Zardari, 62, rose to prominence in the 1990s as the husband of assassinated former Prime Minister Benazir Bhutto. During that period he developed a reputation for corruption and is widely known across the country as "Mr. 10 percent." Zardari has repeatedly protested his innocence and his only criminal conviction was overturned. However, he spent 11 years in prison under a previous Sharif administration and during the rule of General Pervez Musharraf, who came to power in a 1999 coup. He was elected the country's president by lawmakers months after his wife's murder in December 2007.
The run-up to the election has been marred by allegations of widespread army-led media censorship and intimidation. Sharif and other observers have accused the judiciary and Khan of being puppets to the military, which has ruled Pakistan for much of its post-independence history. Many believe the army supports Khan because it wants a pliant government it can control after turbulent relations with the two main dynastic parties. Khan and the army has repeatedly denied the allegations.