Merkel Defies Political Gravity to Face Trump Again at NATO
(Bloomberg) -- Having seen off a domestic opponent, Angela Merkel is about to climb into the ring again for another likely bout with President Donald Trump.
Since he last met Merkel in June, Trump has weighed in on a German cabinet fight over migration with an unusual attack suggesting voters were turning against her. Heading to the NATO summit in Brussels, he bore down on Germany again for allegedly free-loading off of U.S. defense spending.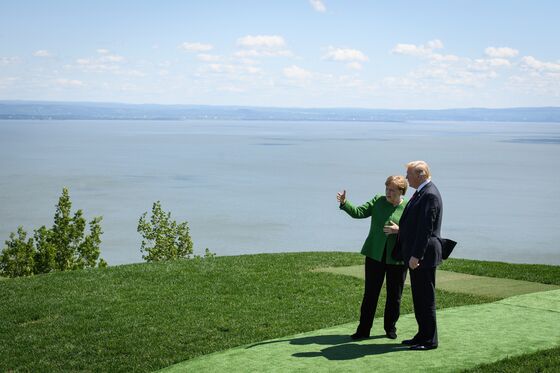 Germany's chancellor of almost 13 years has defied the laws of political gravity long enough to make her Trump's top target in Europe. She just beat back her biggest threat yet, a party clash over migration so severe that people inside the room say she risked losing control of her parliamentary caucus.
But if Trump is expecting to meet a chastised chancellor in Brussels who is on the verge of bowing out, he may be disappointed. The way Merkel rode through the populist challenge is a signal to the U.S. president that he's likely to be dealing with her for a while yet.
"She's no longer the queen of Europe," said Jacob Funk Kirkegaard, senior fellow at the Peterson Institute for International Economics in Washington. "But does that mean she's about to leave, about to be forced out of office? That's completely misguided."
More likely, Merkel's threat is a slow-drip erosion of authority at home by risks over which she has limited influence -- migration, terrorism and political constraints on defense spending. She won't be helped by a U.S. president who's threatening to jack up tariffs on European cars, wants Germany to curb energy ties with Russia, disdains the European Union and is reaching out to her nemesis Vladimir Putin.
Trump targeted Germany again on arrival on Wednesday, saying its imports of Russian oil and natural gas make Merkel's country "a captive of Russia."
For all her battle scars, the first female German chancellor, once dubbed the "queen of the backrooms" by Der Spiegel for her negotiating skill, still holds key assets.
Adversaries have regularly underestimated her. She's more popular than her party and has higher approval ratings than Trump in the U.S. Her Christian Democratic-led bloc and her Social Democratic partner aren't eager for an early election after falling to historic lows last year.
Merkel also is shielded by German constitutional safeguards against the polarization and serial cabinet changes that destroyed the Weimar Republic democracy in the early 1930s before Adolf Hitler took over.
"The options for getting rid of Merkel are pretty limited," said Andrea Roemmele, a political scientist at the Hertie School of Governance in Berlin. With Germany's next regular election more than three years away, resigning also doesn't appear to be on the cards . "That's unlikely to happen," Roemmele said. "She's just not the type."
Relative calm returned to Germany only after a revolt against Merkel by economic and social conservatives in her caucus, which escalated into the kind of behind-the-scenes drama that can bring down a government.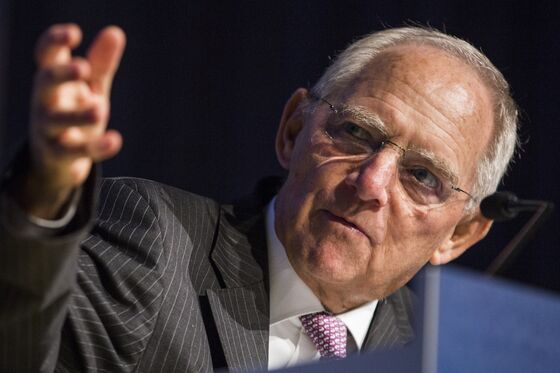 Incensed by her refusal to turn away more asylum seekers at the border, the rebels last month sounded out the possibility of replacing Merkel with former Finance Minister Wolfgang Schaeuble, a stalwart of her Christian Democratic Union and president of the lower house of parliament, according to three people with direct knowledge of the discussions.
In an echo of dissent during the euro crisis, some CDU members joined lawmakers from Bavaria's ruling CSU party in the challenge to Merkel. But when they put the idea to the Social Democrats, the SPD relayed the approach back to CDU leaders and shot the idea down, one of the people said.
While Merkel, who turns 64 next week, is said to have been thinking for some time about ensuring an orderly succession in the CDU, there's no sign any decision is imminent.
Now in her fourth term, she has outlasted Margaret Thatcher, who quit during her third after dwindling support within the Conservative Party led to a leadership vote. Even Helmut Kohl, the chancellor who presided over German reunification and was Merkel's political mentor, overcame a party revolt before winning a third and fourth term.
"She's weakened in the sense that Germany is weaker relative to the other countries in Europe, because there is no euro crisis," making Germany's dominance as lender of last resort less important, Kirkegaard said. It's a different world for the chancellor as a result. All the same, "Political obituaries of her are way too premature," he said.