Kavanaugh Critics, Supporters Dig Through His Long Paper Trail
(Bloomberg) -- The Brett Kavanaugh paper chase is on.
Critics and supporters alike are digging into the voluminous trail of documents left behind by President Donald Trump's Supreme Court nominee over more than two decades of government service, including his work for Independent Counsel Ken Starr from 1994 to 1998 and in President George W. Bush's White House.
Democrats, with little leverage to block Trump's nominee, are mining Kavanaugh's records for potential weapons that can be used to hold up confirmation of the conservative appellate court judge, who's written nearly 300 opinions in 12 years on the D.C. Circuit Court of Appeals.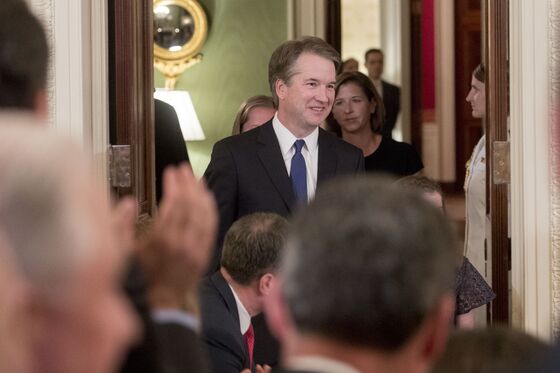 At the same time, Kavanaugh's supporters and allied interest groups are heading to archives to prepare for, and possibly head off, lines of attack from critics as well as to bolster their case that Kavanaugh is a first-rate legal mind who'll be an independent justice.
Senate Republicans are braced for a long slog. Senate Judiciary Committee Chairman Chuck Grassley said Tuesday that Kavanaugh may not get a hearing before August as the committee plans to spend "a couple of months" reviewing his cases.
"I don't even know the massive amount of material besides 300 cases that I have to look at," the Iowa Republican told reporters, suggesting that committee staff may be working weekends to compile material. He added that he still expects a confirmation vote will be held before the Nov. 6 congressional elections.
The targets for the searchers include the George W. Bush Presidential Library and Museum in Dallas, the National Archives in Washington and the electronic records of the U.S. federal court system.
Democrats will be seeking memos, emails and other documents related to some of the controversial episodes during the Bush administration, including anti-terrorism measures taken in the aftermath of the Sept. 11 attacks and the Iraq war. Additionally they'll want to see his work on Starr's investigation of President Bill Clinton for any hints on how he'd approach potential challenges to Special Counsel Robert Mueller's investigation of Trump.
Fix The Court, which bills itself as a nonpartisan transparency group, announced Tuesday it had sued in federal court to uncover Kavanaugh's records from his time on Starr's staff and in the Bush White House.
The group says the National Archives has identified 20,000 pages of material stemming from Kavanaugh's work for Starr, and the Bush library has identified more than a million pages and electronic files for possible release under the Freedom of Information Act. Additional records could come from the Justice Department.
All that comes on top of the 12 years of judicial decisions that advocacy groups on both sides started scouring even before Trump announced Kavanaugh's nomination.
The volume of records released could top the amount released during the 2005 nomination of John Roberts, who had spent eight years in two Republican administrations. Roberts, now the chief justice, said during his confirmation hearing that he believed some 80,000 pages of materials had been released.
The Democratic-aligned American Bridge has mapped out a plan that includes filing freedom of information requests, exploring the Bush library, obtaining audio and video of Kavanaugh's remarks, and scouring his past writings as well as property records. The group tweeted a photo of the Bush library Tuesday morning with the hashtag #StopKavanaugh.
"This man has a lengthy record of political service, public service and service on the court," Dick Durbin of Illinois, the second-ranking Senate Democrat, said after a strategy meeting Tuesday with progressive groups. "Now that he's going to be the deciding vote on the Supreme Court for a generation or more, we want to get all of the information together to make sure we have a complete record of what he's done."
Senate Democrats intend to hold Kavanaugh to the same standard Republicans imposed on Justice Elena Kagan, President Barack Obama's solicitor general, when she was nominated in 2010. That included posting online the internal memos and e-mails she sent while in the administration.
"We want the same standard that we afforded the Republicans when they asked for a large amounts of paper trail from Elena Kagan," Senate Minority Leader Chuck Schumer told reporters Tuesday. "There were 170,000 pages that were turned over by the archives. This is a vital appointment that could affect America for a generation. And we want to see all of the documentation before we vote."
U.S. archivists called the production of the Kagan documents a "herculean task," saying that it required more than 6,000 hours of work put in by nearly two-dozen staffers. Kagan's confirmation on Aug. 5 occurred nearly three months after her nomination on May 10.
Dan Pfeiffer, a former Obama White House adviser who was part of the team on Kagan's nomination, said that the advent of email on personal devices during the Bush years means there will be plenty of material from that time. "This is critically important since he is a political operative turned judge who will be asked to weigh in on cases that will affect the political standing of the party that he spent his career working for," he said.
Asked Tuesday if he's worried that the extensive documentation that Kavanaugh has amassed can be used against him, Grassley responded, "I wouldn't have the slightest idea. Except for 300 cases I don't know what's coming."
Senator Mitch McConnell of Kentucky, the Senate majority leader, said Tuesday that Kavanaugh was a "superb selection" with an "outstanding legal mind." Before the nomination, he said he'd like to confirm a justice by the first week of October, when the Supreme Court's new term will begin.
But Democrats eager to block Kavanaugh have other ideas, thanks in part to the paper trail that could eat up time before the nominee can appear before the Judiciary Committee.
"Hard to see how a hearing on Kavanaugh confirmation is even possible before Labor Day. The document production from his Starr/Bush WH tenure is going to take forever," Brian Fallon, a Democratic strategist who leads the group Demand Justice, said Monday night on Twitter. "This is what McConnell warned WH about, but they picked Kavanaugh anyway."