How Big Business Took On Hard Brexit and Won
(Bloomberg) -- The offensive was in the works for months -- and delayed at least once. But the move by some of Britain's biggest employers landed with maximum effect to hit champions of Brexit with a dose of reality.
With two of the leading proponents of Brexit out of Theresa May's government, companies are increasingly optimistic they'll get what they want on Thursday when she unveils a detailed sector-by-sector blueprint for economic life after the European Union. But with the split in the governing party wider than ever, normally cautious executives are now exposed to hardball politics.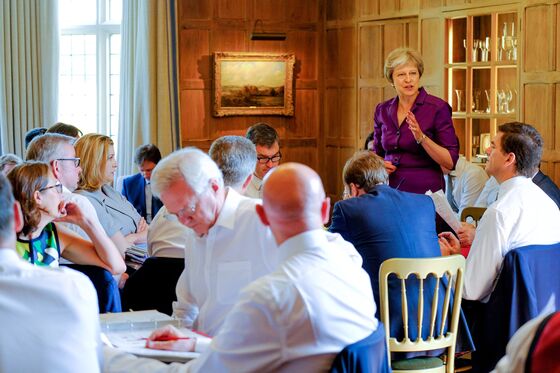 "For some businesses, speaking out is a difficult thing to do because they're worried about how their shareholders or investors will react," said Adam Marshall, director general of the British Chambers of Commerce. "So when companies stick their heads above the parapet like this, they're doing so because it's imperative."
While British companies have been meeting and talking among themselves about confronting the reality of Brexit since the immediate aftermath of the June 2016 vote to quit the EU, the urgency to act has mounted as the need for decisions neared. A European leaders' summit in late June was the initial target for concerted corporate action. But when May delayed publication of her strategy for the post-Brexit deal, business changed its focus.
May's gathering of key ministers last Friday at her Chequers country retreat, northwest of London, became the new target. The meeting was framed as the moment when May's squabbling cabinet would unify on the post-Brexit economic relationship. For business, the warning from their lobby groups was stark: make yourself heard before then, or deal with the consequences of a Brexit that doesn't protect investment and jobs.
Airbus SE had already broken cover, threatening to pull its U.K. investment if Britain walked away from the EU without a deal, a move that could affect 14,000 jobs. German automaker BMW AG soon followed.
In the week of the Chequers meeting, Jaguar Land Rover, Rolls-Royce and health-technology company Royal Philips NV joined the chorus, highlighting risks to employment if Britain didn't strike a deal.
While business lobby groups have repeatedly issued public warnings they knew it would require companies with real-life jobs and factories on the line to set off alarms. In the course of regular meetings -- with companies and government -- they urged members to use this moment to stick their necks out.
"We have encouraged them and some of the ministers have encouraged them to come out very publicly," Stephen Phipson, head of the EEF manufacturing lobby group, said in an interview two days before Chequers.
This story is based on interviews with seven officials from both the corporate world and government, most of whom declined to be identified talking about private meetings and strategy.
One official described the Chequers meeting as "D-Day" for business and said that a steady drumbeat of lawmakers loudly calling for a hard Brexit fed their urgency to use that moment to speak out.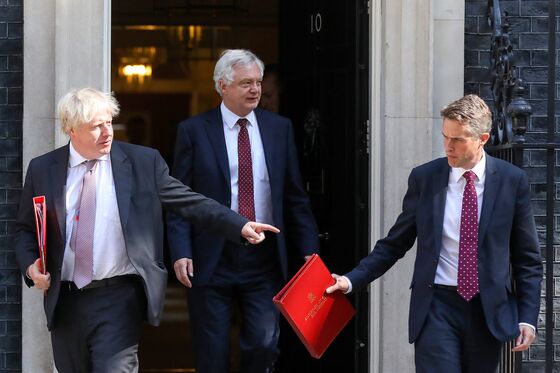 Indeed, Jacob Rees-Mogg, the lawmaker and head of a group of backbench Tory Brexiteers, urged May to revive her threats of no deal, making a clean break from European rules. When now ex-Foreign Secretary Boris Johnson was asked about the threats from Airbus and BMW he simply said: "F*** business."
As the saber rattling of the Brexiteers grew, so did concerns from business that those voices would drown out the more measured approach of Business Secretary Greg Clark and Chancellor of the Exchequer Philip Hammond.
Officials in the government's business department say there was no orchestrated campaign, though they added that the warnings from Airbus and others helped further the push for a Brexit strategy that protects jobs and investment. And in the weeks leading up to last Friday's gathering, Clark had met with Airbus, BMW, Jaguar Land Rover and Rolls Royce. And at Chequers, he delivered a detailed presentation on the implications of various Brexit scenarios for particular companies and sectors.
Conservative lawmakers seeking to soften Brexit joined in speaking up. Former Education Secretary Nicky Morgan and lawmaker Stephen Hammond -- who both rebelled against May in December over Brexit legislation -- coordinated a letter signed by 46 Tories calling on the premier to "listen to the voice of business now."
So far, the threats appear to have paid off. The Brexit plan outlined and backed by ministers at Chequers proposes to keep close trade ties with the EU after the U.K. leaves, including a "free trade area," with interwoven customs regimes, and identical regulations for industrial and agri-food goods. The plans have been supported by the main business lobby groups.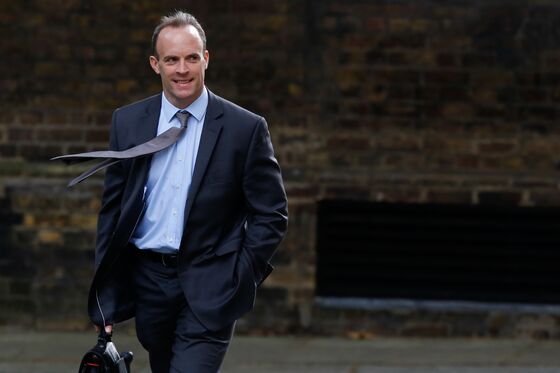 Airbus has endorsed May's path and called on the EU to show greater flexibility in negotiations.
Business may also benefit from the resignations of Johnson and Brexit Chief David Davis; they both quit after deciding they couldn't support May's post-Brexit blueprint. Dominic Raab, previously a housing minister and a leave campaigner, replaced Davis.
At a meeting between the five main business lobby groups and Raab Tuesday morning, the new cabinet minister struck a very different tone to Davis, according to three people with knowledge of the meeting.
Opening the hour-long meeting at the Cabinet Office, Raab told the group: "I'm unashamedly pro-business."