The EU's Anti-Migrant Bloc Is About to Get a Boost
(Bloomberg) -- Czech billionaire Andrej Babis won parliamentary approval for a minority government, strengthening the group of European Union members who are challenging the bloc's unity.
As populist forces from Italy to Sweden shake the EU's foundations and Brexit talks languish far from resolution, Babis has emerged as one of the strongest voices in the post-communist wing clashing with Germany over refugees. Along with like-minded allies in Poland and Hungary, who are themselves embroiled in battles over democratic values, the Czech premier rejects integrating further with the union and refuses to move closer to adopting its common currency.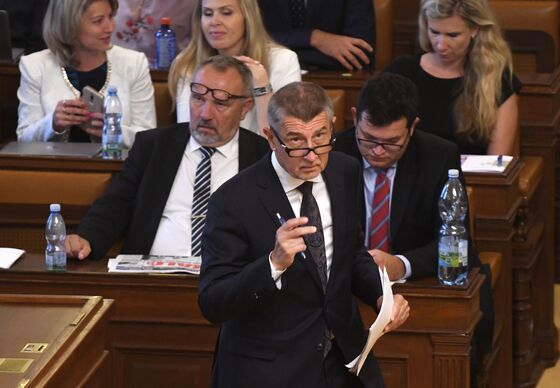 He received confirmation from lawmakers in a confidence vote on early on Thursday, after his ANO party and its coalition partner, the Social Democrats, secured tacit backing from the Communists.
The deal gives the descendants of the totalitarian party that ruled the country after World War II their first role in power since the fall of the Iron Curtain and has triggered opposition-led protests. But the chemical and media tycoon's employment of the us-against-them approach used by his euroskeptic peers against Brussels has won him wide support among voters.
"He knows it resonates with people," said Vit Dostal, a research director at the Prague-based Association for International Affairs. "He's using foreign policy themes as an instrument to increase his influence at home."
Read more about the government's economic plans
The former finance minister has inherited the lowest unemployment rate in the bloc and robust state finances. He has pledged to boost state investment, especially in roads and railways. He also wants to increase pensions and raise salaries for teachers and nurses, while keeping state debt low.
Babis's ANO party keeps a wide lead in opinion polls, but he struggled to cobble together a parliamentary majority in the eight months since elections. Most mainstream parties refused to work with him because he's under investigation in a case of EU-fund fraud, accusations that he rejects.
'Pro-European Politician'
Babis, who insists he's a "pro-European" politician, has said he won't follow his Polish and Hungarian peers in overhauling courts. He wants to promote the benefits of EU membership in the country of 10.6 million people and has vowed to keep it anchored in western alliances.
Still, he declared a victory when he and Hungarian Prime Minister Viktor Orban worked with Slovakia and Poland to prevent EU measures that would force them to accept Muslim immigrants.
"We cannot be outvoted again" in the EU, Babis said in his address to lawmakers before the confidence vote. "We really have influence, at last."
The premier remains ambiguous over sanctions against Russia for its annexation of Crimea from Ukraine. He told Czech Radio last week that he didn't know if he'd be in favor of ending the penalties, a move promoted by President Milos Zeman, a supporter of Russian leader Vladimir Putin.
That has alarmed opposition parties who say that Babis's transactional leadership style may lead to him granting concessions to the pro-Russian Communists, who want both to end the sanctions and to pull the Czechs out of NATO.
"It's clear that the Communists will want to gain something from this," said Josef Mlejnek, a political scientist from Charles University in Prague.