China Says It Won't Give In to U.S. 'Blackmail' on Tariffs
(Bloomberg) -- China fired back at President Donald Trump's latest tariff escalation, saying it won't yield to "blackmail."
Vice Minister of Commerce Wang Shouwen said he's baffled at how the U.S. administration appeared to put a trade war on hold after talks in May, only to slap tariffs on Chinese imports a few days later.
"If one party does not honor its words, talks cannot succeed," Wang said in an interview in Geneva on Wednesday. For negotiations to succeed, "no party should point a gun at the other party," he said.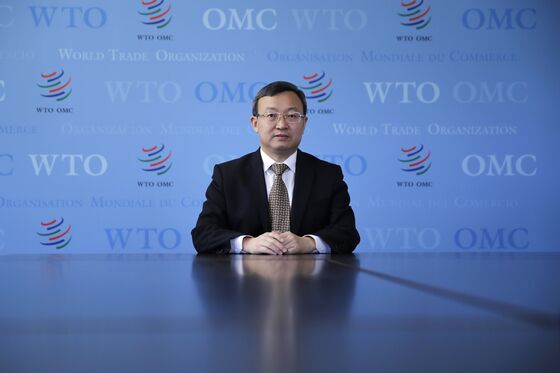 The U.S. is escalating its trade war with China by starting a process to impose 10 percent tariffs on $200 billion worth of Chinese goods. The levies announced Tuesday, together with some $50 billion in the works, stand to raise import prices on almost half of everything the U.S. buys from China.
China "never yields to threat or blackmail," Wang said in separate written comments to Bloomberg. "The U.S. side ignored the progress, adopted unilateral and protectionist measures, and started the trade war."
The tariffs, which could go into effect as soon as this fall, are in addition to the 25 percent duties Trump imposed on $34 billion worth of Chinese goods July 6.
The world's two largest economies haven't held publicly announced talks since a visit to Beijing by U.S. Commerce Secretary Wilbur Ross in June that achieved no breakthroughs.
While China "demonstrated utmost sincerity to stabilize trade relations with the U.S," the Trump administration "did not honor its words, chopping and changing all the time," Wang said.
"The U.S. behavior represents a typical 'trade bully,' posing a grave threat to the global value chain," Wang said. "It will hamper global economic recovery, hurting many businesses and ordinary people around the world. It will harm the interest of companies, employees and consumers in both China and the U.S."
Wang said China won't hesitate to retaliate against the Trump administration's "completely groundless" tariffs announced on Tuesday. He defended Beijing's response to the last round of American duties, saying its measures are in line with domestic law and international rules.
World Trade Organization officials are concerned that if the U.S. and China engage in a tit-for-tat trade war using unilateral domestic laws rather than the WTO's dispute settlement processes they will undermine the Geneva-based organization's ability to arbitrate global trade conflicts.
"It's time for anyone who cares about the health of the economy to sit up and take notice," WTO Director-General Roberto Azevedo said in a July 5 tweet.