China Channels Michelle Obama in Trade War Barb Aimed at Trump
(Bloomberg) -- Chinese officials are invoking a favorite rallying cry of President Donald Trump's political opponents as the U.S. leader escalates his trade war with Beijing.
"They go low, we go high," said Li Chenggang, an assistant minister at China's Ministry of Commerce, employing a slogan popularized in the 2016 presidential campaign by former First Lady Michelle Obama. The remark was greeted with applause Wednesday in Beijing, where Li was addressing a forum with the City of Chicago, the political base of former President Barack Obama and his wife.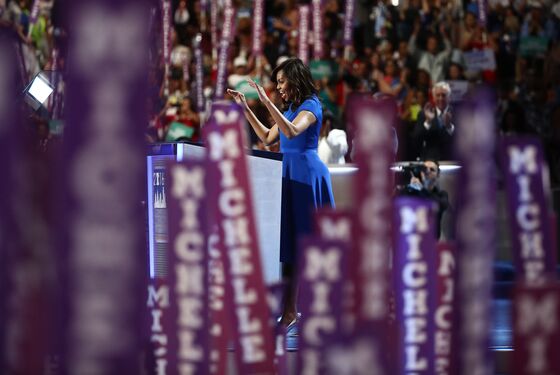 Such pointed comments -- coming after the U.S. detailed $200 billion of Chinese goods targeted for potential tariffs -- are unusual for Chinese officials, who try to avoid any involvement in American domestic politics. Michelle Obama used the slogan in a speech at the Democratic National Convention while explaining how she urged her daughters to ignore people who questioned their father's citizenship and faith -- as the then-candidate Trump had done.
"When someone is cruel or acts like a bully, you don't stoop to their level," Michelle Obama told the convention crowd in Philadelphia. "No, our motto is, 'When they go low, we go high.'"
China has attempted to assume the moral high ground by defending the global status quo at a time when Trump and others are taking a more protectionist stance. Chinese President Xi Jinping emerged as an unlikely defender of free trade with a speech to the world's business elite at the World Economic Forum in Davos weeks after Trump's election.
The "go high" line was also used during a speech last week by Frank Ning, one of China's leading industrialists. The chairman of state-owned Sinochem Group told the APEC China CEO Forum that "the biggest victim from a trade war will be the one who initiates trade protectionism."
Li also referenced "The Darkest Hour" -- the Academy Award-nominated film about Winston Churchill's struggle against Nazi Germany -- his remarks at the Chicago forum.
"The current global trade and investment environment unfortunately is at 'the darkest hour' because of U.S. actions," Li said. "At this moment, we need more than ever the light of free trade, the light of cooperation to shine out of darkness."