Trump Selects Kavanaugh in Bid to Cement Conservative High Court
(Bloomberg) -- President Donald Trump moved to reshape the U.S. Supreme Court, filling the second vacancy of his presidency with Judge Brett Kavanaugh and potentially creating the most conservative court in generations.
Kavanaugh, 53, is a Washington insider and former aide to President George W. Bush who has been a skeptic of regulatory power during a dozen years on a federal appeals court in Washington.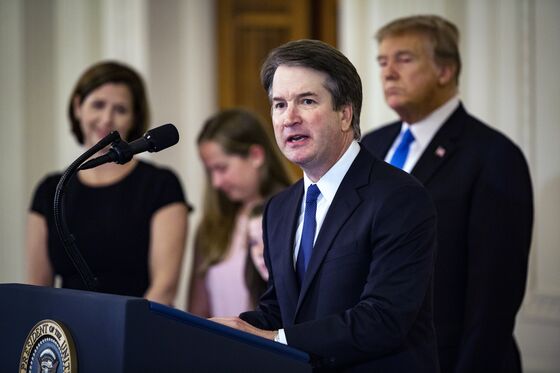 His confirmation by the Senate, which Republicans control 51-49, could herald a historic shift, possibly putting the landmark Roe v. Wade abortion-rights ruling at risk. The court could shift to the right on gay rights, affirmative action, the death penalty and gun restrictions.
Judges "must interpret the law, not make the law," Kavanaugh said Monday night as Trump looked on in the East Room of the White House. "A judge must interpret statutes as written. And a judge must interpret the Constitution as written, informed by history and tradition and precedent."
Kavanaugh would succeed Justice Anthony Kennedy, a swing vote who sometimes sided with the court's liberals in key cases. The Yale Law School graduate is Trump's second Supreme Court appointment in a year and a half, following Neil Gorsuch, who quickly joined the court's conservative wing after winning confirmation last year.
"Judge Kavanaugh has impeccable credentials, unsurpassed qualifications, and a proven commitment to equal justice under the law," Trump said.
Democrats have vowed to block Kavanaugh but are powerless to do so without at least one Republican defection.
As a federal appeals court judge, Kavanaugh voted to strike down environmental-protection rules and internet regulations and to give the president more power to fire the director of the Consumer Financial Protection Bureau. He has backed gun rights.
Abortion is likely to be a major issue in the confirmation battle. Although Kavanaugh hasn't ruled directly on abortion, he dissented from a ruling that let an undocumented immigrant teenager end a pregnancy while in federal custody.
"His views are far outside the legal mainstream when it comes to access to health care, executive power, gun safety, worker protections, women's reproductive freedom, and the government's ability to ensure clean air and water, to name a few," Senator Dianne Feinstein, a California Democrat.
Kavanaugh wrote a 2009 law review article arguing that sitting presidents shouldn't have to respond to lawsuits or criminal investigations and calling on Congress to pass legislation shielding the president. That stance could become a central issue in the confirmation fight, raising questions about how he would rule in cases involving Trump and the probe by Special Counsel Robert Mueller.
Kavanaugh made his mark early in his career as a top deputy to independent counsel Kenneth Starr in the investigation of President Bill Clinton. Kavanaugh drafted much of the Starr Report, which led to Clinton's impeachment and included graphic details about the president's sexual relationship with White House intern Monica Lewinsky.
He worked for Bush during the 2000 Florida vote recount and served in his White House. Bush later appointed Kavanaugh to the appeals court.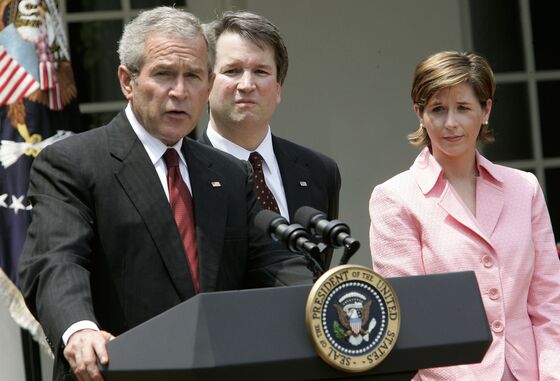 White House Legislative Affairs Director Marc Short said he expects Kavanaugh to be in place by Oct. 1, when the court's next term formally opens, and Majority Leader Mitch McConnell has said the Senate would vote to confirm Kennedy's successor in the fall. McConnell, who called Kavanaugh a "superb choice," hasn't explicitly said whether his goal is to complete a confirmation before the November midterm elections.
"This incredibly qualified nominee deserves a swift confirmation and robust bipartisan support," Trump said.
Senate Democratic Leader Chuck Schumer of New York said in a statement moments after Trump's announcement that he would fight the nomination "with everything I have, and I hope a bipartisan majority will do the same."
Senators Kamala Harris of California, Cory Booker of New Jersey, Richard Blumenthal of Connecticut, Jeff Merkley of Oregon, Bernie Sanders of Vermont and Elizabeth Warren of Massachusetts, all Democrats, said immediately after Trump's announcement that they would also vote against Kavanaugh's confirmation.
Republicans can approve Trump's nominee without any Democratic support as long as they don't lose more than one vote. In confirming Gorsuch, Republicans eliminated the 60-vote requirement to advance a high court nomination.
A key Republican moderate, Susan Collins of Maine, said she will review the pick but said Kavanaugh has "impressive credentials."
The White House plans a robust promotional campaign on Kavanaugh's behalf.
Vice President Mike Pence, who took part in the selection process, has scheduled interviews on Tuesday morning with local television and radio stations in states represented by Democrats that Trump won in 2016, a White House official said. The vice president plans to participate in an outreach call with White House allies, Kavanaugh's introduction at McConnell's office, a radio interview with conservative host Rush Limbaugh, lunch with Republican senators and two national television interviews, the official said.
Kavanaugh will begin individual meetings with senators this week, McConnell's office said. The Judiciary Committee will announce a date for a confirmation hearing after reviewing Kavanaugh's record.
Trump vowed during the campaign to appoint justices who would vote to overturn Roe, the 1973 ruling that legalized abortion nationwide, and his appointment to replace Kennedy could make that a reality. Recently, he said he wouldn't ask any potential nominees about Roe during interviews.
Kennedy cast the pivotal vote to uphold Roe in the 1992 Planned Parenthood v. Casey decision. The justices who remain on the court include three who have backed broad abortion restrictions and a fourth, Gorsuch, who in all likelihood would.
"With this pick, the president is making good on his pledge to 'punish' women for their choices," Schumer said. "If he were to be confirmed, women's reproductive rights would be in the hands of five men on the Supreme Court."
Trump made his decision on Sunday, another White House official said, adding that the determining factor was that Kavanaugh was the kind of judge read by other judges, and had a solid grounding in the legal philosophy known as strict constructionism. The president called Kavanaugh Sunday night to tell him that he had been chosen.
Like Gorsuch, Kavanaugh is a former Kennedy law clerk. The nominee said Monday he was "deeply honored" to replace the retiring justice and "humbled" by Trump's decision to nominate him.
"No president has ever consulted more widely, or talked with more people from more backgrounds to seek input about a Supreme Court nomination," Kavanaugh said.
It's a far cry from what liberals envisioned two years ago, when President Barack Obama nominated Judge Merrick Garland to succeed the late Justice Antonin Scalia. Had Garland been confirmed, the court would have had a majority of Democratic appointees for the first time since 1969.
Instead, Republicans blocked a vote, a move that now looks likely to keep the court in conservative hands for a generation.