Trump Is Called 'Cynical' in Immigrant Children's Court Case
(Bloomberg) -- The Trump administration is running out of options to lock up immigrant children as it runs out of time to reunite families separated at the border.
A federal judge blocked the U.S. Monday from what she called a "cynical" work-around to a 21-year-old agreement restricting the government's detention of children.
That came hours after the administration told another judge that it won't be able to meet a Tuesday deadline to return to their parents about half of the children under five who were taken from them under President Donald Trump's "zero tolerance" policy for illegal border crossings.
And while Trump faces more pressure from the courts, the outlook for a political solution is uncertain at best.
House Republicans this week plan to assess the party's appetite for any kind of immigration legislation after failing twice to pass a GOP measure. House leaders are in a holding pattern, according to a senior GOP aide, waiting for guidance from Trump or his administration about how to enforce immigration laws while keeping families together.
Trump told reporters in Washington on Tuesday that people should stop coming to the U.S. illegally. "We have laws," Trump said. "We have borders. Don't come to our country illegally. It's not a good thing."
A Los Angeles judge chided the administration Monday as she denied a request by the Justice Department to modify a 1997 settlement on behalf of minors crossing into the U.S. that requires that they are either released swiftly to relatives or housed in facilities that are state-licensed to care for dependent children.
U.S. District Judge Dolly Gee labeled the request a "cynical" attempt "to shift responsibility to the judiciary for over 20 years of congressional inaction and ill-considered executive action that have led to the current stalemate."
The government had asked Gee to amend the so-called Flores settlement after Trump reversed course and issued an order on June 20 that families crossing the border illegally or seeking asylum at the Mexican border shouldn't be separated while awaiting criminal or immigration proceedings. Under the previous policy more than 2,000 children were separated from their parents, triggering a public outcry and a political headache for the administration.
Trump left it to Congress to come up with a permanent legislative solution.
With congressional elections four months away, GOP lawmakers continue to struggle over how to respond to images of screaming children separated from their undocumented parents at the U.S.-Mexico border. It has pushed immigration toward the top of concerns for voters.
In the Senate, talks are underway on a narrow immigration bill designed to prevent family separations. Those involved say they have to gather more information before proceeding and that nothing is imminent.
The focus of such a measure would be to clarify how long children could be detained so they would be allowed to stay with their parents. Democrats have warned against a policy that would hold immigrant families indefinitely, while Republicans say they don't want to go back to the practice of previous administrations releasing undocumented immigrants after giving them notices to appear at hearings.
U.S. District Judge Dana Sabraw in San Diego ordered the U.S. in late June to reunite immigrant children who were separated from their families and to stop detaining parents without their children, in a case brought by the American Civil Liberties Union.
He said Monday he was "encouraged with the progress" in reuniting children, and said he remains "optimistic" even as government lawyers told him they expected only 54 of 102 children under five to be returned to their parents by the deadline he imposed.
The judge set another hearing Tuesday to discuss how to proceed with the children who can't be reunited by the deadline because, among other reasons, the parents have been deported or were released within the U.S., and how much time the government will need to address those circumstances.
Sarah Fabian, a lawyer for the Justice Department, said that U.S. agencies had been trying to locate parents of nine children who have already been removed from the country to see if they wanted to be reunified with their young children.
"Perhaps there is a way of providing notification if they wanted to have their child reunified to them," Fabian said.
Sabraw gave the Justice Department until July 26 to reunite more than 2,000 children age five and over with their parents.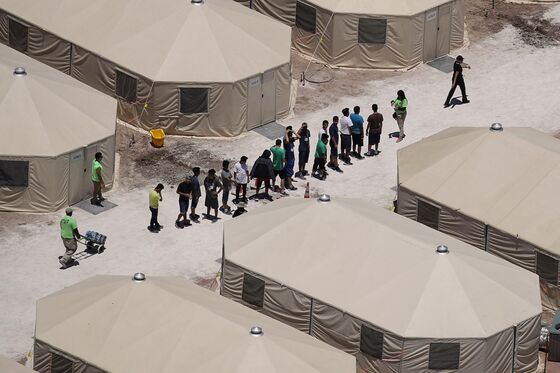 The ACLU has faulted the U.S. for using needlessly lengthy procedures, including DNA analysis to determine the biological parents of minors and background checks to make sure the parents don't have a serious criminal conviction.
"It's extremely disappointing the government will not be in full compliance with the court order, but the judge has stepped in to manage this mess of the administration's making," said Lee Gelernt, deputy director of the ACLU's Immigrants' Rights Project.
Homeland Security Secretary Kirstjen Nielsen met Monday with human rights advocates before she travels to Central America this week to discuss how immigrants' home countries can discourage people from illegally crossing into the U.S.
The Justice Department said late Monday it disagrees with Gee's ruling. But it also said that the judge appears to acknowledge that parents who cross the border will not be released and must choose between remaining in family custody with their children pending immigration proceedings or requesting separation from their children so the child may be placed with a sponsor.
"The Trump Administration continues to make good faith efforts that allow us to not only enforce the law, address the crisis of illegal immigration at our border, and protect our nation and its citizens, but also protect the safety of children in government care and custody," the department said in a statement.