Manafort Doesn't Want Jury to Hear About Trump Campaign or Alleged Collusion
(Bloomberg) -- Paul Manafort doesn't want jurors at his Washington trial to hear any mention of his role as campaign chairman for Donald Trump or of alleged collusion between the campaign and Russia.
Manafort, who is accused of money laundering, obstruction of justice and acting as an unregistered foreign agent of Ukraine, claims he would be unfairly prejudiced if jurors at his Sept. 17 trial hear of possible ties between Russia and the Trump campaign.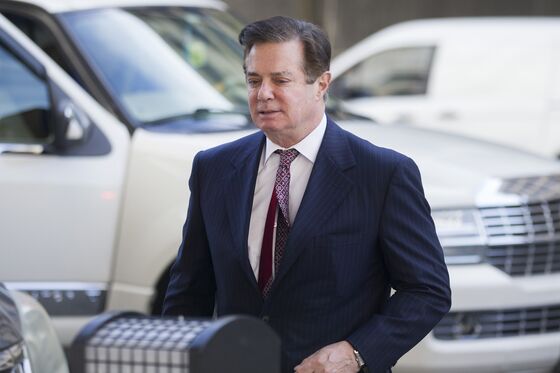 "There is a very real risk that the jurors in this case -- most of whom likely have strong views about President Trump, or have likely formed strong opinions as to the well publicized allegations that the campaign colluded with Russian officials -- will be unable to separate their opinions and beliefs about those matters from the charges to be tried before them in this case," Manafort's lawyers argued Monday night in a court filing in Washington.
Defense lawyers also argued that evidence or arguments related to U.S. Special Counsel Robert Mueller's investigation into possible Russian collusion with the Trump campaign is "wholly irrelevant" to the trial.
Manafort's lawyers argued that prosecutors should be barred from discussing separate federal charges in Virginia that accuse him of bank fraud and tax crimes, according to the filing. They also said that jurors shouldn't hear about the Washington judge sending Manafort to jail after prosecutors accused him of tampering with witnesses, or about a former Manafort lawyer being compelled to testify to a grand jury about his foreign agent filings with the Justice Department.
The Manafort cases are U.S. v. Manafort, 17-cr-201, U.S. District Court, District of Columbia (Washington), and 18-cr-83, U.S. District Court, Eastern District of Virginia (Alexandria).