Erdogan Does Away With Professional Requirements for Top Posts
(Bloomberg) -- Along with naming his son-in-law as the economy czar and claiming the exclusive power to pick central bank rate-setters, Turkish President Recep Tayyip Erdogan has done away with key qualifications for top-level appointments.
In one of a series of decrees issued after Erdogan's swearing in to the presidency, a post with expanded executive authority, central bank deputy governors no longer need to have 10-year work experience in their professions.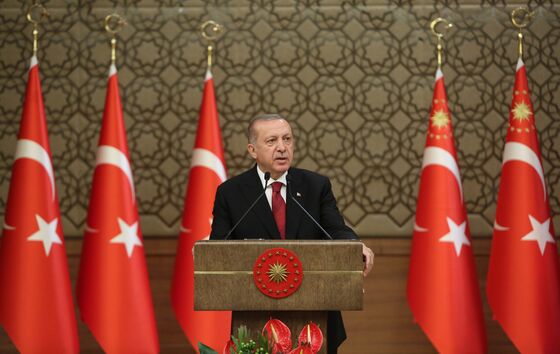 The easing of requirements applies to academia and the judiciary as well. The decree eliminates the need for university presidents, or rectors, to be selected from among professors.
In courts, administrative judges could have only been selected from those who had law degrees or degrees from related programs, such as political science, administrative sciences, economics or finance. Now, they just need a degree of any kind.
The threat of institutional sclerosis looms large as "true competition about positions and ideas in Turkey's government is increasingly replaced by yes-sayers and Erdogan-loyals," Wolf-Fabian Hungerland, economist at Berenberg in London, said by email.
"This begs the question of stable and reasonable government policy, particularly so because the economy is not in a good shape," he said. "It's vulnerable external position has not received enough attention by Erdogan's government in the run-up to the elections."