Duterte's Popularity Takes Hit Amid Inflation, Attacks on Church
(Bloomberg) -- Philippine President Rodrigo Duterte's popularity fell to the lowest during his two-year rule as inflation climbed to a five-year high and after his 'stupid God' remarks sparked an uproar in the Catholic nation.
Duterte's net satisfaction rating fell 11 percentage points to 45 percent, according to Social Weather Stations survey of 1,200 adults from June 27 to June 30. The biggest declines came from the capital region, among the poor and the young working population. Social Weather didn't provide data for trust ratings unlike in previous surveys.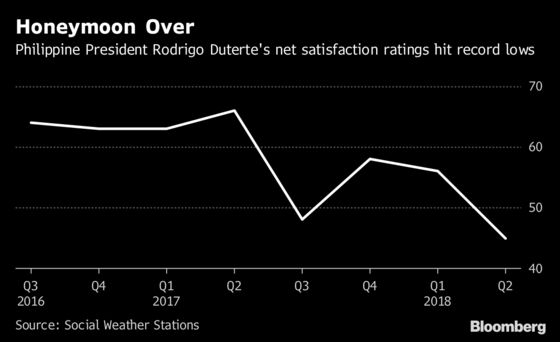 "Inflation could be the main culprit because the biggest drop was recorded in" the masses, said Professor Alvin Ang of the Ateneo Center for Economic Research and Development in Manila. More data is required to safely say that Duterte's popularity took a hit on his blasphemous comments, he said.
"I don't care. It doesn't interest me at all," Duterte told reporters at televised media briefing. "I'll just coast along."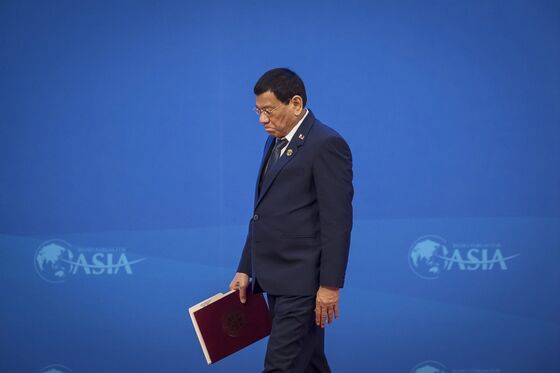 Gains in prices climbed to 5.2 percent in June from a year earlier, a fresh five-year high as consumers contended with rising costs of fuel, rice, sodas and jeepney fares. Opposition Senator Bam Aquino blamed the tax reform law implemented in January for spurring prices.
Satisfaction with Duterte fell 20 points in the capital region and 18 points in the central Visayas island, according to the poll. It plunged 26 points among 25 to 34 year olds and dropped 17 points among college graduates. Duterte remained popular among the upper and middle classes, where he added 3 points, but slid 14 points among the poor.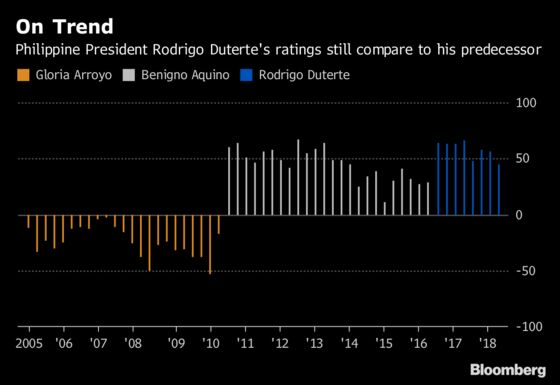 "If you note the pattern of every president, it could also mean the honeymoon period is ending," Ateneo's Ang said. Benigno Aquino who started his six-year term in 2010 with a satisfaction rating of 60 percent saw his numbers slip to 42 percent toward the end of his second year in office.