Theresa May Faces Crisis Over Brexit After Key Ministers Quit
U.K. Prime Minister Theresa May was plunged into crisis after key members of the government quit over Brexit. She faced growing calls to rip up her two-day old blueprint, even as opponents stopped short of calling for her to go.
Just nine months before Britain is set to leave the European Union -- and 15 weeks before a deal is meant to be signed -- Brexit Secretary David Davis and his deputy resigned in protest against May's plan to keep the U.K. closely tied to the bloc after the divorce.
On Friday, May announced she had secured the backing of her whole Cabinet for the plan and told ministers to either back it or resign.
The immediate danger to May was whether the double resignation would embolden pro-Brexit lawmakers to try to oust their leader and install a more committed Brexiteer in her place. But the early signs on Monday were that lawmakers were holding fire. Davis also said there was no reason for her to go and indicated other ministers wouldn't follow him out the door.
Jacob Rees-Mogg, who commands about 60 hardline euroskeptics, said a confidence vote wasn't in the offing and said he thought May would still be premier in March, when Britain is due to leave the bloc.
"The Conservative Party doesn't have a great history of changing its leader," he said on LBC radio. "It's the policy that matters rather than the leader."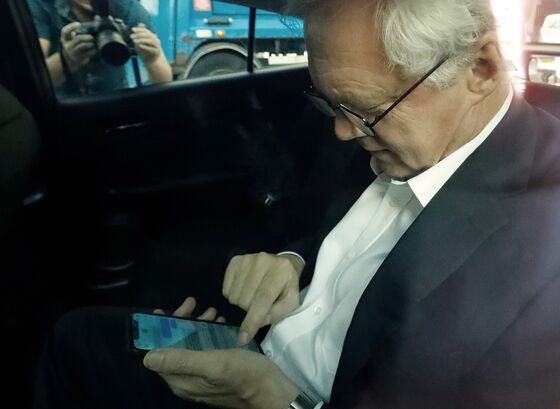 The pound fluctuated. A replacement for Davis will be announced on Monday, May's office said, and the appointment will offer clues as to her tactics going forward.
The resignations came at a critical and highly sensitive time for May's strategy, as she seeks to make progress in negotiations with the EU. A divorce agreement is due to be wrapped up in October, but there are still major obstacles to overcome.
She achieved a rare consensus at her Chequers country retreat about the way forward in a move that meant to kick-start talks that have been stalled for months.
Over the weekend, May sought to bind Brexit supporting ministers to her proposal as they were sent out to tell the media that they backed it. Trade Secretary Liam Fox put his name to a newspaper article backing the plan, and Environment Secretary Michael Gove defended the agreement in a TV interview.
May has survived crises before, including threatened leadership challenges. Although U.K. politics is volatile, the pro-Brexit camp in Parliament would likely struggle to get the numbers together to win if May decided to stay and fight. John Redwood, a Brexit-backing lawmaker, also dismissed talk of a leadership challenge, saying the priority is to get the policy right.
Meanwhile, May's chief of staff invited Labour lawmakers to a meeting later on Monday to set out the decisions made at Chequers. May doesn't have a majority in Parliament and she will need to get her Brexit deal approved by the assembly later this year. That will be an opportunity for Brexit backers to vote against May. Labour has backed keeping close ties with the EU but has repeatedly criticized the government's approach.
Before the end of July a vote on Brexit strategy is due in Parliament and the government could face an embarrassing defeat. Pro-EU Conservatives are backing an amendment calling for the U.K. to stay in the customs union and single market and if Labour votes with them they could defeat May and force her to change her negotiating position.
"The government is in a very, very fragile place this morning," Labour's Brexit spokesman Keir Starmer told Bloomberg. "What we're pushing for is votes in the House of Commons. We've got two bills, the Customs Bill and the Trade Bill next week. It is possible for the House of Commons to vote on, for example, a customs union, next week to give some stability to this."
Read more: It's Complicated, Say Traders Trying to Explain Pound's Apathy
Davis, Baker and other pro-Brexit members of May's Conservative Party have deep concerns about May's plans for keeping the U.K. tied to EU rules for goods and adopting a close customs arrangement with the other 27 member countries. They say Britain should have a clean break from the bloc and be liberated to pursue new trade deals with other countries, as well as to make its own laws, free from European influence.
On Friday, Davis and fellow Brexit backer Foreign Secretary Boris Johnson both agreed to support May's proposal for a softer divorce than she had originally planned. As resignations failed to materialize over the weekend -- when England was playing in the World Cup -- May seemed to have survived the storm.
Johnson's allies said on Saturday that he decided not to quit because he wanted to remain in the government to fight for the kind of Brexit for which he had campaigned.
May will have a crunch meeting with members of her Tory party to discuss her plan in Parliament on Monday evening. Some lawmakers have already expressed their misgivings. Johnson will give a press conference later on Monday as part of an international summit.
Even so, "there needs to be a rebuilding of trust," Bernard Jenkin, a pro-Brexit backbench Conservative lawmaker told BBC radio on Monday.
"There's been a massive hemorrhage of trust over the last few days," he said. "In all my meetings with the prime minister I never expected this to be the result."
Even if they succeeded, a new leader would be stuck with the same lack of a parliamentary majority that has forced May to adopt a softer split from the bloc than the one she originally planned.