Pompeo Caught Between Trump's Short Fuse and Kim's Intransigence
(Bloomberg) -- Secretary of State Mike Pompeo's second day of negotiations in Pyongyang began with a pleasantry that turned into a test of wills.
"Did you sleep well last night?" Kim Yong Chol, Pompeo's North Korean interlocutor, asked the top U.S. diplomat Saturday morning before the two men resumed talks over North Korea's nuclear weapons program.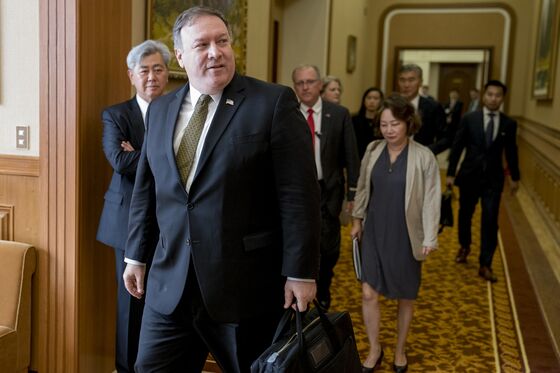 Pompeo replied that he had but Kim, aware of the pressure on the secretary of state to conclude an agreement, pressed further.
"But we did have very serious discussions on very important matters yesterday," Kim said. "So thinking about those discussions you might have not slept well last night."
"Director Kim, I slept just fine," Pompeo replied curtly.
It was the sort of testy retort that has become a hallmark of Pompeo, three months after he succeeded the ill-fated Rex Tillerson, who never won President Donald Trump's respect or trust. By contrast, the 54-year-old former congressman from Kansas became close to Trump during almost daily visits to the White House as CIA Director. Now he's in a rare position for a member of Trump's administration: trusted and empowered by his boss with one of the most consequential portfolios in government.
"He's very clearly heavily invested in this denuclearization effort,'' Daryl Kimball, executive director of the Arms Control Association in Washington, said of Pompeo. "It is his approach that has been adopted by the president and is being pursued.''
Trump reaffirmed his support and optimism for the outreach to North Korea in a tweet on Monday morning. "I have confidence that Kim Jong Un will honor the contract we signed &, even more importantly, our handshake," Trump wrote. "We agreed to the denuclearization of North Korea. China, on the other hand, may be exerting negative pressure on a deal because of our posture on Chinese Trade -- Hope Not!"
In taking charge of the effort to persuade North Korea to abandon and dismantle its nuclear weapons program, Pompeo has to balance the famously impatient and mercurial Trump against a North Korean regime that has spent decades mastering the art of delay and obfuscation. It's putting Pompeo -- a former Army officer who likes to move quickly, keep meetings short and dispense with small talk -- to the test.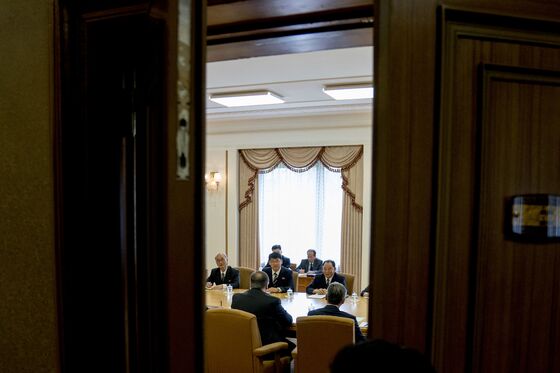 Making matters even harder, Trump has at times proclaimed victory -- even declaring the North Korean nuclear threat over after his June 12 summit with Kim Jong Un in Singapore -- while North Korea hasn't publicly promised anything it hasn't previously sworn to and backtracked on many times before. Many analysts say Trump's approach hands Kim propaganda victories at little cost, undermining U.S. efforts.
Before flying to Tokyo on Saturday -- and then on to Hanoi and an unannounced stop in Kabul, Afghanistan's capital -- Pompeo cast a positive spin on his two days of talks in Pyongyang. He called them "productive" even though there was no breakthrough. But just hours later, a statement in North Korean state media called the secretary's approach "gangster-like" and "cancerous."
Aware that the Singapore summit was almost derailed by escalating North Korean rhetoric that infuriated Trump, Pompeo quickly dismissed the statement as posturing.
"I was there for the event, I know actually what precisely took place," Pompeo told reporters in Tokyo on Sunday. "When we spoke to them about the scope of denuclearization, they did not push back."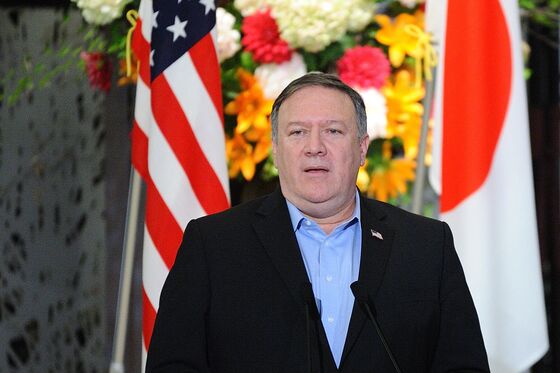 Yet as Pompeo increasingly relies on a "trust-me" approach to Trump's biggest foreign policy crisis, suspicion has grown that the U.S. is backing off its insistence that North Korea give up all its nuclear weapons before getting relief from sanctions.
Woven into that suspicion is unease about Pompeo's role. As Trump's nominee to lead the Central Intelligence Agency last year, Pompeo played up his folksy image as a two-time Baskin-Robbins employee of the month who hadn't traveled east of the Mississippi River before he was 18 years old. While he later gained more worldly experience at the U.S. Military Academy at West Point, as the co-founder of an aerospace contractor and as a congressman, he had no background negotiating sensitive matters with another country, much less North Korea.
"When you look at pure evidence, what do we have that's written -- we have that one sentence in the Singapore declaration which is less than what they've said before,'' said Sue Mi Terry, a former CIA analyst now at the Center for International and Strategic Studies. "The indications are that Pompeo and Trump are getting hoodwinked."
Aides and associates who have worked with Pompeo describe a fast mover who's quick to anger when things go wrong and the system doesn't work in his favor. He fumed in Singapore when his plane broke down after the summit, demanding that he always have a backup plane -- or a second, rested crew -- on hand to cut down on delays. And he's ordered secure communications in his vehicles over the objections of diplomatic security agents who argue it could be compromised.
While former Secretary of State John Kerry's negotiations with foreign leaders could extend for hours, and frequently ran late, Pompeo has taken the opposite approach. His diplomatic meetings are short, and he has frequently wrapped them up early, as he did with North Korean negotiators in New York in June. And in another contrast with Kerry, he keeps his interactions with the media brief, sometimes even starting press conferences early.
"He will call a spade a spade whether you're a fellow Republican or a Democrat or a member of the media or for that matter another country's foreign minister,'' said Republican Senator Tom Cotton of Arkansas, an ally from the days when they served in the House of Representatives together. "I think that's helpful in diplomacy because so often diplomats get tied in knots trying to choose exactly the right words as opposed to just getting to the rub of the matter.''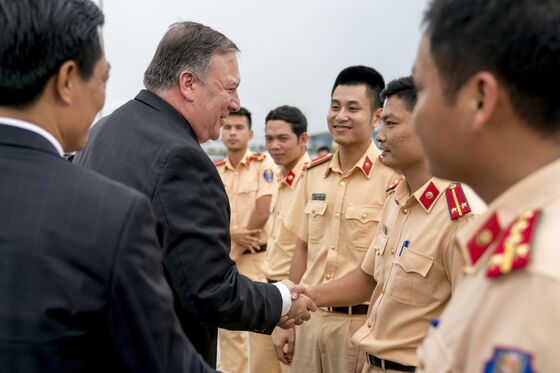 Whether or not the North Korea negotiations succeed, Pompeo has shown a political savvy that his predecessor, Tillerson, lacked. In Vietnam on Monday, Pompeo went out for a walk in steamy Hanoi, wading through crowds of people as his security detail scanned the street nervously, a scene hard to imagine under Tillerson. The former Exxon Mobil Corp. chief lost support at the State Department within months, after announcing a hiring freeze and a restructuring plan that was derided as too dependent on outside consultants and out of touch with modern U.S. diplomacy.
At the very start of his tenure, Pompeo brought in one of his oldest friends, business partner and West Point classmate Ulrich Brechbuhl to speed up the nomination process for the State Department's many unfilled positions. Brechbuhl went to Pompeo's first wedding in 1986 and his young boys campaigned for Pompeo in Kansas when he ran for Congress, holding up "Vote for Uncle Mike'' signs before the election.
Now Brechbuhl has been delegated sweeping control over the nomination process, drawing up lists of candidates for jobs and purging those, such as Susan Thornton, the previous nominee to be assistant secretary for East Asia and the Pacific, who face too much resistance in the Senate or the White House to fight for any longer.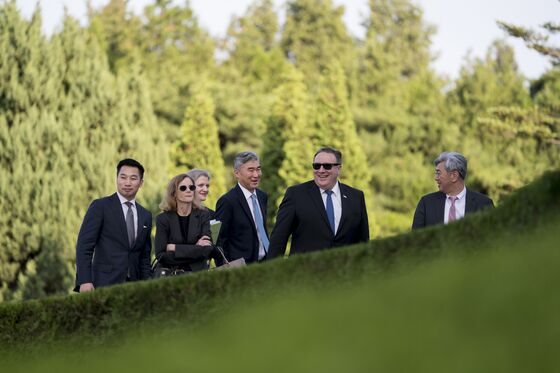 Pompeo has also made sure to keep his political allies close, including Cotton, who has been openly skeptical of any possibility that the U.S. and North Korea will come to an accommodation. Pompeo has given a broad remit on North Korea to Alex Wong, a former Cotton adviser who was named deputy assistant secretary of state under Tillerson. Wong accompanied Pompeo both to Singapore and on his third trip to Pyongyang last week.
Pompeo's most important relationship, of course, is with Trump. Their bonhomie rests in part on his pedigree -– top of his class at West Point and a Harvard law degree to boot -- and the sense of humor and lack of formality they share. As CIA chief, Pompeo had daily Oval Office access other top administration officials crave.
"These guys are close -- they hit it off,'' said David Urban, a classmate of Pompeo's at West Point who was a campaign adviser to Trump and knows both men well. "You read about the Cabinet -- who's up and who's down. I don't think there's any chance of that happening with Mike."
For now, Pompeo has the precious commodity that so few of Trump's Cabinet secretaries have -- time. He's also benefited by not being Tillerson, who by the time he was fired by Trump in a Twitter posting had lost support not just in the White House but at State and in Congress.
"There is a certain honeymoon thing,'' said James Carafano, director of foreign policy studies at the Washington-based Heritage Foundation who was involved in the Trump transition. "He's not Tillerson, and the negative press that Tillerson got and the perception that he was distant from the White House, the failure to fill out the slots, hasn't reached him yet.''
That has allowed Pompeo to make moves unorthodox for Trump aides, including seeking out the advice of past U.S. negotiators no matter their political stripe and no matter the skepticism with which Pompeo and other members of the administration once viewed them. It's an openness that may surprise those who watched him as a fiercely partisan Republican congressman who sought to blame Democratic Secretary of State Hillary Clinton for the 2012 terrorist attack in Benghazi, Libya, that killed four Americans.
One such person outside the Trump orbit is Christopher Hill, the North Korea negotiator under President George W. Bush who John Bolton, Trump's national security adviser, once dubbed "Kim Jong Hill'' for allegedly giving up too much to the North Koreans in talks that ultimately failed. Pompeo so far has been meticulous about quashing any hint of dissent between himself and Bolton, who is seen as far more skeptical about the prospects for a deal with North Korea.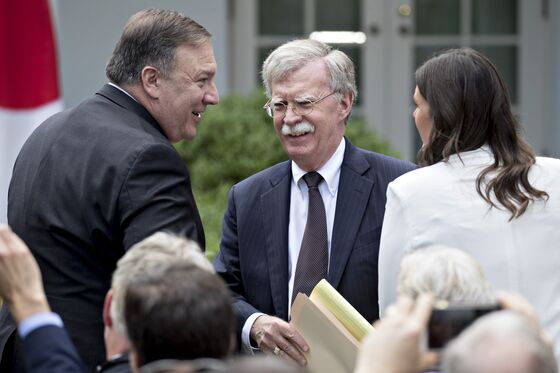 "Pompeo will have to figure out what to do about the whole Bolton factor because I don't think he's fully on board with this,'' Hill said. "Pompeo will have to figure out if he wants him in the tent because when someone's in the tent they can mess up the sleeping bags."
For now, though, Pompeo retains a coterie of loyalists culled from fellow West Point graduates to give him advice he trusts and steer him through the political challenges in Washington. And his ambition -- he once mused about running for majority leader in Congress -- remains strong.
Urban, who recommended Pompeo to the president to fill the CIA slot, recalled a recruiting poster at West Point with the slogan "At West Point, much of the history we teach was made by the people we taught." Under those words are the faces of graduates Dwight Eisenhower, George Patton, Ulysses Grant and Robert E. Lee.
"Guys at West Point are going to be studying Mike Pompeo,'' Urban said. "He's as consequential as any of them.''