Is NATO Next on Trump's Chopping Block?
There's an eerie sense of deja vu surrounding this week's NATO summit.
North Atlantic Treaty Organization leaders are due to arrive at the alliance's shiny new headquarters in Brussels on Wednesday bracing for what could be yet another bruising encounter with President Donald Trump.
The U.S. commander in chief has a familiar stick to wield: the shortfall in defense spending; or as Trump puts it, allies' refusal to "pay what they owe." Trump has given plenty of advance warning of his line of attack, with letters dispatched to NATO leaders who don't yet meet the target of 2 percent of gross domestic product.
Yet the risk of a blowup is all the greater given Trump's habit of conflating defense spending with trade surpluses, a gripe that puts Angela Merkel and Justin Trudeau firmly in his sights.
Then there's the long shadow cast by Vladimir Putin, and fears in some allied capitals at what Trump might offer the Russian leader at their summit in Helsinki next Monday.
After his outburst at the Group of Seven gathering, Trump is making good on his mission to puncture multilateral institutions and remake the world order in America's interests. NATO might just be next.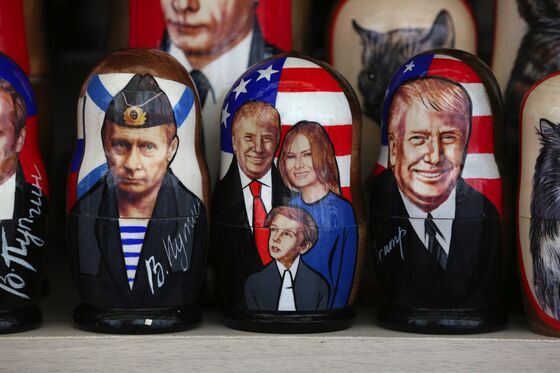 May in crisis | U.K. Prime Minister Theresa May faces the biggest crisis of the past year. Her Brexit Secretary David Davis quit over her plans to keep close ties with the European Union after the divorce. He was replaced today by fellow leave supporter Dominic Raab, an up-and-coming Conservative Party member with leadership ambitions. The focus now shifts to whether pro-Brexit lawmakers in her party might try to oust her, with Britain's departure from the EU just nine months away.
High cost of Kim's nukes | North Korea gave U.S. Secretary of State Mike Pompeo a harsh reminder that Kim Jong Un expects something in return for his nuclear weapons — his security, David Tweed reports. The regime blasted the U.S.'s "unilateral and gangster-like demand for denuclearization" after two days of talks with Pompeo, throwing ties into doubt less than a month after Trump and Kim shook hands. Also: Read Nicholas Wadham's behind-the-scenes account of the secretary's fraught trip to Pyongyang.
Supreme Court decision day | Trump is poised to continue his conservative remake of the Supreme Court, with a nomination to be announced tonight in Washington. Appeals court Judge Thomas Hardiman was solidly in the mix as of yesterday after being first runner-up a year ago, Jennifer Jacobs and Mark Niquette report. But winning confirmation in the closely divided Senate could be a challenge.
Lula's freedom bid | Judges blocked an attempt to release former Brazil president Luiz Inacio Lula da Silva from jail yesterday, raising the stakes over the fate of the country's most popular politician in the run-up to October's elections. Despite his 12-year jail sentence for corruption, Lula is leading opinion polls, and the top electoral court has until Sept. 17 to issue a final ruling on his presidential candidacy.
Myanmar's missing investment | The election of Aung San Suu Kyi was supposed to herald a new era in Myanmar and unleash a surge of foreign investment into one of Asia's last untapped markets. But Suu Kyi's reputation has been battered by the Rohingya exodus, as well as the widely condemned detention of two Reuters journalists who were reporting on it — they were charged today. With the hype deflated, it looks like wary investors have largely sat out the turmoil.
Recep Tayyip Erdogan is expected to take the oath of office and announce the cabinet, a day after Turkey purged more than 18,500 people from government jobs for allegedly posing a security risk to the state.
And finally ...  Ethiopia and Eritrea resumed diplomatic relations and restored economic ties, ending almost two decades of strife, at an unprecedented summit yesterday. The rapprochement between the former bitter enemies was another sign of sweeping change in Ethiopia since Abiy Ahmed became premier in April. "There is no border between Ethiopia and Eritrea," he said in an address. "Instead, we have built a bridge of love."