Erdogan Names Son-in-Law as Treasury and Finance Minister
(Bloomberg) -- Turkish President Recep Tayyip Erdogan named his son-in-law as economy czar in a new administration and removed the last member of an investor-friendly financial team that's been gradually pushed to the sidelines. The lira plunged the most since a failed coup in 2016.
Berat Albayrak, a former energy minister who entered parliament for the first time in 2015, will be in charge of a new ministry of treasury and finance, combining what used to be the two most powerful economic jobs. He'll replace Mehmet Simsek as holder of the most senior economy portfolio.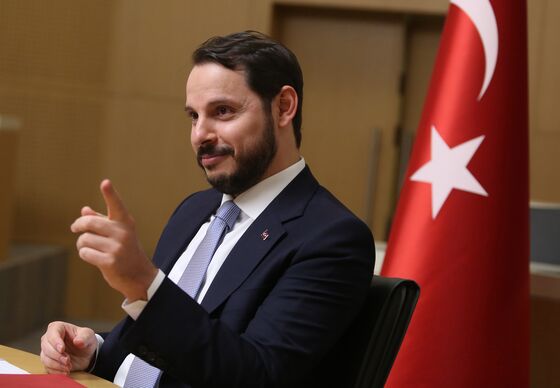 Simsek was deputy prime minister, and the last man standing from a group of politicians who've been trusted by investors over the years to rein in the president's go-for-growth instincts and keep Turkey's $880 billion economy on a sustainable path. There was no job for him in the downsized cabinet of 16 ministries -- or for Naci Agbal, the outgoing finance minister.
"Their inclusion in the cabinet would have been a nod by Erdogan to the markets," said Inan Demir, an economist at Nomura International in London. "Such a signal is no longer there."
The lira extended losses after the president's announcement, falling 3.6 percent to 4.74 per dollar at 11:30 p.m. in Istanbul.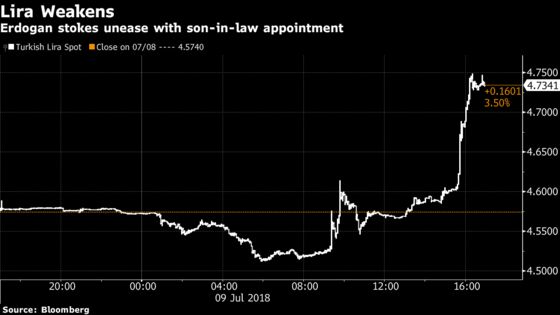 Erdogan was sworn in earlier on Monday for a second term as president with enhanced powers, after winning re-election last month under an amended constitution. He promptly began to follow through on a pre-vote promise to take more direct control over monetary policy -- a prospect that alarms investors because of Erdogan's determination to keep interest rates low under almost all circumstances.
A government decree published on Monday in the official gazette scrapped the old system under which the central bank governor was chosen for a five-year term by the prime minister and other cabinet members. Also abolished was the provision for the governor to have a say in the appointment of his own deputies, who sit on the bank's rate-setting Monetary Policy Committee.
A second decree outlining who will make those appointments in the new presidential system is expected in the coming hours, Cemil Ertem, a senior aide to Erdogan, said on Twitter. It's "certain" that the bank's governor will be chosen by the president, Ertem said.
It wasn't immediately clear who else, if anyone, would be involved in the selection process. Until further details emerge, "we don't know what exactly they want to change here," said Demir. "Is it the appointment process, is it the term, or is it both?"
Erdogan has repeatedly clashed with Turkey's central bank over borrowing costs. In a Bloomberg TV interview in May, he said he'd take a more direct role in monetary policy if he was re-elected. That comment caused a rout on Turkish financial markets, forcing the president to green-light an emergency rate-increase to halt a run on the lira.
The currency has declined about 20 percent this year, a slump that spells trouble for Turkish companies, which have borrowed heavily in dollars and euros. When Erdogan brought elections forward by some 18 months, manyt analysts said that the prospect of an economic crash had influenced the decision.
Erdogan named Fuat Oktay, formerly a senior official at the prime minister's office, as his vice president and kept Mevlut Cavusoglu in place as foreign minister. Hulusi Akar, the chief of staff who was held hostage during the night of the coup attempt against Erdogan, was named as defense minister. Mustafa Varank, an Erdogan aide, will be in charge of industry and technology.
During the snap election campaign, Erdogan told Turks that the new presidential system would ensure stability in turbulent times at home and abroad.
After the unsuccessful putsch, authorities began a sweeping purge of the civil service, judiciary, security forces and education system, arguing that supporters of the coup were being rooted out. Thousands more officials were fired from government jobs on Sunday, bringing the total to about 130,000. Turkey has also become more deeply embroiled in the civil war in neighboring Syria, as Erdogan sent his army into the country's northwest to fight Kurdish militants.
"With today's decree, we have realized the framework of the new administration," the president said in a televised press conference before listing his appointments. "Our ministries, with their new structures, will be able to function in a more swift and efficient way."
The new cabinet is due to hold its first meeting on Friday.