Brexit Bulletin: Davis Quits
(Bloomberg) -- Today in Brexit: Brexit Secretary David Davis has quit, plunging Prime Minister Theresa May's government into crisis.
David Davis has resigned, taking his deputy from the Brexit department with him and offering up some tasty soundbites that might inspire other pro-Brexit lawmakers to defy the prime minister.
Just two days after Theresa May appeared to have gotten her Cabinet behind her over Brexit, she now faces the biggest crisis of the past year. Davis's resignation sends a strong signal that May's plan – which was to keep the U.K. bound to EU rules on goods and food after it leaves the bloc – doesn't match up to what voters called for in the 2016 referendum.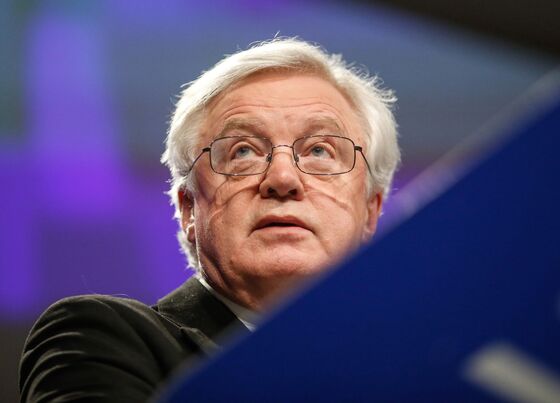 The focus now shifts to pro-Brexit lawmakers to see whether they will try to trigger a leadership challenge. A long-standing euroskeptic with a reputation for taking stands over principle, Davis said May's plan risks breaking election campaign promises.
Her proposals – agreed to at a lock-in meeting on Friday where May tried to stamp her authority on her unruly Cabinet – risk keeping the U.K. in the single market and customs union, according to Davis.
Those are red lines for Brexit campaigners. The plan hands control of "large swathes of our economy to the EU" and is "certainly not returning control of our laws in any real sense," he told May in his resignation letter. 
"The general direction of policy will leave us in at best a weak negotiating position, and possibly an inescapable one," wrote Davis, whose role made him the U.K.'s official chief negotiator, although the detailed work is being carried out by May's adviser Olly Robbins.
May has survived crises before, including threats of leadership challenges. There is an argument that if she survives – and her plan for Brexit somehow remains intact – a resignation could boost her credibility in Brussels and show that she's made tough decisions and needs help from the other side. But that's a big if. At the time of writing Trade Secretary Liam Fox and Foreign Secretary Boris Johnson, the Cabinet's two other two big beasts of Brexit, are staying put.
The pro-Brexit camp in Parliament would struggle to get the numbers together to win a leadership battle if May decided to stay and fight. Without a Conservative majority in the House of Commons, any new leader would be stuck with the same parliamentary arithmetic that has forced May to pursue a  softer split from the bloc.
But this is her first top-level resignation over Brexit. With less than eight months to go until exit day, the stakes are high.
Friday's Chequers agreement looked to have reduced the chances of a no-deal Brexit. David Davis has ensured that scenario just got a bit more likely, as has the chance that there'll be another election before Brexit day. For his part, Labour leader Jeremy Corbyn said May's government is in chaos, and she is incapable of delivering Brexit.
May's Brexit Plan: These are the details, the overtures to the EU and the meaning of the proposals that the Cabinet approved on Friday
For a reminder of the key issues facing May, the U.K. and the EU, we've updated our QuickTake Brexit explainer
Boris Johnson decided to stay in the Cabinet in order to fight for the kind of Brexit he campaigned for, a person familiar with his thinking said late on Saturday.
Pound Rally Fades | Davis's resignation scuppered a weekend rally for sterling fueled by optimism that May's Cabinet would stick to the Chequers agreement. The pound, which had risen to $1.333, slipped back to $1.3315.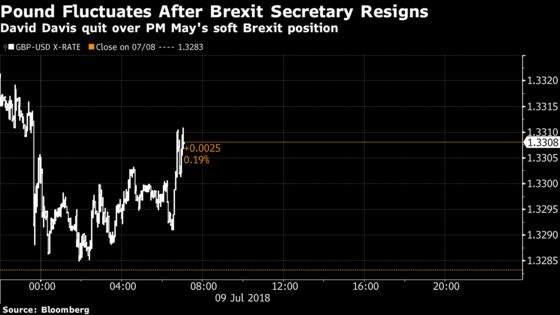 Irish Welcome | Before the Davis resignation, Irish Prime Minister Leo Varadkar welcomed May's proposals and said he was more optimistic than he had been a week ago. The paper marked "real progress," he told a news conference in Dublin. 
Barnier Optimism | Chief EU negotiator Michel Barnier also left the door open to progress on the Brexit deal, tweeting quickly after it was announced and saying the Chequers discussions were "welcome."
What Labour Thinks | Pre-Davis, Labour's Brexit spokesman Keir Starmer said the party isn't ruling out backing a plebiscite on the final deal, according to the Independent. "It is Parliament that should decide what happens next, it should have the power to decide the options, and this might involve a general election or a 'People's Vote,'" he was cited as saying. "We're not ruling out a second referendum."
Wiggle Room | May tried to dodge questions on Saturday as to whether her plan would give EU citizens preferential access to the U.K. after Brexit. She finally gave in, and told the BBC it was something that would be decided. It's important because giving ground on immigration is likely to be an EU demand, and putting an end to free movement of people was one of the main reasons voters opted for Brexit.
Coming Up | It's a busy day: Ardent Brexiteer Jacob Rees-Mogg speaks on LBC radio at 9 a.m. May meets her whole parliamentary party, and Foreign Secretary Boris Johnson gives a news conference at 5 p.m. at the Western Balkan summit. Further ahead, the Brexit White Paper is scheduled to be published on Thursday, and the next negotiating round is scheduled for the week of July 16.