Giuliani Keeps Trump Cliffhanger Going
(Bloomberg) -- Donald Trump is still weighing whether to agree to an interview in Special Counsel Robert Mueller's investigation but there's concern about what he sees as a corrupt and tainted probe, the president's lead attorney said.
Trump's lawyers are close to making a determination, but a decision has been put off as more details emerge about "bias" on the part of investigators, Rudy Giuliani said on one of three television appearances on Sunday.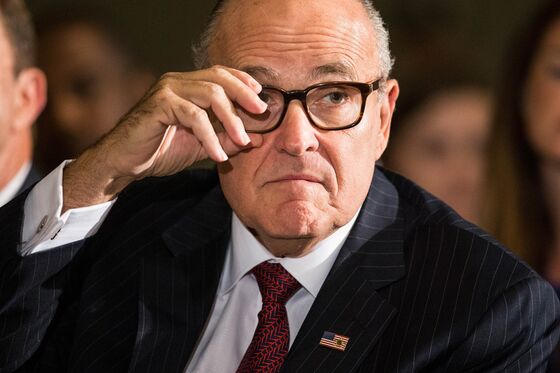 "How you could expect us to just walk up our client like a lamb going to the slaughter? We wouldn't be lawyers if we would do that," Giuliani said on ABC's "This Week," striking a similar tone to comments he's made repeatedly since he joined Trump's team in April.
He called it "the most corrupt investigation I have ever seen," taking his cue from the president. On Saturday, Trump tweeted about "the Rigged Witch Hunt and the 'Special' Counsel."
On NBC's "Meet the Press," Giuliani said he doesn't think Mueller, a former FBI director, is personally biased or corrupt but that "he's surrounded by biased people" he failed to vet properly, including FBI agent Peter Strzok, whose anti-Trump text exchanges from 2016 fed Republican allegations of bias.
Mueller removed Strzok from his team as soon as the texts were discovered, and Mueller is a Republican.
But Giuliani said on NBC that Trump's lawyers wouldn't recommend an interview for the president "unless they can satisfy us that there is some basis for this investigation."
"It's our firm belief, and we think nothing contradicts this, the president did nothing wrong," Giuliani said.
On CNN's "State of the Union," Giuliani said that if Mueller issued a subpoena to compel Trump to testify, his legal team believes it could be quashed.
Giuliani also said he has no concerns about what Michael Cohen, Trump's former longtime personal lawyer and so-called fixer, may tell investigators. Cohen gave an interview to ABC last week in which he signaled he may be willing to cooperate.
The former New York mayor said on NBC it's "great" if Cohen wants to cooperate because "we've been through all the records" and "he has no evidence of, nor was he involved in anything untoward with the president."
"As long as he tells the truth, we're home free," Giuliani said on ABC.