Pompeo Lands in North Korea to Press for Nuclear Commitments
(Bloomberg) -- U.S. Secretary of State Mike Pompeo arrived in North Korea on Friday with the daunting task of ensuring that Pyongyang's nuclear commitments line up with President Donald Trump's promises.
Pompeo struck a cautious note while en route to the isolated nation -- his third such trip since April -- saying he was seeking to firm up pledges that North Korean leader Kim Jong Un made last month during his Singapore summit with Trump. The secretary of state left Washington with no public agenda and stated goals, other than lunch with Kim Yong Chol, a senior aide to Kim Jong Un.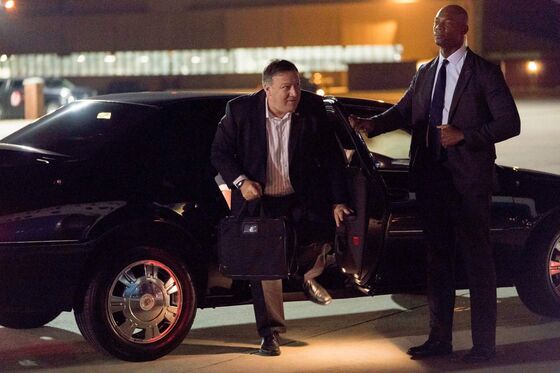 "I'm seeking to fill in some details on those commitments and continue the momentum toward implementation of what the two leaders promised each other and the world," Pompeo said in a statement that his spokeswoman, Heather Nauert, read to reporters en route to Pyongyang. "I expect that the DPRK is ready to do the same," he added, referring to North Korea's formal name.
Kim Yong Chol and Foreign Minister Ri Yong Ho greeted Pompeo upon his arrival under sunny skies in Pyongyang. In a meeting at the guesthouse where Pompeo is staying, Kim and the top U.S. diplomat stuck to pledges of comity and expressions of hope for fruitful talks.
"It is my third time," Pompeo said of his visit. "I was joking that if I come one more time, I will have to pay taxes here." Kim responded: "The more you come, more trust we can build between one another."
The pair met for about two hours and 45 minutes before breaking for dinner.
Pompeo's visit was his first since Trump and Kim Jong Un agreed June 12 to "work toward complete denuclearization of the Korean Peninsula," without elaborating on what that would look like or how long it would take. Trump has since declared that North Korea was "no longer a nuclear threat" and said Americans can "sleep well," even though the regime holds as many as 60 nuclear bombs and missiles that could reach the U.S.
Pressure on Pompeo to produce more tangible assurances from North Korea grew in the days before his visit with reports indicating that Kim continued to ramp up his weapons production before the summit with Trump. The reports published by independent researchers and media organizations detailed efforts to increase fuel production, build more missile launchers and expand a key rocket-engine manufacturing facility.
While traveling to North Korea, Pompeo said on Twitter that he had spoken with Trump. "The president told me he believes that Chairman Kim sees a different, brighter future for the people of North Korea. We both hope that's true," he said.
Pompeo was expected to speak with Trump again later Friday. Pompeo only laughed when a reporter asked him to confirm a South Korean media report that he was bringing a CD of the Elton John album "Rocket Man" to Kim Jong Un. The gift, reported by the Chosun Ilbo newspaper, was an apparent effort to make light of Trump's remark in a United Nations General Assembly speech last year that "rocket man is on a suicide mission for himself and his regime."
Pompeo told a U.S. Senate committee last month that the administration was seeking transparency from the North Koreans about what nuclear material they have, the hardware and the missiles that could deliver warheads, as well as other weapons of mass destruction. Pompeo had previously said that the U.S. would seek "major disarmament" from Kim by the end of Trump's first term, or about two and a half years from now.
While nuclear arms experts have said that would be a tough deadline to meet even if Kim committed to it, U.S. National Security Adviser John Bolton has demanded an even faster timetable. He said on CBS's "Face the Nation" last weekend that Pompeo would visit North Korea to discuss "how to dismantle all of their WMD and ballistic missile programs in a year."
Trump has so far shown little concern that Kim might not meet U.S. expectations, saying while en route to Montana on Thursday that the summit saved the lives of "50 million people," or roughly the population of South Korea. "In the meantime for eight months, you've not had one rocket launch, missile launch and you haven't had one nuclear test," Trump told reporters aboard Air Force One.
Among Pompeo's delegation were seasoned North Korea negotiators including National Security Council official Allison Hooker, Central Intelligence Agency officer Andy Kim and Sung Kim, the U.S. ambassador to the Philippines. Unlike his previous visits to the country, Pompeo was accompanied by six reporters from U.S. news outlets.
Pompeo may also work to repatriate the remains of American soldiers missing in North Korea for almost 70 years. North Korea is holding about 200 sets of remains from among the some 5,300 American military personnel believed still lost in the country during the Korean War, according to Department of Defense estimates.
The Pyongyang stop comes at the start of a week of travel for Pompeo, who continues on to Tokyo, Hanoi, Abu Dhabi and Brussels, where he's scheduled to accompany Trump to an annual summit of the NATO alliance.