Pompeo Seeks North Korea Breakthrough as Talks Enter Second Day
(Bloomberg) -- Secretary of State Mike Pompeo opened a second day of talks in North Korea on Saturday with growing expectations that he needs to win specific commitments from Pyongyang about its nuclear program or risk seeing the nascent relationship between the U.S. and North Korea founder.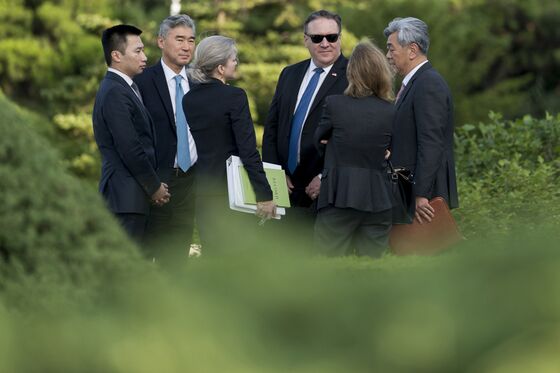 Pompeo has given few details about his goals for this latest round of talks -- his third visit to North Korea this year but the first since President Donald Trump and Kim Jong Un met in Singapore last month. At their summit, the two leaders signed a vague 1-1/2 page document that didn't provide a timetable for dismantling North Korea's nuclear arsenal.
Heading into the morning meeting, Secretary of State Pompeo as well as the head of the North Korean delegation, Kim Yong Chol, both said that there were issues following the summit in Singapore that needed to be made clear. "There are things that I have to clarify, as well," Pompeo said.
"We are not at that point, that point of no return, but I just don't think that Pompeo can sell this as a 'win' unless there is something that is tangible, agreeable and interactive, if you might say, between the United States and North Korea," said Jonathan Pollack, an Asia expert at the Brookings Institution in Washington. "Short of that, we are just spinning our wheels."
The North Korea crisis has emerged as Trump's biggest foreign policy challenge since taking office in January 2017. His historic decision to meet directly with Kim came after a year during which the two leaders traded insults and threats of war as North Korea demonstrated rapid progress in its ballistic missile and nuclear weapons programs.
The rhetoric -- and North Korea's weapons tests -- eased in recent months as both sides moved toward talks, but so far Kim hasn't provided a road map or a timetable for how he would comply with a key U.S. demand: "clear, verifiable, irreversible denuclearization." That's led to criticism that the administration has oversold progress with a country infamous for backtracking on previous nuclear accords going back to the 1990s.
En route to North Korea at the start of a week-long, around-the-world trip, Pompeo told journalists on his plane that he was hoping to "fill in some details" on the commitments made in Singapore. After almost three hours of talks on Friday, he wrote on Twitter that he was "proud of my team's work," but he divulged no details.
Trump has been less cautious in praising U.S.-North Korea negotiations, citing the eight-month freeze in Pyongyang's nuclear tests and missile launches as a sign that his efforts are paying off. On Thursday, he told journalists that the two nations had been close to war during the Obama administration, but that his efforts pulled both sides back from the brink of conflict.
"If not for me, we would now be at War with North Korea," Trump tweeted July 3. At a rally in Montana two days later, he said "We signed a wonderful paper saying they're going to denuclearize their whole thing. It's going to all happen."
Pompeo was greeted upon his arrival in Pyongyang on Thursday by Kim Yong Chol, a top aide to Kim Jong Un, and Foreign Minister Ri Yong Ho. In a meeting at the guesthouse where Pompeo is staying, Kim and the top U.S. diplomat stuck to pledges of comity and expressions of hope for fruitful talks.
"It is my third time," Pompeo said of his visit. "I was joking that if I come one more time, I will have to pay taxes here." Kim responded: "The more you come, more trust we can build between one another."
The pair met for about two hours and 45 minutes before breaking for dinner.
Pressure on Pompeo to produce more tangible assurances from North Korea grew in the days before his visit with reports that Kim Jong Un continued to ramp up his nuclear program before the summit with Trump. The reports published by independent researchers and media organizations detailed efforts to increase fuel production, build more missile launchers and expand a key rocket-engine manufacturing facility.
Pompeo was expected to speak with Trump from Pyongyang early on Saturday. The secretary of state laughed when a reporter asked him to confirm a South Korean media report that he was bringing a CD of the Elton John album "Rocket Man" to Kim Jong Un. The gift, reported by the Chosun Ilbo newspaper, was an apparent effort to make light of Trump's remark in a United Nations General Assembly speech last year that "rocket man is on a suicide mission for himself and his regime."
Pompeo told a U.S. Senate committee last month that the administration was seeking transparency from the North Koreans about what nuclear material they have, the hardware and the missiles that could deliver warheads, as well as other weapons of mass destruction. Pompeo had previously said that the U.S. would seek "major disarmament" from Kim by the end of Trump's first term, or about two and a half years from now.
Among Pompeo's delegation were seasoned North Korea negotiators including National Security Council official Allison Hooker, Central Intelligence Agency officer Andy Kim and Sung Kim, the U.S. ambassador to the Philippines. Unlike his previous visits to the country, Pompeo was accompanied by six reporters from U.S. news outlets.
Pompeo may also work to repatriate the remains of American soldiers missing in North Korea for almost 70 years. North Korea is holding about 200 sets of remains from among about 5,300 American military personnel believed still lost in the country during the Korean War, according to Defense Department estimates.
But the key reason for his visit is the nuclear program, and his success or failure on the trip -- and the future of any further talks -- will hinge on that issue.
"He can't come back empty-handed," Pollack said. "But the question is what he would consider sufficient for his purposes to justify this trip."