New EPA Boss Same as the Old: Pruitt Policies to Stay Intact
(Bloomberg) -- The change at the top of the Environmental Protection Agency won't mean a dramatic shift in policy. If anything, President Donald Trump's EPA could become even more effective at undoing Obama-era environmental policies under its new boss.
That's because the incoming acting administrator Andrew Wheeler, who's set take over Monday following the resignation of Scott Pruitt, is a politically savvy former Senate staffer, wise in the ways of Washington -- and getting things done. Wheeler, 53, has crusaded behind the scenes for decades to quash climate change legislation and promote coal.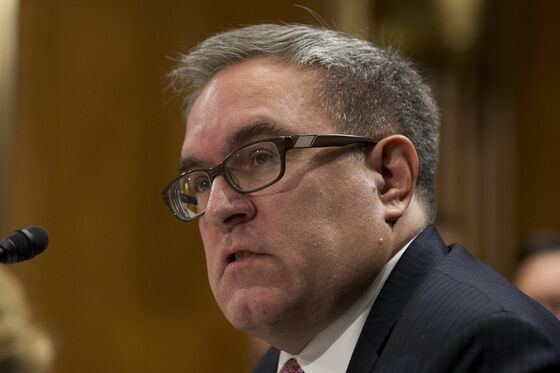 Wheeler, who was confirmed to be the EPA's No. 2 official in April, could bring a quiet effectiveness to the top job that some environmentalists say will make him a more formidable opponent than Pruitt.
"There is no time for celebration," said Tom Pelton, with the Environmental Integrity Project. Wheeler, he said, "has a background just as biased toward industry as Scott Pruitt, so we and other environmental advocates are going to have to watch Wheeler just as closely as we did his former boss."
Wheeler shares Trump and Pruitt's environmental agenda, including proposals to roll back regulations addressing climate change and pollution. And in a June 27 interview, Wheeler said he's proud of his lobbying past. Although he said being called a "coal lobbyist" wasn't derogatory, it irritates him because his advocacy on energy and environmental issues was broader than any single issue.
The replacement of Pruitt may mean a change in style at the EPA, but it won't mean a change in substance, said Jeff Holmstead, a former deputy EPA administrator.
"Pruitt had never worked in a regulatory agency and didn't fully understand the rulemaking process. He was certainly engaged in the politics of environmental issues, but he wasn't always engaged in the substance," Holmstead added. "In many ways, Wheeler is the polar opposite."
Some policy initiatives could be even easier to advance, predicted Stephen Brown, a vice president of federal government affairs with refiner Andeavor.
"The agency will likely run smoother and generate less collateral baggage when moving major initiatives," Brown said by email. "Andy knows how to make the trains within the agency and in the political arenas run on time."
Wheeler said in the June 27 interview that his priorities at the EPA include enforcement action and providing more certainty to the public on environmental permitting. Delays in getting essential permits, or decisions about them, especially hurt small businesses, he said.
"I'm not suggesting we have to approve all permits within a certain amount of time, but at least we should give a decision -- yes or no," Wheeler said, noting that small companies may seek bank loans with a short repayment window and use that to purchase equipment and pay workers while waiting for a permitting decision. "If we are late on the permitting side, then that can make or break a small company or mid-size business."
Wheeler also said he wants the EPA to get better at informing affected communities about potential risks in straightforward, easy-to-understand ways -- erring on the side of speed, even if the agency must correct information later on.
"I don't think the agency historically has done a consistent job of describing what the risk is that Americans face," Wheeler said, citing statements about air quality in New York after the 2001 terrorist attacks and the integrity of drinking water in Flint, Michigan. Wheeler said the burden falls disproportionately on the poor, "who often live the closest to facilities."
Trump praised Wheeler on Thursday, telling reporters on Air Force One that "Andy is going to do a great job." He didn't say whether he intended to nominate Wheeler for the EPA administrator position on a permanent basis, which would require Senate confirmation.
Wheeler's entire professional life has been tethered to the EPA, beginning in 1991, when he was hired for a non-political job focusing on toxic chemicals.
After four years working at the EPA under former presidents George H.W. Bush and Bill Clinton, he shifted to Capitol Hill, working for Republicans on the Senate Environment and Public Works Committee. That included time as an adviser to Senator James Inhofe, the Oklahoma Republican who famously carried a snowball onto the Senate floor to dispute the effects of climate change.
After Wheeler left Capitol Hill in 2009, he took on a cadre of lobbying clients, eventually leading FaegreBD Consulting's energy and environment practice group. His job was dedicated to advocating for chemical manufacturer Celanese Corp., uranium miner Energy Fuels Resources Inc., utility holding company Xcel Energy Inc. and other clients.
Wheeler lobbied the Trump administration last year to take emergency action to shore up coal-fired power plants on behalf of coal producer Murray Energy Corp. Wheeler also arranged at least one meeting last March between the company's chief executive officer, Robert E. Murray, and Energy Secretary Rick Perry to press for regulatory actions, according to newly disclosed correspondence.
Wheeler says he is recused from administration deliberations over possible intervention to stem the closing of coal and nuclear power plants, including at least one interagency meeting.
He allows that he "probably could" get involved under the terms of a recusal statement that allows him to sometimes participate in particular matters of general applicability, but he vowed not to since he lobbied on the issue.
Wheeler has a dry humor and a highly cultivated skill for listening to colleagues and subordinates, said Matt Dempsey, a former Senate staffer who also worked for Inhofe. Wheeler knows how to "avoid problems" and "work with people" to achieve enduring changes, Dempsey said.
"He's trying to make dramatic changes -- but ones that will stick," Dempsey said. "The kind of change he's bringing is long-lasting."
Conservatives' Misgivings
Some conservatives worry that Wheeler's deep ties to the EPA -- and his respect for the institution -- could discourage him from broadly overhauling the agency and its policies.
"Andy's principal advantage is that he has a deep and historical knowledge of many of the issues facing the agency," said Republican energy strategist Mike McKenna. "His principal challenge will probably be the need to balance concern for the institution with a desire to execute the president's agenda."
Although Wheeler collaborated with Democrats in the Senate to pass highway bills and water infrastructure legislation, some of his biggest environmental policy achievements may be in what he blocked from happening. For instance, he helped kill legislation to put a cap on carbon dioxide emissions in 2008 by emphasizing how the proposal could bolster the cost of energy, making any vote to support it politically risky as gasoline prices spiked.
Wheeler appears to share none of the personality traits and habits that got Pruitt into hot water.
Unlike Pruitt, who was faulted for not consulting with EPA's career employees, Wheeler has sought them out. And he has drawn on his EPA history to try and win trust amid staff cutbacks and concerns the agency is retreating from the fight against climate change.
In a message to EPA employees on Thursday, Wheeler said he was "both humbled and honored to take on this new responsibility at the same agency where I started my career over 25 years ago."
"I look forward to working hard alongside all of you to continue our collective goal of protecting public health and the environment on behalf of the American people," he said.
While Pruitt toured the country to highlight big policy initiatives for farmers and oil drillers, Wheeler eschews the limelight with a humility cultivated by years on Capitol Hill, where congressional aides know their role in meetings is often to hug the wall, not take a seat at the table.
"He's very low-key," Holmstead said. "I don't think he'll be spending a lot of time making speeches and doing public events. To a large extent, he'll just be quietly working to implement the regulatory reforms that Pruitt started."
There is no doubt Wheeler shares many of Pruitt's views. In 2010, Wheeler took aim at the United Nations Intergovernmental Panel on Climate Change, saying it was functioning "more as a political body than a scientific body," and had "blurred the lines between science and advocacy" so much that its scientific conclusions were unreliable.
Wheeler hasn't always been a Trump fan. In an April 2016 post on Facebook that has been deleted but was reported by The Washington Post, he called Trump a "bully," and suggested the president's baggage and limited knowledge of the way government works would impair his viability as a general-election candidate. Wheeler later said he got "fully on board" with Trump after a closer look.