Mueller's Powers Could Be Decided by Trump Supreme Court Choice
(Bloomberg) -- Donald Trump's pick for the U.S. Supreme Court could cast a deciding vote on constitutional challenges arising from Special Counsel Robert Mueller's probe, and Democrats say that creates a potential conflict of interest that should be resolved.
The court may be asked to decide whether the president can be subpoenaed to testify before a grand jury if he refuses to comply with Mueller's long-standing interview request, or resolve other constitutional matters stemming from the investigation into Russian meddling in the 2016 presidential campaign.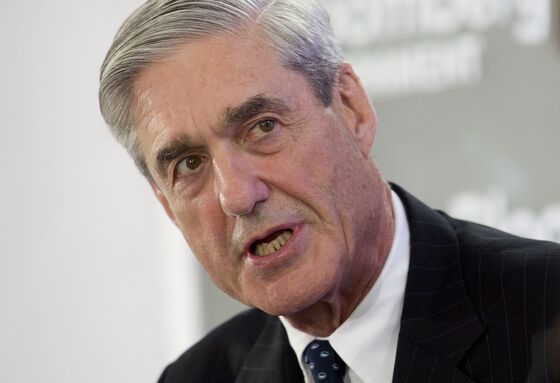 Should Mueller seek to bring charges against the president -- and there's no indication he will -- the justices may have to determine whether a president can be indicted and prosecuted while in office.
The special counsel's probe is the latest argument Democrats are advancing as they seek a way to defeat Trump's nominee in the Republican-controlled Senate or delay action in the hope they win the chamber in the November election.
Trump told reporters on Air Force One on Thursday that he's "down to four people" to fill the vacancy created by Justice Anthony Kennedy's retirement. He said he has interviewed "some extraordinarily talented and brilliant people." Among those who have emerged as favorites: federal appeals court judges Amy Coney Barrett, Brett Kavanaugh and Raymond Kethledge, two people familiar with the matter said.
Kavanaugh, in particular, has written in the past that Congress should consider granting a president deferral from criminal and civil proceedings while in office, arguing the distractions of investigations take away from a focus on the people's business.
At the very least, questions about the Mueller probe are sure to produce sharp exchanges when Trump's nominee appears for a confirmation hearing before the Senate Judiciary Committee.
Democratic Senators Jeff Merkley of Oregon and Cory Booker of New Jersey said Trump shouldn't be allowed to fill the court seat until the conclusion of the special counsel's investigation into possible collusion between Trump's campaign and Russia.
"A President under investigation should never be allowed to appoint a Justice to the Supreme Court," Merkley tweeted Thursday.
Demanding a delay might excite core Democratic voters, but it isn't likely to gain traction with the half-dozen or so pivotal votes for confirmation of a nominee: Democrats from states Trump won handily who face re-election in November and Republicans who have backed the Roe v. Wade abortion-rights ruling, which could be overturned or limited by the court. Senate Republican Leader Mitch McConnell has rejected Democratic calls to delay a confirmation vote until after November.
Other Democrats say the nominee should recuse himself or herself from any cases involving Mueller.
Senator Richard Blumenthal of Connecticut, a member of the Judiciary Committee, previewed a line of questioning: "Will you commit that you'll recuse yourself, because you're being appointed by a president who's likely to have that litigation?" He predicted the nominee will refuse to say whether Trump raised the issue in their conversations.
Senator Lindsey Graham of South Carolina, a senior Republican on the Judiciary panel, said Sunday on NBC's "Meet the Press" that judges probably shouldn't face recusal just because Trump picked them.
"It makes perfect sense to me that Jeff Sessions can't oversee an investigation of the campaign he was part of," Graham said of the attorney general. "But I wouldn't have a broad rule that you can't, you know, review anything against President Trump because he chose you."
Taylor Foy, spokesman for Judiciary Chairman Chuck Grassley, said that President Bill Clinton's pick of Justice Stephen Breyer went forward in 1994 despite the ongoing Whitewater investigation, including a federal grand jury subpoena, and that Democrats invoked the Russia investigation before Trump's first nominee, Neil Gorsuch, was confirmed last year.
"It didn't stick then and it won't stick now," he said.
Kavanaugh addressed some of the constitutional issues that could emerge from an investigation like Mueller's in a 2009 Minnesota Law Review article. He said his views were shaped by his work for independent counsel Kenneth Starr, who wrote a report recommending grounds for the impeachment of President Clinton, and his later service in the White House under President George W. Bush.
"The nation certainly would have been better off if President Clinton could have focused on Osama bin Laden without being distracted by the Paula Jones sexual harassment case and its criminal investigation offshoots," he wrote.
Kavanaugh argued that a president wouldn't be above the law because cases would be deferred, not eliminated, and impeachment would still exist as a remedy for a "dastardly" act by a president.
"No single prosecutor, judge, or jury should be able to accomplish what the Constitution assigns to the Congress," he wrote.
Other legal questions that could potentially be resolved by the Supreme Court include whether states could prosecute defendants indicted in Mueller's probe, should they be pardoned of federal crimes by Trump. Also, the court could consider challenges to the legality of Mueller's appointment as special counsel.
Democrats say the argument for delaying the nomination would be bolstered if Trump fired Mueller, which lawmakers from both parties have warned the president not to do. Trump regularly tweets that the probe is a "witch hunt" and says that Mueller's investigators are biased against him.
"If you think about it, Trump firing Mueller completely blows up even the pretense of moving forward with a Supreme Court nominee," Blumenthal said.