Manafort Says He Can't Prepare for Trial Because of Jail
(Bloomberg) -- Paul Manafort said he can't be ready for a July 25 trial in Alexandria, Virginia, on bank fraud and tax charges because the judge in his separate money-laundering case in Washington put him in a jail two hours away from his lawyers' offices.
Manafort, President Donald Trump's former campaign chairman, late Friday asked the judge in Virginia to delay the trial until after he's been tried in Washington where he's accused of failing to register in the U.S. as an agent of Ukraine and of laundering millions of dollars. That trial is scheduled to start Sept. 17.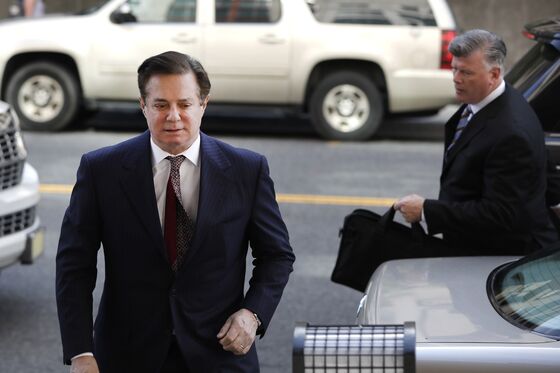 Special Counsel Robert Mueller opposes Manafort's request to delay the July trial, according to the filing.
U.S. District Judge Amy Berman Jackson in Washington revoked Manafort's bail last month, saying she had no choice but to lock him up because of alleged witness tampering. Manafort said in Friday's filing that being jailed about 100 miles (160 kilometers) from his lawyers' offices and without any electronic communications has severely impacted his ability to prepare for the trial.
The cases are U.S. v. Manafort, 17-cr-201, U.S. District Court, District of Columbia (Washington), and 18-cr-83, U.S. District Court, Eastern District of Virginia (Alexandria).