Iran Warns Europe Its Words Aren't Enough as Ministers Meet
(Bloomberg) -- Iran warned European foreign ministers gathering in Vienna that words alone won't be enough to counteract renewed U.S. sanctions and salvage the landmark nuclear accord.
France, Germany and the U.K. need to "forge practical solutions" rather than make "lofty and obscure promises," Iranian Foreign Minister Mohammad Javad Zarif said via Twitter. President Hassan Rouhani, fresh off a visit to Switzerland and Austria, told German Chancellor Angela Merkel and French President Emmanuel Macron in separate phone calls that their draft proposal was "disappointing," according to Iran's Mehr News agency.
At stake in Friday's meeting, which includes China and Russia, is the fate of the July 2015 Joint Comprehensive Plan of Action that lifted most sanctions on Iran in exchange for strict limits imposed on its nuclear work. After President Donald Trump withdrew the U.S. from the deal on May 8, Iran gave the remaining five powers time to come up with guaranteed access to global energy and financial markets. In the interim, international atomic inspectors have verified that Iran is living up to its part of the bargain.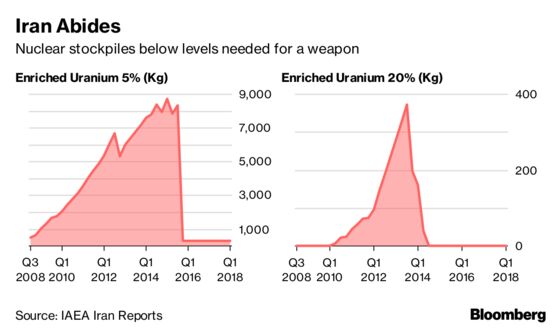 "Inaction is a strategy as well," said Laura von Daniels, who tracks trans-Atlantic finance for the German Institute for International and Security Affairs. By not offering any concrete measures, Europe could be forcing Iran into violating the deal, she said.
Iran, which sits atop the world's second-biggest natural gas reserves, expects oil exports to remain at current levels, continued access to international finance and the completion of contracts signed with European companies, a senior Iranian official said last month. Failure to provide relief from U.S. sanctions would result in the resumption of uranium enrichment and could result in the country leaving the Non-Proliferation Treaty against nuclear weapons, the person said.
"We want to make it clear to Iran today that it will continue to benefit economically from this agreement," German Foreign Minister Heiko Maas told reporters in Vienna. "We are currently looking for possibilities to keep the financial transaction channel with Iran open."
Maas said Friday's talks would take a "significant step" toward giving Iran the assurances it wants but that further discussions would be necessary.
A top U.S. State Department official warned Tuesday in Washington that any plans to continue doing business with Iran will run afoul of U.S. sanctions. "Our goal is to increase pressure on the Iranian regime by reducing to zero its revenue from crude oil sales," said Brian Hook, who has led Trump administration discussions with European allies on the sanctions.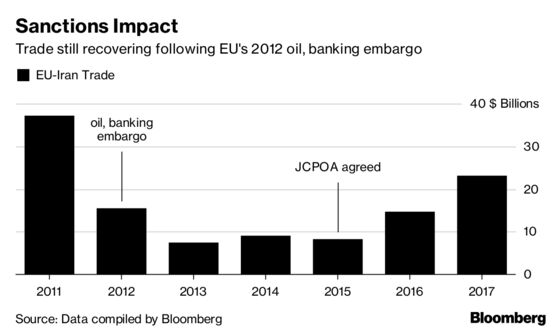 A large bulk of Iran's oil revenues and banking ties will be at stake if neither can be protected by the EU. Rouhani, who's facing intense pressure from hardline conservatives at home who accuse him of being naïve for ever trusting the U.S., would be left with little incentive to remain in the deal and in compliance with its terms and conditions.
Proposals to allow European finance to bypass American sanctions have been met with skepticism by EU states, which are also trying to negotiate trade disputes with the Trump administration that could threaten U.S. exports worth more than $435 billion. By comparison, Iran is the bloc's 66th biggest trading partner with less than $24 billion of goods exchanging hands, according to data compiled by Bloomberg.
U.S. Sanctions Return in Two Stages
| | |
| --- | --- |
| August 6 | November 4 |
| Iran restrictions on dollar purchases | Sanctions on oil-related transactions |
| Sanctions on gold, precious metal trades | Sanctions on transactions with Iran Central Bank |
| Sanctions on supply of graphite, aluminum and industrial software | Sanctions on supply of specialized financial messaging software |
| Sanctions on automotive sector | Sanctions on underwriting and insurance services |
| Sanctions on purchase, facilitation of Iranian debt | Sanctions on energy sector |
Source: White & Case; Note that list isn't comprehensive