World Careens Toward Clash of Systems
As the U.S. and China hurtle toward a full-fledged trade war, they may also be firing the opening shots in a broader struggle between two vastly different systems.
By this time tomorrow, U.S. President Donald Trump probably will have followed through on his threat to slap tariffs on $34 billion of Chinese imports in an effort to force trade concessions from Beijing. China has vowed to respond in kind, with its Commerce Ministry saying today that it won't give in to "blackmail."
Asian stocks fell to their lowest level in nine months as the region braced for the levies to hit.
The dispute reflects an escalating economic and military rivalry between a status quo power and one of the most remarkable growth miracles in history, as Brian Bremner writes. It's a clash between two systems — one state-directed, the other market-driven — with divergent world views and national aspirations.
If unchecked, the trade fight risks drawing the world's two largest economies into direct confrontation. But, as a growing bipartisan consensus in Washington urges a showdown with China, the tension seems set to intensify.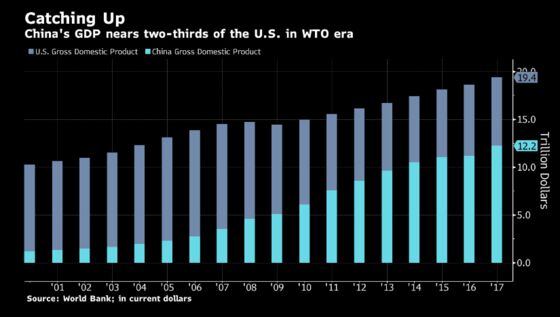 Novichok again | The second nerve agent poisoning in southern England in four months comes at a particularly difficult time for Theresa May. The U.K. prime minister faces a tough NATO summit, will host Trump, not to mention the usual Brexit woes. Now she must contain the fallout from a police announcement that two Britons in southern England were exposed to the same nerve agent that contaminated a former Russian spy in March.
Outsize influence | The fate of Trump's Supreme Court nominee will turn on a handful of Senate outliers in both parties — Republicans who support abortion rights and Democrats who don't. With Republicans holding just a 51-49 Senate advantage, the president — who's said he'll make his selection Monday — will have to win over lawmakers in one or both camps to confirm a replacement for retiring Justice Anthony Kennedy.
Rule of law | Malaysian Prime Minister Mahathir Mohamad is working hard to prove his government's prosecution of former leader Najib Razak on corruption and breach of trust charges is more than just a political stunt. Najib has pleaded not guilty, but the real test now lies in the nation's pursuit of lesser-known figures as Mahathir seeks to recoup $4.5 billion potentially siphoned from state fund 1MDB.
Italy's not budging on budget | A spike in bond yields in May hasn't shaken the new populist government from its controversial fiscal plans. Finance Minister Giovanni Tria told Lorenzo Totaro that while he aims to keep the deficit under control, his first budget will showcase the administration's sweeping vision, and include tax cuts and a universal basic income. Investors may say that's risky for an economy with a debt-to-GDP ratio of more than 130 percent, but Tria says it's needed to "change the system and to support economic growth."
Danger for Buhari | Intensifying clashes between cattle herders and farmers in central Nigeria are threatening President Muhammadu Buhari's bid for re-election in February. With a death toll topping 1,000 people this year alone, an overstretched army and weapons flooding into the area, the 75-year-old former military ruler is facing a rising chorus of critics who say he's not up to the task of ending the conflict.
And finally... A shift to drones rather than fireworks to light up the night sky and growing trade tensions between Washington and Beijing haven't yet slowed China's shipments of pyrotechnics beyond its borders. The Asian nation reportedly exported a record 53,700 metric tons of fireworks and firecrackers in May. Since 2012, the value of total exports has exceeded $700 million a year and at nearly $300 million so far, 2018 is on pace to continue the streak.