Turkey State of Emergency Era Is Coming to an End, Premier Says
(Bloomberg) -- Turkey will end a state of emergency that gave the government increased powers to detain suspects and purge institutions, prevented companies from filing for bankruptcy and allowed President Recep Tayyip Erdogan to rule by decree for two years.
Emergency rule won't be extended after July 18, Prime Minister Binali Yildirim said Thursday in an interview on state-run TRT television. It first went into effect days after a failed coup in 2016 that the government blamed on followers of Fethullah Gulen, a U.S.-based Muslim cleric. Officials said Gulen's supporters had spent some 40 years infiltrating state institutions and the measures were needed to remove them.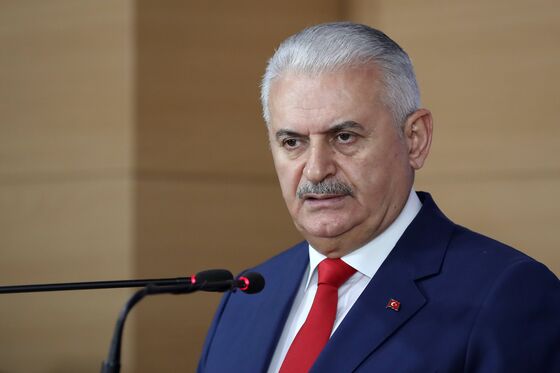 The expiration brings hope for some degree of a return to normalcy after a two-year period in which hundreds of thousands of people were detained, tried or fired, that allowed the government to seize hundreds of companies, and deepened concerns about Turkey's human rights record, exacerbating tensions with the European Union and other Western partners. But it also raises new concerns about how much economic damage could be revealed in its wake.
The move will allow foreign fund managers to resume visits to Turkey, after many of them restricted travel while emergency rule was in place, according to Isik Okte, an investment strategist in Istanbul at TEB Investment, BNP Paribas's Turkish unit. It could also bring a surge in bankruptcies. "We were always hearing about companies waiting to file but that could not due to OHAL," he said, using the Turkish acronym for the state of emergency.
The introduction of a new presidential system following a June 24 election limits some of the impact of rolling back the extraordinary measures, according to Teneo Intelligence Co-President Wolfango Piccoli.
The state of emergency "enabled Erdogan and the government to bypass parliament in passing new laws, allowed them to suspend individual rights and freedoms, and to carry out vast scale purges from the civil service," Piccoli said in a June 28 report. "While lifting the state of emergency could signal that the situation in Turkey is normalizing, in practice not much will change as Erdogan will be able to rule by decree under the new presidential system."
The lira strengthened for a second day on Thursday, gaining 0.6 percent to 4.6414 per dollar as of 1:05 p.m. in Istanbul. The yield on Turkey's two-year government bonds rose above 20 percent for the first time in a decade, on speculation the central bank will have to tighten policy further to fight surging inflation.
During the election campaign, Erdogan said that the state of emergency could be lifted after the vote, but that it could also be reimposed at any time.