Trump's Focus on War Dead Complicates Pompeo's North Korea Mission
(Bloomberg) -- As U.S. Secretary of State Mike Pompeo heads to Pyongyang to discuss North Korea's disarmament, another issue risks overshadowing his primary mission: the return of thousands of American war dead.
Recovering the bodies of troops killed in the Korean War is expected to be high on Pompeo's agenda, after North Korean leader Kim Jong Un committed during his June 12 summit with President Donald Trump to the "immediate repatriation" of identified remains. North Korea hadn't handed over the bodies by the time Pompeo left Washington on Thursday, building pressure on him to broker their release during the trip.
While en route to Pyongyang on Friday, Pompeo said he was "seeking to fill in some details" on pledges made during the Singapore meeting. "I expect that the DPRK is ready to do the same," he said referring to North Korea's formal name. He was scheduled to arrive around noon local time, or 11 p.m. Thursday in Washington.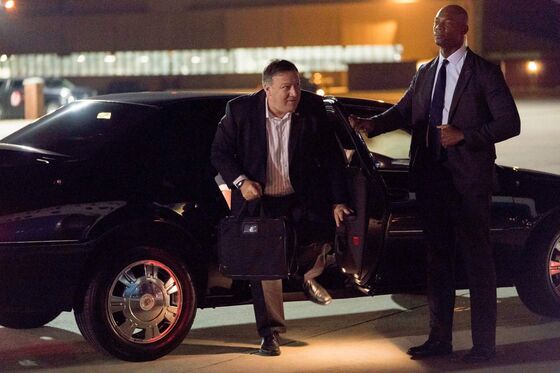 Fresh speculation about soldiers and Marines missing for almost 70 years illustrates how Trump's agreement with Kim last month raised new issues, even as it left unanswered key questions about how and when North Korea might disarm. The focus on their return gives Kim an emotionally-charged bargaining chip to play before discussing any details about dismantling reactors and missiles.
North Korea is holding about 200 sets of remains from among the some 5,300 American military personnel believed still lost in the country, according to Department of Defense estimates. Caskets that the U.S. shipped to South Korea to collect the remains haven't been filled.
North Korea "knows how much the U.S. wants them back," said Shin Beomchul, director of the Asan Institute for Policy Studies's Center for Security and Unification. "Pompeo, whose responsibilities are already heavy with the mission to make the North abandon its weapons, will feel a psychological burden, because it's almost unthinkable that he would fail to bring them back."
Expectations for the soldiers' return have been raised by Trump himself, who has touted the agreement amid bipartisan criticism that his unprecedented meeting with Kim failed to establish a framework for the country's "complete, verifiable and irreversible disarmament." The president told reporters after the summit that Kim "was really very gracious" and immediately agreed to return the remains in response to his own spur-of-the-moment request.
Trump continued to raise hopes in the subsequent days, telling Fox News that Kim was "giving us back the remains of probably 7,500 soldiers" and supporters in Nevada that North Korea had already handed over 200 sets of remains. Pompeo told U.S. Senate committee June 27 that no exchanges have been made, although he was optimistic they would take place "in the not-too-distant future."
The release of the remains would provide a tangible outcome for Pompeo, even if he fails to narrow differences over the speed and scope of North Korea's "complete denuclearization." After his previous trip to Pyongyang in May, the secretary of state returned with three American prisoners, a North Korean gesture that provided Trump a moment of triumph and paved the way for the summit.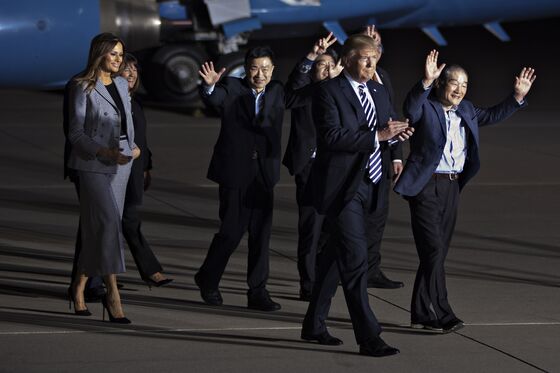 "It would be another drama, if Pompeo comes back with the remains on his plane," said Ahn Chan-il, a former North Korean soldier who defected in 1979 and now heads the World Institute for North Korea Studies. "By turning attention to the war dead issue or the broader humanitarian issues, North Korea is winning the effect of distracting from the denuclarization talks."
The recovery of war dead has long been among the most fraught issues between the U.S. and North Korea, dating back to even before the two sides formally stopped fighting. Joint efforts to find and identify U.S. personnel between 1990 and 2005 recovered more than 300 sets of remains and were suspended as nuclear talks between the two sides deteriorated. North Korea last repatriated the remains of six individuals in 2007.
Obama administration attempts to restart discussions foundered as Kim accelerated his nuclear program. In 2014, the state-run Korean Central News Agency published a statement blaming the U.S.'s "hostile policy" for ending the recovery missions and warning that the bodies of American soldiers were being "carried away en-masse" to make way for infrastructure improvements.
One question is what if anything the U.S. will pay for the remains, something North Korea has requested in the past and could violate international sanctions the Trump administration sought to isolate the regime. North Korean officials have told their U.S. counterparts that they wouldn't seek compensation for the next exchange, but reserved the right to do so in the future, South Korea's DongA Ilbo newspaper reported Thursday, citing unidentified people familiar with the dialogue.
Lee Shin-wha, who teaches international politics at Korea University and advised the unification and foreign ministry, said such questions indicate the Trump administration has put too many issues on the agenda.
"For the U.S., the war dead may be simply a humanitarian issue," Lee said. "But for the North, it's a more complicated one that can be used to distract from the disarmament talks and earn itself some money."