May Fights for Brexit Plan as Austria Raises Idea of Extension
(Bloomberg) -- As U.K. Prime Minister Theresa May fights to win Cabinet backing for her Brexit plan with the clock ticking down to exit day, Austria raised the prospect that an extension to the negotiating deadline could be considered.
Austria holds the European Union's rotating presidency, a role it will keep through the end of the year -- a crucial period in Brexit talks. Chancellor Sebastian Kurz said on Thursday a no-deal Brexit must be avoided at all costs. Asked if that meant extending the March 2019 deadline for negotiations, he said: "We will see."
May is trying to get her warring Cabinet behind her so she can put a new negotiating proposal on the table and kickstart talks that have been all-but stalled since March. Her latest plan has been criticized by her chief negotiator, Brexit Secretary David Davis, on the eve of a crunch Cabinet meeting where she's hoping to force an agreement.
May needs to come up with a plan that keeps both main factions of her Conservative Party happy and also satisfies her European counterparts. Stefaan de Rynck, aide to EU chief negotiator Michel Barnier, issued a reminder on Thursday that attempts to choose the best bits of membership without the drawbacks won't fly.
The single market is a "unique ecosystem" and EU leaders are united in protecting it, he told a conference in Birmingham.According to the details that have emerged so far, May is hoping to keep EU rules to ease trade in goods with the EU's single market, but not for services.
May is drafting a so-called White Paper policy document setting out what trading relationship she wants with the EU after Brexit and how customs will operate. The details that have emerged so far indicate she is seeking to maintain closer ties to the bloc than she initially envisaged.
While Environment Minister Michael Gove -- a key Brexit campaigner -- said he didn't expect ministers to resign in protest, pro-Brexit lawmakers are outraged by what they see as a betrayal of their project.
The White Paper will address the broader trade goals and also the customs setup the U.K. wants for after Brexit. It's important because one of the key stumbling blocks in talks is how to avoid customs checks on the Irish border after the divorce.
The customs debate split her Cabinet earlier this year -- leaving talks with Brussels deadlocked. May has now come up with a third option, which combines elements of both. Both the earlier models had been dismissed by Brussels.
Brexit Secretary Davis has written to May to tell her that her new idea is unworkable, according to a person familiar with the situation, confirming an earlier report in the Telegraph.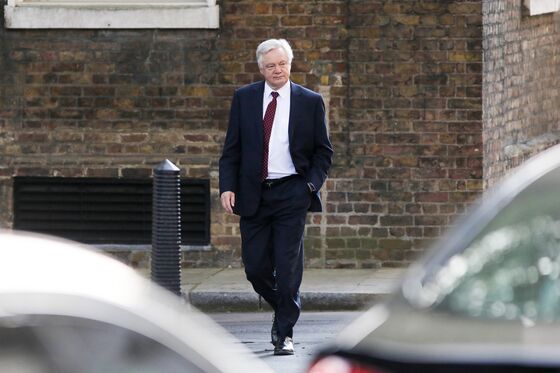 May has been briefing ministers on some of the details of her plan, but has kept the full document from them. Some officials don't expect to see it until the night before. Ahead of the meeting, May meets German Chancellor Angela Merkel in Berlin on Thursday as she seeks support in European capitals.
Businesses meanwhile are stepping up their demands on May to make a deal with the bloc that protects their interests. Jaguar Land Rover added its voice to the chorus on Wednesday, saying a bad Brexit deal would jeopardize investment and jobs.
The new customs compromise aimed to bridge the divide between ministers in May's Tory party who want a clean split with the EU and their colleagues who say businesses need to keep the closest possible ties.
The U.K. would collect tariffs on goods crossing the border that are destined for the EU. The use of technology and accrediting companies through "trusted trader" schemes will keep the bureaucracy for businesses -- such as the need to reclaim if they have overpaid tariffs -- to a minimum, said a British official, speaking on condition of anonymity.
In theory, the U.K. will be free to strike its own trade deals and determine an independent tariff regime. Winning the freedom to pursue independent trade deals and set tariff policy is a key goal for Brexit campaigners.