London Will See Two Trumps: The President and a Balloon Parody
(Bloomberg) -- Londoners will get to see two versions of Donald Trump next week: the 45th president of the U.S. and a 20-foot-high inflatable version that's orange and wearing a diaper.
Trump will be in the city for meetings with Queen Elizabeth and Prime Minister Theresa May and protesters are planning a "stop Trump" march through central London. Flying above them will be the rotund baby-faced spoof with small hands and what organizers describe as a "malevolent face."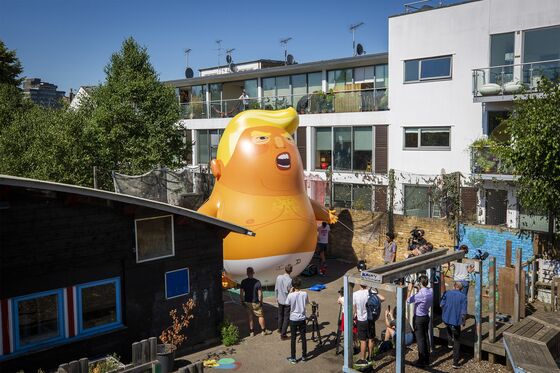 Protesters' request to fly the balloon on July 13 originally was rejected by the mayor's office, saying it didn't qualify as a protest. But London Mayor Sadiq Khan later approved it after thousands signed a petition.
The mayor's office said in a statement that it "supports the right to peaceful protest and understands that this can take many different forms."
Leo Murray, one of the protest organizers, told Sky News: "Following a huge groundswell of public support for our plan, it looks like City Hall has rediscovered its sense of humor. Trump Baby will fly!"
After the London protest, organizers say they plan to send the balloon on a "world tour." In a crowdfunding request, they wrote that they want the balloon to shadow the president, "haunting the skies -- and hopefully the dreams -- of the stain on the office of President that is Donald Trump Senior."
The White House has brushed aside questions about protests during Trump's trip.
"Look, we see protesters every day standing out front of the White House," deputy press secretary Hogan Gidley told reporters earlier this week. "What the President is going to do is go into these meetings with the mindset to protect the American people, to stand with our partners and allies."
The London protesters still need approval from the Metropolitan Police and National Air Traffic Service for it to fly and "ensure all protests are carried out safely and securely."