Merkel Raises Specter of Finance Crisis in Trade War Warning
(Bloomberg) -- German Chancellor Angela Merkel raised the specter of the global financial crisis as she warned of potential fallout from a trade war with the U.S., saying tariffs on European cars would be "much more serious" than levies on steel and aluminum.
Addressing the lower house of parliament in Berlin, Merkel said the global response to the market meltdown a decade ago showed that cooperation works better than one-sided measures. Faced with President Donald Trump's threat to target U.S. imports of cars from Europe, German and French government officials plan to meet next week in Paris to coordinate strategy.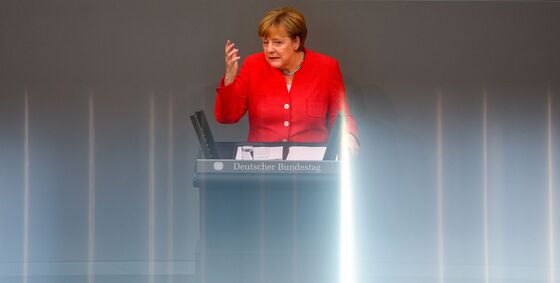 "The international financial crisis, which ensured that we now act in the framework of the G-20, would never have been resolved so quickly, despite the pain, if we hadn't cooperated in a multilateral fashion in the spirit of comradeship," Merkel said on Wednesday. "This has to happen."
As the leader of Europe's biggest economy, Merkel underscored her resolve to fight for the survival of post-World War II global institutions under attack by the Trump administration. Renewing an argument against U.S. criticism of German exports, she said the U.S. has a trade surplus with the EU if services are included.
Trump threatened in June to slap a 20 percent tariff on imported cars from Europe unless the EU removes tariffs and barriers "long placed on the U.S.," a move that would hit Germany's most important export machine. Mercedes-Benz maker Daimler AG revised its profit forecast last month, saying its exports are being hurt by global trade conflicts.
As the EU seeks talks with the U.S. to avert car tariffs, German Economy Minister Peter Altmaier will meet his French counterpart, Bruno Le Maire, to discuss trade during a visit to Paris on July 11-12, a German Economy Ministry spokeswoman said by email.
The U.S. Commerce Department is investigating whether imports of foreign cars threaten national security, an allegation the EU rejects.
Commerce Secretary Wilbur Ross said on Monday that it's a "little premature" to discuss a U.S. withdrawal from the World Trade Organization, after Axios reported that the White House has drafted a bill that would allow Trump to ignore basic WTO rules.
Merkel, along with China, is at the forefront of efforts to counter Trump's protectionist bent. While the EU retaliated against the U.S. levies on metals imports, it's still pursuing talks to try to deflect car tariffs.
European Commission President Jean-Claude Juncker said Friday he plans to meet Trump in Washington in July to "present the European point of view," though he's "not sure we will find an agreement."
In her speech, Merkel said she's reluctant talk about a trade war just yet.
"It's worth every effort to try to defuse this conflict so it doesn't turn into a war," she said. "But of course it takes two sides to do that."