Trump Immigration Moves Help Drive Mexico Cash Transfers to Record
(Bloomberg) -- Donald Trump's immigration policy is helping drive cash transfers from Mexicans living abroad to a record.
Remittances to Mexico from workers outside the country climbed to a record for a second consecutive month in May, rising 14 percent from April to $3.1 billion, according to data released by Mexico's central bank on Monday. That's a 20 percent increase from a year earlier and more than the highest estimate in a Bloomberg survey of eight economists -- the second straight time it has surpassed the most bullish analyst forecasts.
Transfers typically climb when the peso is weak, but they rose to an all-time high in April at as the currency was rallying to its strongest level in six months. The currency surged to better than 18 per dollar on optimism about the possibility for a deal to update the North American Free Trade Agreement, and they picked up further in May when the peso began weakening again as Nafta expectations dimmed.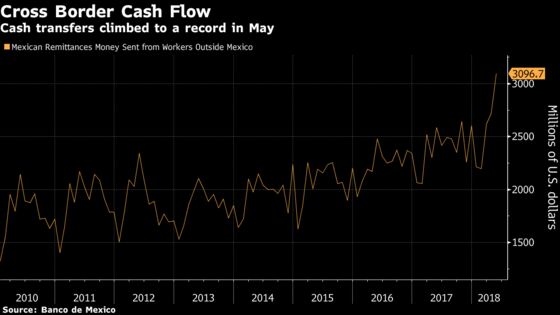 Francisco Flores, an economist at Grupo Financiero Banorte, said that it's likely that Mexican migrant concern over deportation played a role in the jump in remittances in May, although peso weakness, which increases the purchasing power of dollars sent back to Mexico, and the Mother's Day holiday probably were factors as well. The rise in 2018 cash transfers is a continuance of a trend that saw record years in 2016 and 2017 amid Trump's campaign, when he raised the prospect of the U.S. blocking the flow to make Mexico pay for a border wall, and his first year in office.
"We believe that the growth of remittances in 2018 will continue to be explained by the strength of the labor market and the U.S. immigration policy," Flores wrote in a research report Monday.
An improving U.S. labor market also probably will boost transfers, Flores said.
In the U.S. government's 2017 budget year, a period that included the final four months of President Barack Obama's administration and the first eight months of the Trump presidency, about 226,000 people were removed, a 5.9 percent drop from a year earlier, according to the U.S. Immigration and Customs Enforcement agency. The Trump administration attributed the decrease to a decline in border apprehensions, which it said possibly reflected "an increased deterrent effect from ICE's stronger interior enforcement efforts." U.S. officials have not yet released 2018 figures.
Luis Arcentales, an economist at Morgan Stanley, is also among those who think immigration policy probably is helping spur remittances.
"Fears over increasingly aggressive immigration policies could be leading workers to transfer more money home," he wrote in a report last month.
During the 2016 campaign, Trump floated the idea of blocking remittances to make Mexico pay for a $10 billion border wall that he said would stop undocumented immigration. The transfers provide a lifeline for some of Mexico's poorest households and communities, who depend on relatives working in kitchens and construction sites from California to Maine. Overwhelmingly coming from the U.S., the remittances were equivalent to about 2 percent of Mexico's gross domestic product in recent years, exceeding oil revenue and rivaling foreign direct investment.