Peso Falls as AMLO Win Spurs Uncertainty Over Mexico's Economy
(Bloomberg) -- Initial euphoria over Andres Manuel Lopez Obrador's landslide victory soured as the dollar's gain jolted investors back to the reality that the country's first leftist president in recent times may alter its economic model.
The peso declined as much as 1.3 percent after results of the Sunday elections signaled his Morena party was set to enjoy broad support in Congress. The victory came with a commanding lead for Lopez Obrador, showing a strong mandate for his policies. Stocks also slipped, along with the country's dollar-denominated notes.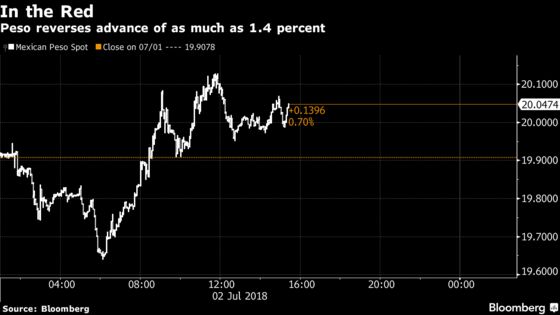 "I remain very worried about the potential fiscal slippage we'll see," said Christian Lawrence, a strategist with Rabobank in New York. He may revise his peso forecasts after assessing the election results.
Investors are concerned that under Lopez Obrador, the privatization of the energy industry will be rolled back, and spending on social programs will push the country into debt. In a victory speech following the vote, the 64-year-old struck a unifying tone while saying that his government will give preference to the poor. The peso's drop in the second quarter was the biggest since 2014.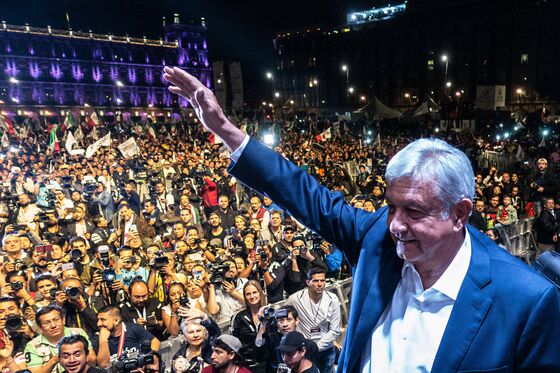 While analysts said it may be a few days before the makeup of congress is clarified, Eurasia Group said Lopez Obrador's large margin of victory suggests his party would have a strong position in both houses and be able to attract support from smaller parties as well. Among his proposals are a halt to a $13 billion airport project, the rollback of a historic opening of the energy industry and an expansive fiscal program.
"We still think he'll be able to build a majority in the lower house, and probably not be far in the senate," Eurasia Group analysts Daniel Kerner, Carlos Petersen and Ana Abad wrote in a note.
The peso dropped 1.1 percent to 20.1288 per dollar as of 9:57 a.m. in New York, while the Bloomberg Dollar Spot Index advanced 0.6 percent. The Mexbol stock index lost 1.2 percent, while yields on the country's 10-year overseas bonds climbed 12 basis points to 4.59 percent.
Investors initially took comfort in the orderly nature of the election, with two main rivals conceding defeat early in the night, sending the peso higher. When he ran in 2006, Lopez Obrador claimed voter fraud and his supporters took to the streets after he lost by less than one percentage point to National Action Party candidate Felipe Calderon.
"If people see that he won Congress and the Senate, the peso will return to a level above 20," said Ociel Hernandez, an BBVA strategist in Mexico City who is expecting increased volatility ahead for the currency. "But I would certainly expect an eventual appreciation as it is digested and a discourse of inclusion and respect for institutions prevails."