Merkel Sees Willingness to Defuse Her Coalition Clash
(Bloomberg) -- Chancellor Angela Merkel told lawmakers in her party bloc she senses a willingness to halt a feud over migration policy that's tearing at the seams of Germany's governing coalition.
Merkel made the remark to a closed-door meeting in Berlin on Monday where her caucus leader, Volker Kauder, said he's convinced a compromise will be found by the end of the day, according to a party official who asked not to be identified. The tone of the comments suggests a contrast with recent days of high tension between Merkel's Christian Democratic Union and its combative Bavarian ally, the Christian Social Union.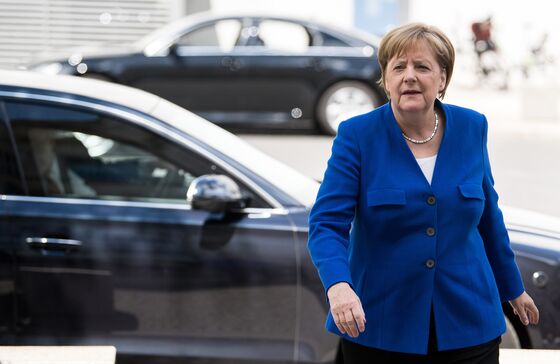 Merkel and Horst Seehofer, the federal interior minister who heads the CSU, are meeting Monday evening in Berlin to try to secure a last-ditch compromise.
"Everybody needs to demobilize," Hans Michelbach, a deputy CSU party leader, said on the margins of the caucus meeting. "The CDU and CSU are destined to be together. We can't let this suffer damage."
Without a compromise, both sides risk a historic breakup of the party bloc that's governed Germany for most of the time since World War II. That has the potential to deprive Merkel of her parliamentary majority, barely more than 100 days after her fourth-term government took office. Should the Bavarian revolt persist, a collapse of the government could ultimately end Merkel's almost 13 years as chancellor.
At the session of the joint CDU-CSU caucus in parliament, Merkel lobbied for a deal among European leaders she helped craft on Friday as a blueprint for changes in German migration policy she has presented to the CDU to address its demand to reduce arrivals of asylum seekers, the party official told reporters in Berlin.
Seehofer offered his resignation after a tumultuous meeting with his party's leadership in Munich on Sunday. He said the deal Merkel took home from the summit in Brussels didn't sufficiently meet the CSU's demands on unilaterally restricting Germany's borders.
The CSU chief didn't adopt the conciliatory tone of some of his colleagues. In an interview with Sueddeutsche Zeitung, he took a shot at Merkel, saying she owes her chancellorship to the support of his party in Bavaria.
"I'm not going to be fired by a chancellor who is only chancellor because of me," the newspaper quoted Seehofer as saying. "The person I helped into the saddle is throwing me out."
Even as Seehofer's resignation as interior minister and CSU chief loomed, Bavarian allies joined CDU officials in expressing confidence the fight won't end in a split between the sister parties. Bavarian premier Markus Soeder, who has spearheaded the CSU's hard line, said he had no interest in bringing down the government.
A poll published Monday suggest the public is on Merkel's side. More than two-thirds of German voters back her pro-European stance on migration and 67 percent view Seehofer's maneuvering as irresponsible, according to a June 28-29 Forsa poll for broadcaster RTL published Monday. Seehofer's approach didn't even have a majority among CSU voters.
Bavaria became a migration flashpoint during Europe's refugee crisis in 2015 and 2016 as the main entry route to Germany. Gains by the far-right, anti-immigration Alternative for Germany party, or AfD, have returned the topic to the CSU's agenda ahead of a state election in October.