Czech Support for EU Memberships Jumps, Countering Populist Wave
(Bloomberg) -- For the first time in almost eight years, more than half of Czechs say that membership in the European Union is better than striking out on their own.
A survey by the Prague-based polling company Stem showed 53 percent of Czechs would vote to join the EU again, compared with 45 percent a year ago. The last time membership had more than 50 percent backing was in November 2010, at 59 percent.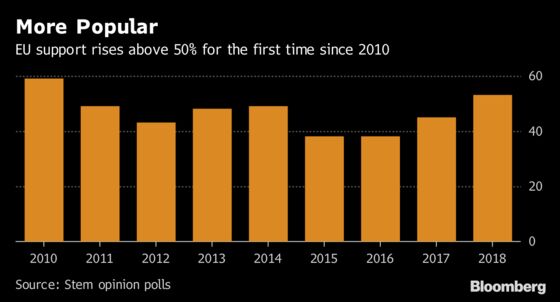 The jump in support for the EU runs counter to gains in recent elections by political forces critical of the trading bloc, some of whom are urging a Brexit-like departure. After a campaign focused on Europe's biggest refugee crisis in half a century, a party opposed to deeper integration within the trading bloc emerged as the dominant Czech political force in an October ballot. The anti-Muslim SPD, which is pushing for a referendum to leave, finished fourth.
"Public opinion turned negative after the economic crisis and the subsequent migration crisis," Stem said in a statement on Monday. "The perception is gradually improving again after the crises have subsided."
Billionaire Prime Minister Andrej Babis, who shares SPD's opposition to accepting refugees, has pledged to block any legislation allowing a ballot on EU membership. While such a vote seems unlikely, the public debate alone has sparked concern among Czech businesses and foreign investors. SPD's initiative has gained little traction among other lawmakers, though the proposal will be debated in parliament.
Stem polled 1,046 people April 19-29. It gave no margin of error.