Cohen's Next Phase, Manafort's Trial Looms: Trump Legal Update
(Bloomberg) -- House Republicans (still) want to shut down the probe into Russian election meddling. President Donald Trump's former campaign chairman Paul Manafort -- facing trial this month on fraud charges -- told a judge that government leaks to reporters were meant to bias jurors against him. And lawyers for Trump's onetime fixer Michael Cohen, who's being scrutinized in a separate criminal investigation, finished a review of seized evidence for records that they claim are protected by the attorney-client privilege.
These are just a few of the developments during the past week in the legal cases entangling the president. Here's a recap of where things stand and what to watch in the coming week:
For a case involving an FBI investigation, a fixer for the future president and an adult film star, it was a quiet week for Cohen. The exception was a suggestive selfie of Cohen and actor Tom Arnold, who says he's producing a TV series critical of Trump. The photo, posted to Twitter by Arnold, stirred speculation that Cohen was turning on Trump. Otherwise, developments in that probe were limited to courtroom procedures.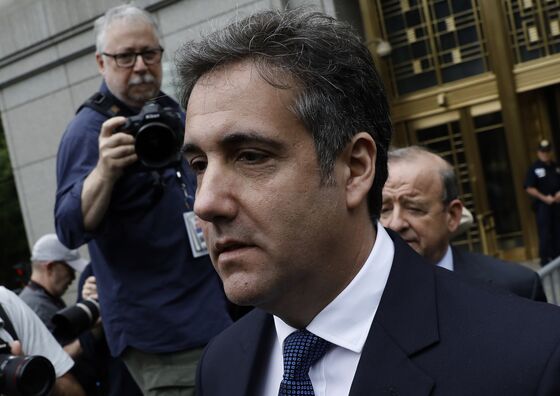 Federal agents are completing their review of millions of items seized by the FBI during an April raid of Cohen's home, hotel room and office. Cohen's lawyers said last week that they had completed their review. Cohen asked a retired judge appointed to oversee the process to withhold about 12,000 files from the government, saying they were covered by the attorney-client privilege.
The investigation is focused on Cohen's business activities. He presumably learned a great deal about Trump's dealings in the years he worked for the Trump Organization -- making it especially risky for the president if Cohen opts to cooperate with investigators. The company has until Thursday to complete its own review of the seized evidence.
Here are some of the most recent stories on Cohen's travails:
Republican criticism of Special Counsel Robert Mueller's probe into Russian interference in the 2016 election and possible collusion by the Trump campaign was intense last week, as the House approved a Republican-backed resolution demanding the Justice Department turn over all remaining documents sought by congressional committees related to the investigation. It was the latest attempt by Trump's Republican allies to derail the probe, which they contend has been a political witch hunt from the beginning.
Representative Mark Meadows, a North Carolina Republican who co-sponsored the resolution, said on the House floor that "when we get these documents, we believe that it will do away with this whole fiasco of what they call the Russian collusion investigation because there wasn't any!"
On Wednesday, FBI agent Peter Strzok, who has been accused of bias by Trump and his supporters, appeared for closed-door questioning before two House committees as part of their investigation "into decisions made by the Department of Justice in 2016" intended to undermine Mueller's probe. Lawmakers who heard Strzok defend his actions later said he was grilled about his text messages to a former colleague, including one that said he'd "stop" Trump from becoming president.
The special counsel's team has indicted 20 people and three Russian companies, secured five guilty pleas -- with several of Trump's former associates also agreeing to cooperate with the probe.
Here are some of recent stories on Mueller's investigation:
Manafort Gives Mueller a Win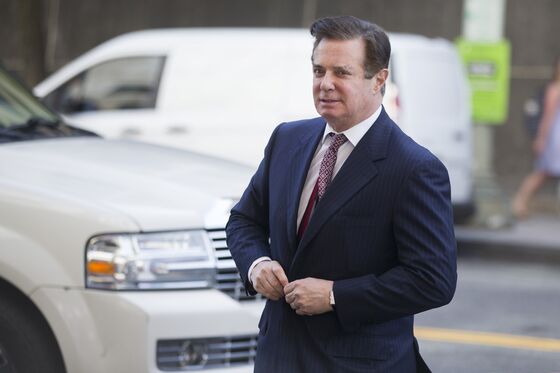 Manafort, Trump's onetime campaign manager, will have the distinction later his month of being the first person to go on trial in a case stemming from Mueller's investigation. Manafort's attempt to have the case thrown out on the grounds that Mueller lacked authority instead gave the special counsel a key victory when a federal judge on June 26 ruled the tax- and bank-fraud charges had been filed properly.
The ruling cleared the way for Manafort to go to trial on July 25 in federal court in Alexandria, Virginia, where he's accused of cheating banks and failing to pay taxes on income he earned as a political consultant for pro-Russian groups in Ukraine. Manafort, 69, faces a separate trial in Washington in September on charges of acting as an unregistered agent of Ukraine, laundering money and obstructing justice.
Mueller's prosecutors acted properly because the crimes charged "clearly arise out of the special counsel's investigation into the payments defendant allegedly received from Russian-backed leaders and pro-Russian political officials," U.S. District Judge T.S. Ellis III wrote in the 31-page opinion.
The cases against Manafort relate to his business dealings before he joined Trump's campaign, but some legal experts say Mueller may be trying to pressure him to cooperate in the larger probe.
Here are some of recent stories on Mueller's investigation and a link to the Special Counsel site:
The Porn Star v. the President
The most sensational case against Trump was brought by Stephanie Clifford, an adult-film actress who performs as Stormy Daniels. She says she had a tryst with Trump in 2006 and was threatened and manipulated to cover it up.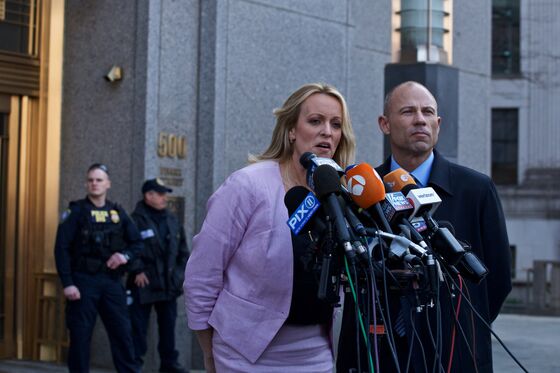 Clifford last week challenged a request by Cohen to gag her lawyer, Michael Avenatti, from discussing the lawsuit against Trump and his longtime personal attorney, who paid her $130,000 in October 2016 to keep quiet about the alleged sexual encounter.
Cohen previously got a 90-day hold placed on the lawsuit to protect his right against self-incrimination in the criminal probe.
Avenatti has said he wants to question Trump under oath. The California lawyer has kept the scandal alive with television appearances and additional lawsuits questioning Cohen's competence and ethics. And he's using his spare time to pick another fight with Trump, this time on behalf of immigration whistle-blowers who he says reached out to him to expose the "truth" behind the government's child-separation policy at the U.S.-Mexico border.
Russian Trolls and Fake News
Less lurid (but no less compelling) is an indictment Mueller brought against 13 Russians and three entities including a Russia-based research operation -- a case that offers a glimpse of just how extensive the 2016 election meddling was.
The two sides are fighting over how much evidence prosecutors must disclose to a company led by Russian businessman Yevgeny Prigozhin, who is under indictment for financing the cyber activities. U.S. District Judge Dabney Friedrich in Washington said the government has made a good case to keep some of the evidence under wraps. Among the topics the government doesn't want to disclose are cooperating witnesses who may be helping with the broader Russia investigation.
Russians spent a couple of years collecting intelligence on U.S. elections, then got directly engaged in the 2016 race, reaching out to unwitting Trump supporters to promote the candidate, according to Mueller. Meanwhile, programmers at the Saint Petersburg-based Internet Research Agency, which is allegedly bankrolled by Prigozhin, allegedly concocted social media accounts that seemingly represented groups aligned with actual movements, such as Black Lives Matter, to sow further disinformation to voters.
Separately, the Democratic National Committee sued Russia, the campaign, WikiLeaks and Trump's associates claiming widespread election interference. Its case in Manhattan could force campaign staffers to answer questions under oath. A hearing is scheduled for Sept. 13.
Here are some of the most recent stories on the Russian hackers:
Defamation Claims and Possible Deposition
Summer Zervos, a former contestant on "The Apprentice," claims Trump groped her in 2005. She sued the president for defamation after he labeled her, and other women who accused him of sexual misconduct, as liars.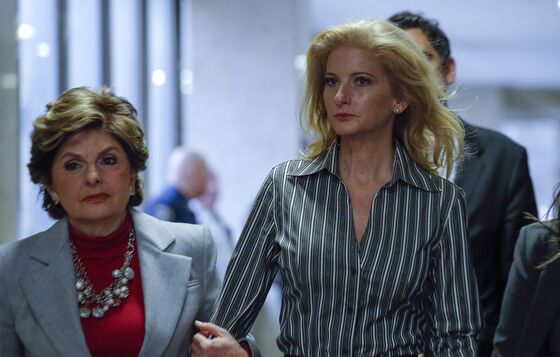 A New York judge rejected Trump's claim that the Constitution bars the president from being dragged into court. "No one is above the law," the judge wrote. Trump has lost several efforts to derail the suit, most recently on June 14, but he's continuing to wage appeals. Meanwhile, trial preparations are under way and a schedule has been set for exchanging evidence and filing submissions. Zervos wants to depose Trump and seeks documents relating to similar claims by other women. The deadline for depositions is Jan. 31, but there hasn't been a decision on whether Trump must face questioning.
Here's the most recent story on the Zervos case:
Clifford isn't the only one seeking to void a nondisclosure agreement to air a tale about Trump: A Los-Angeles-based actress who worked as a manager on Trump's 2016 campaign is pressing to keep her case public.
The actress, Jessica Denson, asked a New York judge on June 18 to deny the campaign's request to force the case into arbitration. Denson, whose credits include the CBS crime drama "Person of Interest," sued to nullify the agreement, saying it's making it more difficult to pursue a separate lawsuit in which she claims she was harassed while she worked on Trump's campaign.
Here's the most recent coverage of Denson's suit:

Tax Returns, Trump Foundation
Presidents have long disclosed their tax returns. Trump refused. But he may not have a choice.
Several lawsuits accuse Trump of violating the Constitution's foreign emoluments clause by taking payments without Congress's approval from foreign governments at his Washington hotel, golf courses and elsewhere, as well as the domestic clause that bars payments from federal or state governments.
Lawsuits by about 200 Democrats in Congress, and by attorneys general of Maryland and the District of Columbia, are pending. A third case, by an ethics-watchdog group and restaurant-industry competitors, is on appeal after a Manhattan federal judge tossed it out. The cases could force Trump to divest his holdings or put them in a blind trust. At a minimum, the plaintiffs will seek Trump's tax returns.
The Maryland judge is to rule by late July whether to allow the lawsuit to go forward.
In another battle over the president's holdings, New York state sued to dissolve Trump's charitable foundation, claiming it persistently broke state and federal laws through improper political activity, self-dealing and failing to follow basic fiduciary obligations. In response, Trump tweeted that "sleazy New York Democrats" are attacking a charity that "gave out more money than it took in." Barbara Underwood, the state's attorney general, has also referred the findings to the Federal Election Commission and Internal Revenue Service.
Here are the most recent stories on challenges to Trump's business and charity:
The Flynn case is U.S. v. Flynn, 17-cr-232, U.S. District Court, District of Columbia (Washington).
The Cohen case is In the Matter of Search Warrants Executed on April 9, 2018, 18-mj-3161, Southern District of New York (Manhattan).
The Manafort cases are U.S. v. Manafort, 17-cr-201, U.S. District Court, District of Columbia (Washington), and 18-cr-83, U.S. District Court, Eastern District of Virginia (Alexandria).
The Clifford cases are Clifford v. Trump, 18-cv-2217, U.S. District Court, Central District of California (Los Angeles); Clifford v. Trump, 18-cv-3842, U.S. District Court, Southern District of New York (Manhattan); and Clifford v. Davidson, 18-cv-5052, U.S. District Court, Central District of California (Los Angeles).
The Denson case: Denson v. Trump, 18-cv-2690, U.S. District Court, Southern District of New York (Manhattan).
The hacking indictment is U.S. v. Concord Management, 18-cr-00032, U.S. District Court, District of Columbia (Washington). The DNC case is Democratic National Committee v. the Russian Federation, 18-cv-3501, U.S. District Court, Southern District of New York (Manhattan).
The Apprentice case is Zervos v. Trump, 150522/2017, New York Supreme Court, New York County.
The emoluments cases are Blumenthal v. Trump, 17-cv-1154, U.S. District Court, District of Columbia (Washington); District of Columbia v. Trump, 17-cv-1596, U.S. District Court, District of Maryland (Greenbelt); Citizens for Responsibility and Ethics in Washington v. Trump, 17-cv-00458, U.S. District Court, Southern District of New York (Manhattan).
The Trump Foundation case is People of the State of New York v. Trump, 451130/2018, New York Supreme Court, New York County.