N.J. Shutdown Averted as Governor Said to Reach Budget Deal
(Bloomberg) -- New Jersey Governor Phil Murphy and his fellow Democrats in the Legislature have agreed on a state budget, hours before a constitutional deadline, according to two people familiar with the deal.
Murphy, who took office in January, had disagreed with legislative leaders over which taxes to increase in order to balance the fiscal 2019 spending plan. They met on Saturday for several hours, and then the governor scheduled a 7:30 p.m. news conference in Trenton with leaders of the Senate and Assembly "to make an announcement."
Failure to pass a spending plan before midnight, the start of the fiscal year, could have forced a shutdown of state government.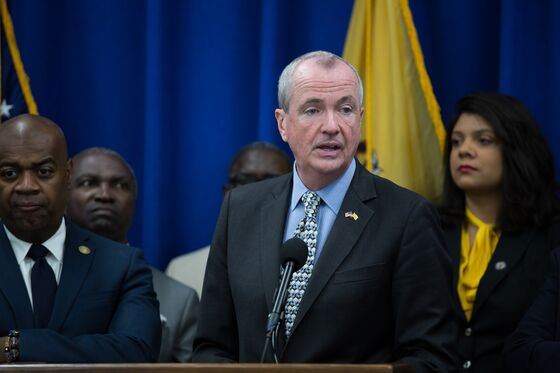 Murphy, 60, a former Goldman Sachs Group Inc. senior partner, had initially proposed a $37.4 billion budget that would raise the sales-tax rate to 7 percent from 6.625 percent, and the tax rate for income over $1 million to 10.75 percent from 8.97 percent.
Democratic leaders of the Senate and Assembly were seeking more short-term fixes, including a two-year, 4 percent surcharge on corporate business taxes. That would have raised the overall tax rate for the biggest corporations to 13 percent, higher than any other state.
As of today, all but three states had enacted budgets for fiscal 2019: New Jersey, Massachusetts and South Carolina, according to the National Association of State Budget Officers. Massachusetts, though, passed an interim budget to keep operating, while South Carolina has approved legislation to continue funding. New Jersey's constitution does not allow interim budgets, temporary spending authorizations or continuing resolutions.