Austria's Kurz Wants to Build Bridges, Reduce Tension in EU
(Bloomberg) -- Austrian Chancellor Sebastian Kurz said he sees his role as helping to ease regional tensions as he takes over the presidency of the European Union through the rest of this year.
"We want to use these six months to build bridges in the European Union and reduce tensions," Kurz said through a translator at a ceremony marking the transfer of the presidency from Bulgaria. "We are also focusing on building a Europe that protects, which is the motto of our presidency."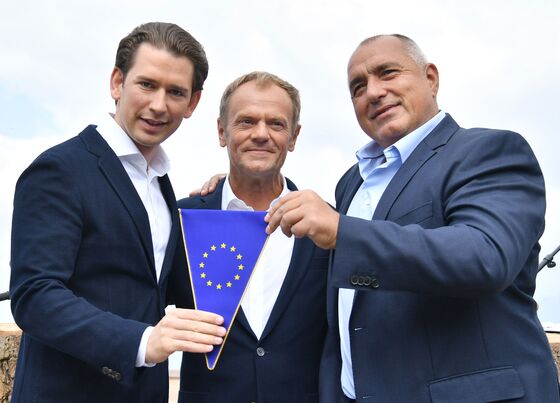 Bulgarian Premier Boyko Borissov and European Council President Donald Tusk joined Kurz in a picturesque skiing resort of Schladming a day after they reached agreement on handling inflows of migrants during a summit in Brussels.
Tusk praised Kurz on his choice of a motto -- a Europe that protects -- and said that the need for security became evident during the migration crisis, with leaders working to ensure the EU is associated with stability, not instability.
Europeans expect their leaders "to show determination in our actions to restore their sense of security and order," Tusk said. "Not because they have, all of a sudden, become xenophobic and want to put up walls against the rest of the world, but because it is the job of every political authority to enforce the law, to protect its territory and the border."