Trader's Guide to AMLO's Mexico: Buy the Dips and Hold Tight
(Bloomberg) -- Mexican markets will get worse before they get better.
That's the conclusion of analysts and investors who've watched the peso swoon and stocks stumble as conviction grows that the leftist Andres Manuel Lopez Obrador is poised to win Sunday's presidential vote. They say Mexican assets are in for a bumpy ride between the election and inauguration Dec. 1, but that jitters should abate and a rally may take hold once Lopez Obrador assumes office and refrains from radical policies.
There's already widespread agreement that the firebrand populist will win the ballot after persuading voters he's best positioned to fight corruption. That's filled investors with no small amount of dread and distress as they anticipate policies that will dissuade foreign investment in the energy industry and blow out the budget deficit. The most pessimistic forecasts see the peso weakening as much as 27 percent by the end of the year.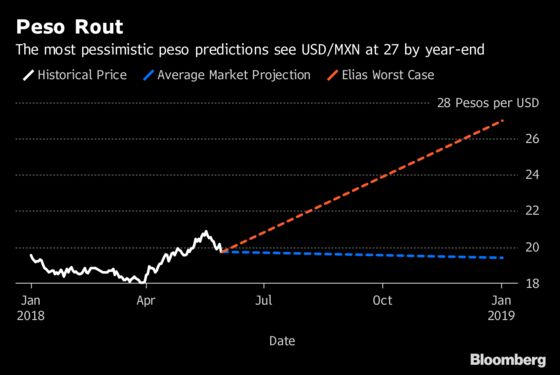 But some of those same pessimists also say that Lopez Obrador -- popularly known as Amlo -- doesn't want a financial crisis in the early days of his administration and is likely to signal a moderate approach to governing. He's already floated the idea of hiring economic advisers likely to endorse conventional policies and has quietly met with bankers and business executives to assure them they have nothing to worry about.
"The unknown is always a source of fear and concern," said Miguel Sosa, founding partner of Coral Gables, Florida-based Premia Global Advisors, which oversees $210 million, about a fifth of which is owned by Mexican families. He said investors haven't been this nervous since the 2000 election of Vicente Fox, who broke 71 years of rule by the Institutional Revolutionary Party, or PRI.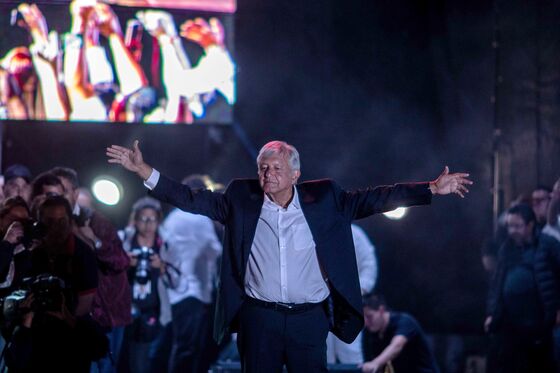 The most likely reaction in the weeks and months following the vote is going to be negative. Michael Roche, a fixed-income strategist at Seaport Global Holdings, says a congressional majority and significant wins in state races would be bad for the market and recommends caution. Omar Zeolla, an analyst at Oppenheimer, says corporate bonds may see a good deal of volatility in the election's immediate aftermath.
Alvise Marino, a currency strategist at Credit Suisse Group AG, says that in the worst-case scenario, in which Lopez Obrador's Morena party wins a two-thirds majority in Congress, the selloff would be so severe that the central bank may need to support the peso.
Even after a rally Thursday, the peso has lost 7.3 percent this quarter to about 19.6 per dollar, among the worst performances for major currencies. Options traders are pricing in significant swings in the immediate aftermath of the election, but see the currency ending July not much changed from where it started.
Rafael Elias, a strategist at Exotix Capital, expects a lot of chop, and says the peso will tumble to as low as 27 per dollar by Dec. 1. He sees the catalyst for the selloff coming from a significant win for the Morena party in Congress. As Lopez Obrador's congressional allies hit the media spotlight, investors will begin to worry, Elias says. Morena's candidate roster includes Napoleon Gomez Urrutia -- a union leader who fled to Canada after an embezzlement charge -- and Nestora Salgado, who was arrested in 2013 on accusations of kidnapping. (Cases against both Gomez Urrutia and Salgado were ultimately thrown out.)
With a congressional majority, some analysts worry that Lopez Obrador may be able to push some of his more radical policies through unopposed. Among his proposals are a halt to a $13 billion airport project, the rollback of a historic opening of the energy industry and an expansive fiscal program that he says can be paid for by eliminating waste and fraud.
For all the doom and gloom investors anticipate in the months after the election, there's also somewhat of a consensus that Mexico and its markets will be just fine over the longer term. Many point to Lopez Obrador's moderate policies as mayor of Mexico City, and say most of his proposed cabinet members are well qualified for the job. Mexican assets showed some signs of recovery this week as investors grew more comfortable with Lopez Obrador.
Shamaila Khan, AllianceBernstein's director of emerging-market debt, says Lopez Obrador will want to keep Mexican financial markets stable and that by the time he takes office, much of the risk will be priced in.
"If he comes in and makes a statement that he's maintaining the status quo in Mexico, then yes, markets could definitely rally," Khan said. She likened the situation to when Brazil's Luiz Inacio Lula da Silva campaigned for president on a platform promising social reform, then surprised investors by governing with business-friendly policies.
Mauro Roca, the managing director of emerging markets at TCW Group, counts himself among those who predict Mexican assets will weaken more after the election, but then rally soon after as investors recognize that Mexican credit fundamentals remain strong.
"We're talking about changes in the margin," Roca said. "Mexico is not going to lose the investment grade."
Even Elias, the strategist with the most pessimistic peso forecast for the election's aftermath, is predicting a strong rally after inauguration day as investors realize the limits to Lopez Obrador's power. As campaign promises meet reality, moderation may win out.
"Amlo might very well end up being the most powerful president of the past three decades," Elias said. "But he will find that there are still limits on what he can and cannot do."