Now Merkel's Adversaries Face Ultimatum to Back Down on Migrants
(Bloomberg) -- Europe's surprise deal on migration raises pressure on Angela Merkel's antagonists in Germany to back off, increasing the chances she'll ride out the latest threat to her chancellorship.
Merkel and other European Union leaders defied expectations to forge an accord, shifting the onus to the Bavaria-based CSU party that sought the clash. Its leaders must now decide at a meeting on Sunday whether to risk a historic breakup of the party bloc that's governed Germany for most of the time since World War II or seek a face-saving retreat.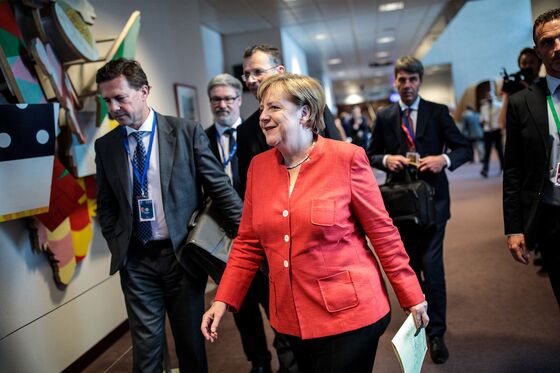 With migration hard-liners Italy and Austria backing a coordinated European approach, the CSU appears isolated after threatening to defy Merkel and send back asylum seekers at the German border who first registered in another EU country. Polls suggest public support for the Bavarian stance is waning.
"At this point, the CSU can't afford to dig in against a compromise," Juergen Falter, a political scientist at Johannes Gutenberg University in Mainz, said by phone. "They'd come across as troublemakers."
Investors welcomed the summit result. For Merkel, who argues that one-sided border measures risk unraveling free travel in Europe, the deal offers the prospect of halting a clash between her Christian Democratic Union and its CSU sister party that's jeopardizing her three-month-old government coalition.
"This was an important step in the right direction," Merkel said as the summit ended on Friday. "What we've achieved here together is perhaps even more than what I had expected, even if it's not complete."
EU leaders provided an olive branch to the CSU by saying national governments should take measures to counter secondary migration -- people who seek asylum in EU countries other than the one where they arrived. Separately, Spain and Greece agreed to take back previously registered asylum seekers who make it to the German border.
Stopping secondary migration is the CSU's key demand in its clash with Merkel, though EU leaders also agreed that governments should cooperate to stem it.
"This should be just enough to offer the CSU a way out," Carsten Nickel, managing director for Europe at Teneo Intelligence, said in emailed comments. "In reality, everybody knows that the migration challenge cannot be resolved in one go."
Alexander Dobrindt, CSU leader in parliament, said the summit had endorsed the party's demand to combine joint European and unilateral national measures. "We are ready to act on that and believe national measures are still necessary," he said in an interview with the RedaktionsNetzwerk Deutschland newspaper group published on Saturday.
A poll published Friday suggested the government's public standing is sliding amid the infighting and Merkel's approval rating declined 3 points from June to 61 percent. Yet 91 percent in the FG Wahlen survey said they favor European solutions on migration, an endorsement of Merkel's line and a snub to Bavaria's nationalist push for unilateral border measures.
As the main transit point into Germany, Bavaria became a migration flashpoint during Europe's refugee crisis in 2015 and 2016. Gains by the far-right, anti-immigration Alternative for Germany party, or AfD, have returned the topic to the CSU's agenda ahead of a state election in October. "The Bavarians will find ways to keep the issue simmering all summer long, right until the elections," Nickel said.
Yet the CSU's support in Bavaria declined 1 percentage point to 41 percent from an April poll, while the AfD rose by that amount to 14 percent, according to an INSA survey this week. That means Bavaria's ruling party is on track to suffer a significant decline in support from the 47.7 percent it won in the last state election five years ago.
"It would he hard to understand if the CSU now broke with the CDU and thus destroyed the coalition," said Heinrich Oberreuter, a political scientist at the University of Passau in Bavaria. "At least the CSU will be able to claim for itself that they have forced Europe's hand."