Italian Populists Drive EU to Toughen Its Policies on Migration
(Bloomberg) -- Italy's rookie prime minister, Giuseppe Conte, emerged from his first European Union summit with a package of measures to stem the flow of migrants into the bloc and spread the burden of handling those who do arrive.
During talks in Brussels that wrapped up after 4:30 a.m. Friday, member states agreed to increase border security, set up holding centers to handle asylum seekers, and to impose tighter controls on the charity organizations rescuing people from the Mediterranean Sea. An Italian official said Conte has got about 70 percent of what he'd wanted.
"Italy is no longer alone," the premier told reporters as he left the summit venue.
The euro jumped as investors saw the deal defusing the dispute, which has opened up old and new rifts within the EU. It traded up 0.8 percent at 1:47 p.m. in Brussels.
Talks resumed two hours later than scheduled on Friday morning with 27 leaders discussing the state of the Brexit negotiations after U.K. Prime Minister Theresa May left to return to London. The statement, warning of the risks of a messy, no-deal divorce, was approved in less than a minute, according to Maltese Prime Minister Joseph Muscat, who compared that with almost nine hours for the deal on migration.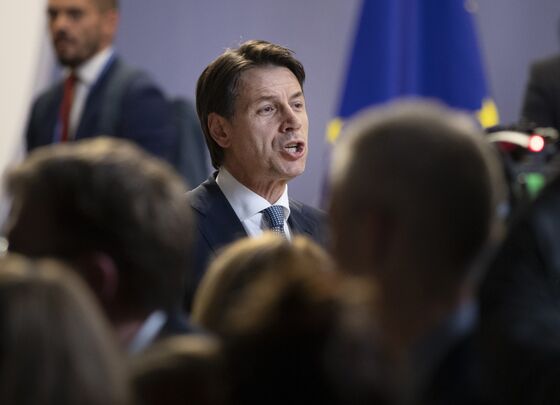 It remains unclear whether that agreement will be sufficient to help German Chancellor Angela Merkel stave off a revolt by her Bavarian sister party, the Christian Social Union, which could deprive her of a parliamentary majority. Early signs were promising as Hans Michelbach, a deputy CSU leader -- and a moderate within the party -- welcomed the deal.
"It's a positive signal that things are moving in Europe in the right direction. We have to recognize that there has been movement and from our side that can certainly be seen as positive," he told Germany's ARD television.
Alexander Dobrindt, another CSU official who's been a persistent critic of the chancellor, said he'd review the deal carefully, noting that deal included language on the internal migrant flows that are Germany's main concern.
Within the bloc, deep divisions remain between those with a relatively liberal stance on migration, such as Merkel or Spain's Pedro Sanchez, and leaders like Hungary's Viktor Orban. He told reporters on his arrival that "the invasion must be stopped." Refugee flows have actually declined sharply since a surge in 2015.
In the run up to the talks, Conte's populist administration sparred with Spain and particularly France over its decision to bar migrant rescue ships from docking in Italian ports. Yet as the negotiations dragged on through dinner in Brussels, French President Emmanuel Macron had a key role in shepherding the settlement.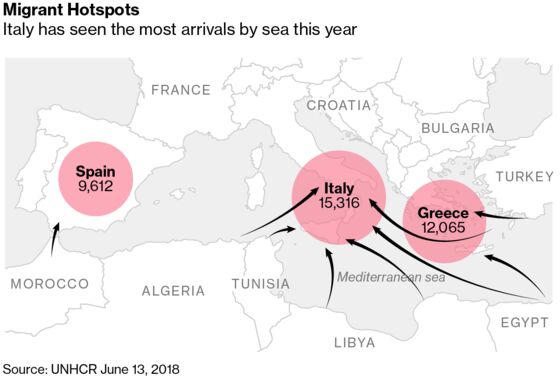 Conte and Macron huddled briefly before the talks began and then had two separate one-on-one meetings through the night. An Italian official welcomed what he called a change of attitude from the French side. The optics of the two leaders working together -- Macron tweeted a photo at one point -- may help mend relations between two governments that have been exchanging insults in recent weeks.
"With Giuseppe Conte, we are working together to find a European agreement on the sharing of refugees," Macron said in a tweet.
Much remains opaque about the deal, however, not least whether it has any more chance of being implemented than previous attempts at burden sharing. The promise of new EU money to combat illegal migration may help oil the wheels. But so far Italy, Spain, Belgium and Bulgaria have all indicated they won't be taking up the invitation to set up new, voluntary processing centers.
On Thursday, Conte had threatened to block the summit's entire agenda unless he got the support he want. In the end he surpassed anything his predecessors had extracted in years of pleading since the immigration crisis flared in 2015.
Yet the struggle to agree these measures signal further battles ahead as hardliners in countries including Austria, Italy and in eastern Europe sense the momentum is with them to push their case. In a speech to the Bundestag earlier on Thursday, Merkel warned that the issue of migration "may well turn into a question of the EU's destiny."
As she left the summit, Merkel smiled wearily and hailed the agreement as a "positive message." Macron said it offered a coherent approach to the phenomenon of migration.
"This is the fruit of a joint effort and it's European cooperation which has produced it, rather than the option of no agreement or national-level decisions that wouldn't have been either effective or durable," he said.