If Trump Heads to Scotland, the Government Says It Wants a Refund
(Bloomberg) -- As speculation swirls in Britain about where U.S. President Donald Trump may spend the weekend after next month's working visit, Scotland, the destination thought most likely, is already preparing the bill.
Scotland's semi-autonomous administration said it wants to be reimbursed by the British government for costs associated with providing security for any visit by Trump. Police Scotland indicated the bill might run to about 5 million pounds ($6.6 million) as thousands of officers are potentially mobilized for the visit.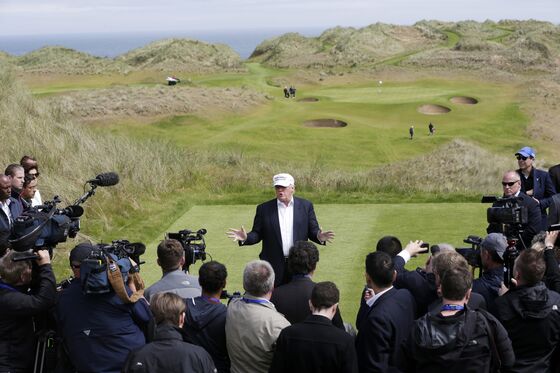 Trump's due in Britain on July 13 for talks with Prime Minister Theresa May, after attending the Nato summit in Brussels. He's then heading for a meeting with Russian President Vladimir Putin in Helsinki on July 16. With nothing currently on Trump's schedule for July 14 and 15, golf in Scotland seems like a possibility.
"Whilst I acknowledge that the final details for any potential visit to Scotland are yet to be confirmed, you will be aware that extensive operational planning is now under way given the imminent timing," Humza Yousaf, Scotland's new justice secretary, said in a letter to the British home secretary. "I am clear that any such costs should fall to the U.K. government as the host of the visit."
Trump owns the Turnberry golf course in Ayrshire, which has hosted four Open Championships, and another course near Aberdeen; his mother hailed from the remote Isle of Lewis. But he's had a patchy relationship with Scotland's government, which stripped him of his status as a business ambassador following his call during the 2016 presidential campaign for a "total and complete shutdown of Muslims entering the United States."
Trump flew to Scotland on a visit two years ago, right after Britain voted to leave the European Union. While there he praised Brexit as a "great thing," even though a majority of Scots voted against leaving. First Minister Nicola Sturgeon has called Brexit democratically unacceptable and said she'd pursue another vote on Scottish independence.
Scotland's budget is currently financed by a subsidy from the U.K. government in London and its own taxation.