May's Brexit Tactics Leave EU Leaders Alarmed and Dismissive
(Bloomberg) -- Tensions over Britain's divorce from the European Union ratcheted higher on Friday as Prime Minister Theresa May's approach was described as "alarming" by one of her peers, and leaders said time was running out to avoid a catastrophic breakup.
One EU premier, who heard May's address on Brexit over dinner Thursday during the EU summit in Brussels, said he was shocked by the tone and left thinking the risk of talks collapsing without a deal was now almost 50-50, having gone in considering the likelihood to be about 20 percent, an official he briefed said. A no-deal split is the scenario businesses fear most.
His view was reflected in other leaders' public statements.
"The feeling that dominates is the impression that the British continue to negotiate with the British and not with the EU," Belgian Prime Minister Charles Michel said, adding he was "not very optimistic."
With just four months to go before the U.K. and EU's self-imposed deadline for a deal on the divorce, European officials say they are stepping up preparations in case Britain crashes out of the bloc into a legal limbo. May is still struggling to get her warring Cabinet to agree on what Brexit should mean in practice, and her attempts so far to find something that's acceptable to all have been quickly rejected by the EU side.
Irish Prime Minister Leo Varadkar again seemed to preempt May's latest attempt at compromise, saying an idea that has been floated wouldn't work. He dismissed any U.K. attempt to stay in the EU's single market for goods, saying it could form a precedent that could lead to the breakup of the bloc.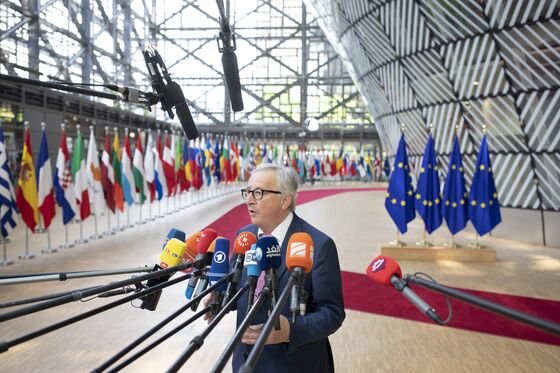 The mood is increasingly bitter and EU patience with May's inability to get her warring government in line is wearing thin. On hold for now, high-level talks will get going again in mid-July once the U.K. makes its position clear.
"A great deal of work" is still needed, EU President Donald Tusk said after the summit. "This is the last call to lay the cards on the table."
Work on the central issue of how to avoid physical checks on the Irish border -- which will become the U.K.'s frontier with the bloc -- hasn't made any real progress since December, a second EU official said. Dutch Prime Minister Mark Rutte said it's the "first, second and third" priority in talks.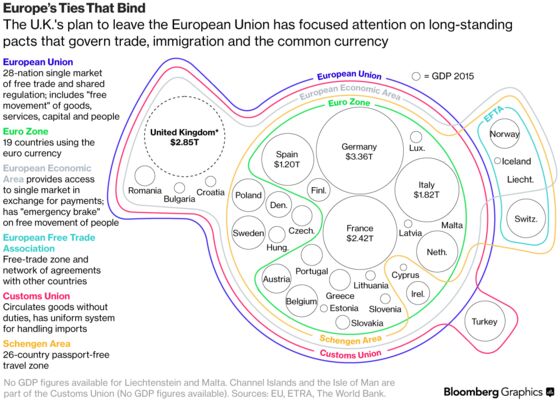 Friday was the EU's last formal gathering of leaders before they return to Brussels for a summit in October when they're supposed to sign off the Brexit deal. But EU and U.K. officials now acknowledge privately that keeping that timetable is unlikely. That would leave parliaments on both sides less time to approve the agreement and increase the chances of a tense and uncertain final few months for businesses trying to plan.
A scaled-down summit in Salzburg, Austria, in September designated for talks on immigration and security has now been mooted as a possible Brexit crisis meeting, a third EU official said.
May is planning talks with her Cabinet at her countryside retreat on July 6 to thrash out an agreed vision, with the details to be published the following week. May said on Friday she wants talks to accelerate and intensify after that. The day before she gathers her ministers, May will meet German Chancellor Angela Merkel in Berlin.
Despite repeated warnings that time is running out, the U.K. has told the EU that its officials won't participate in any further negotiations until the week of July 16, a fourth EU official said.
With another quiet period expected during August, work on drafting a joint declaration on the future relationship to sit alongside the divorce treaty may not start in earnest until September, or even after the Salzburg meeting.