One EU PM Said to Find May's Approach Alarming: EU Summit Update
(Bloomberg) -- European Union leaders have wrapped up a two-day summit in Brussels, after negotiating late into the night on measures to stem the flow of migrants into the bloc and spread the burden of handling those who do come. The focus on Friday was on efforts to shore up the euro area.
One EU PM Said to Find May's Approach Alarming (5:11 p.m.)

An EU prime minister sitting around the summit table said he was alarmed by the tone of Theresa May's words on Brexit, according to an official he briefed on the discussion. He left the meeting thinking that the risk of a "no deal" Brexit had increased from about 20 percent to nearly 50 percent, the official said, after May talked of the real possibility of the talks collapsing.
May left the EU prime minister thinking there was no solution in sight on the Irish border. She seemed to be pressuring the bloc into making concessions on economic relations and trade in return for post-Brexit security guarantees, the official said.
Varadkar: U.K. Idea on Trade Could Destroy EU (4:23 p.m.)
Irish Prime Minister Leo Varadkar wasn't holding back in his opposition to any U.K. attempt to remain in the EU's single market by remaining aligned with the bloc for trade in goods but going alone on services. That kind of fracturing of the bloc's framework would set a precedent and could "destroy the European Union," Varadkar told reporters in Brussels.
Varadkar said Theresa May gave him a "broad-brush outline" of the post-Brexit plan she's due to publish next month but refused to give any further details, adding that it was clearly not finished yet anyway. He said it's imperative that it's "realistic" enough to resuscitate the Brexit talks.
The U.K. hasn't said what kind of future relationship it wants with the EU, and the Cabinet next week to discuss it.
Conte: Italy Has Won New Approach on Migration (4:20 p.m.)
"The fact that EU funds and EU staff will manage these migrant centers is revolutionary," Italian Premier Giuseppe Conte told reporters. "The completely new fact is that yesterday evening it was impossible to have shared actions, also for search-and-rescue. This principle has never been affirmed before, now it says shared actions, shared efforts."
"You can't force anyone to host a migrant center," he said. "Of course it has to be voluntary."
Conte said he is satisfied with 80 percent of the summit conclusions.
Juncker: 'Should De-Dramatize' U.S. Relations (4:11 p.m.)
"Sometimes I'm suspecting the American administration of trying to divide the European Union into different member states," European Commission President Jean-Claude Juncker said. "When it comes to trade, this is a competence of the European Union and thus of the European Commission."
"We should de-dramatize these relations," he said.
Merkel: EU to Try to Avoid U.S. Trade War (4:07 p.m.)
"We will do everything we can from our side to avoid a trade war," German Chancellor Angela Merkel told reporters, adding that EU Commission President Jean-Claude Juncker will hold talks on trade with U.S. officials. On Brexit, she said negotiators face a "tight" timeframe to reach a deal with the U.K.
Merkel also announced bilateral deals with Greece and Spain on migration.
"What we've achieved here together is perhaps even more than what I expected, even if it's not complete," Merkel said. "I've always said that we won't conclude a joint European asylum system. But the more we make agreements with each other, the faster we get to a broader European solution. I'm convinced of that."
Belgian PM 'Not Very Optimistic' on Brexit (3:26 p.m.)
"The feeling that dominates is the impression that the British continue to negotiate with the British and not with the EU," Belgian Prime Minister Charles Michel told reporters. "The red lines set by the U.K. are essentially incompatible with the fundamental principles of the EU."
Tusk: 'Last Call' for Brexit Progress (3:18 p.m.)
European Council President Donald Tusk didn't mince words when describing the task ahead in Brexit negotiations.
"There's a great deal of work ahead and the most difficult tasks are still unresolved," he said. "This is the last call to lay the cards on the table."
In contrast to the positive vibe around the deal on migration, European leaders have consistently expressed their exasperation on the state of Brexit talks and especially the disunity in Theresa May's government. The prime minister is calling her Cabinet together for showdown talks next week.
U.K. Says Barnier 'Gimmick' Won't Help Talks (3 p.m.)
U.K. Brexit Secretary David Davis has not received EU negotiator Michel Barnier's invitation to talks on Monday, which the Frenchman disclosed (with a smile) earlier (see 10:28 a.m.). A person familiar with Davis's thinking said he regarded Barnier's comments as "a gimmick designed for the benefit of TV cameras rather than the negotiations."
It would be better for Barnier and his team to "engage with our proposed solutions, and deliver on their commitment to accelerate discussions about the future," the person said.
Brexit Conclusions Agreed in a Flash (11:37 a.m.)
Meeting without British Prime Minister Theresa May, the 27 EU member states agreed to a set of conclusions on Brexit in "not even 1 minute," tweeted Malta Prime Minister Joseph Muscat. That compares with almost nine hours for the deal on migration, he said.
The main message: a messy no-deal divorce is possible and governments, institutions and companies should plan for the worst.
Macron: Migration Deal Is 'Victory' for Europe (11:26 a.m.)
There's a sense of relief that the thorny issue of migration didn't result in this summit breaking up without agreement, given the threat from Italy's government on Thursday.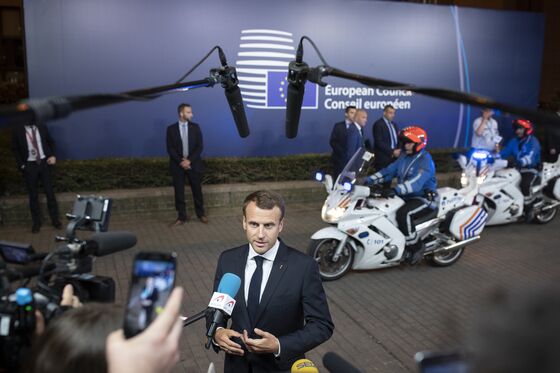 "People thought it was impossible to find an agreement, but we found one," said French President Emmanuel Macron, calling it a "victory" for Europe.
Belgian Prime Minister Charles Michel said more work needs to be done to fight people traffickers and smugglers, and said the EU should cooperate with African countries to reduce migrant flows. "We need to take the business of the smugglers away, we have found good first steps there," he said.
Barnier: Time is Short for Brexit Deal (10:38 a.m.)
"On Brexit we have made progress, but huge and serious divergence remains in particular on Ireland and Northern Ireland," the EU's chief negotiator Michel Barnier told reporters. Time is short to get a Brexit deal and he's ready to invite the U.K. delegation to come back to Brussels for more talks on Monday, he said.
The EU wants an ambitious partnership, but it will depend on the red lines set out by the U.K, Barnier said.